The Atlantic Politics & Policy Daily: Paul Ryan Voted for Trump, but He Doesn't Want to Talk About It
The House Speaker said he voted for the Republican nominee during early voting last week.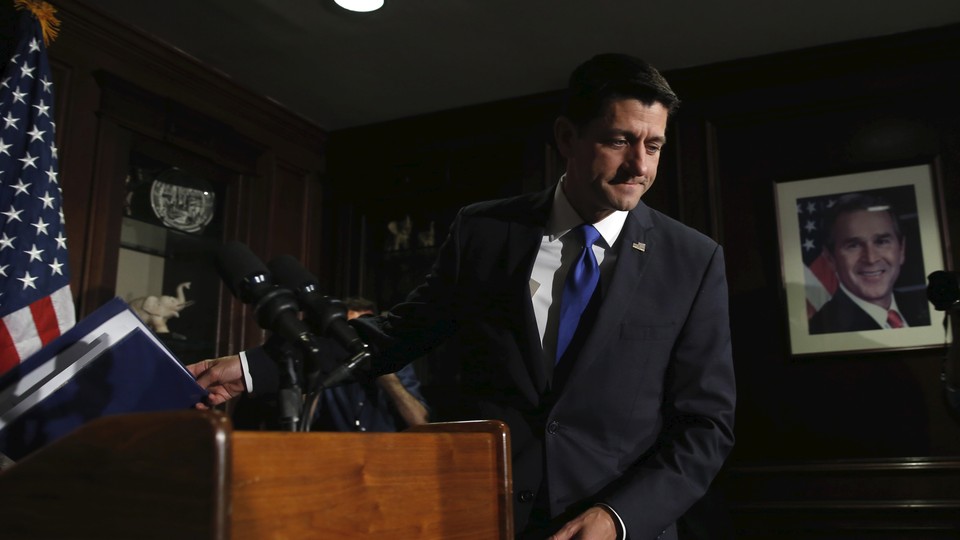 Today in 5 Lines
Paul Ryan said he voted "for our nominee" in an interview with Fox News, while a spokesman for John Kasich said the Ohio governor wrote in Senator John McCain for president. Hillary Clinton's campaign manager, Robby Mook, called FBI Director James Comey's recent announcement that the bureau is examining additional emails a "break in protocol." Nearly 5,000 transit workers are on strike in Philadelphia over wage and health-care concerns, prompting questions about transportation on Election Day. Pope Francis told a reporter that the Roman Catholic Church will likely never permit women to serve as priests.
---
Today on The Atlantic
Far From Over: In the final countdown to November 8, Hillary Clinton once again faces scrutiny over her use of a private email server while secretary of state, highlighting that despite all of her preparation, the 2016 election continues to unfold in unpredictable ways. (Molly Ball)

Taking the GOP to Court: Democrats have filed nearly half a dozen lawsuits against Republicans, who they allege are "coordinating widespread voter-intimidation efforts," in the wake of Trump's requests for supporters to "monitor" polls for voter fraud. (Emma Green)

The 2016 Election, A Glossary: The presidential race has ushered in a wave of new terms. David A. Graham breaks them down in this comprehensive list. Here's a sneak peek: "Comey (v.): to successfully alienate Congress, the Justice Department, both parties, and both presidential candidates."
Follow stories throughout the day with our Politics & Policy portal.
---
Snapshot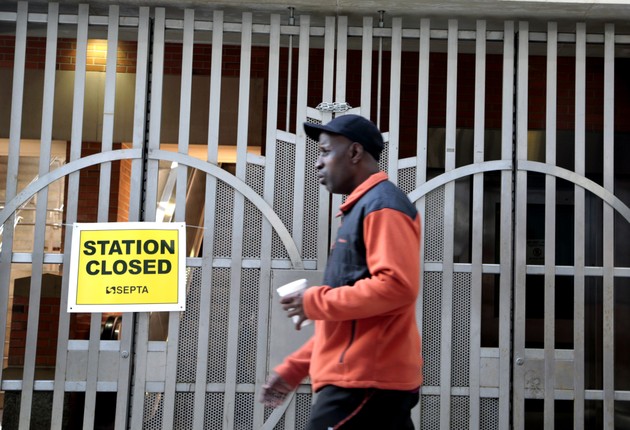 ---
What We're Reading
BFFs: Hacked emails show Clinton campaign chairman John Podesta signed a $7,000-a-month contract with the Sandler Foundation, whose founder is a major Democratic donor, for his consulting services. (Kenneth P. Vogel and Danny Vinik, Politico)
Calling All Millennials: Under the Affordable Care Act, people under the age of 26 are able to stay on their parents' health insurance plans. But that provision has turned out to be a "fundamental flaw" in the program's design. (Sarah Ferris, The Hill)
Trump's Missing Emails: Donald Trump continues to criticize Hillary Clinton for having deleted emails from her private server, but his companies have "systematically destroyed or hidden" thousands of online and paper documents for years. What is the strategy behind his deception? (Kurt Eichenwald, Newsweek)
A Map of Lies: Election maps are commonly used to project electoral votes. But there's one problem with this kind of map: "Despite its ubiquity, it is profoundly flawed." Here's why. (Lazaro Gamio, The Washington Post)
Stay Mad: If you start with the assumption that Hillary Clinton is corrupt and add in FBI Director James Comey's decision to review additional emails, then you get a media cycle embroiled in outrage, but with little basis in fact. (Jesse Berney, Rolling Stone)
---
Visualized
Major Maneuvering: A New York Times search of Donald Trump's casino bankruptcy filings show that the businessman sidestepped a tax bill. Check out this graphic to see how. (Gabriel J. X. Dance and Aaron Byrd)
Inside the Executive Residence: Take a look at this photo gallery for a peek inside "the Obama family's stylish private world." (Mayer Rus and Michael Mundy, Architectural Digest)
---
Question of the Week
FBI Director James Comey told Congress that the agency will examine additional emails that "appear to be pertinent" to its investigation of Hillary Clinton's private-email use. What's the one thing you hope the FBI will never find in your email?
Send your answers to hello@theatlantic.com, and our favorites will be featured in Friday's Politics & Policy Daily.
-Written by Elaine Godfrey (@elainejgodfrey) and Candice Norwood (@cjnorwoodwrites)