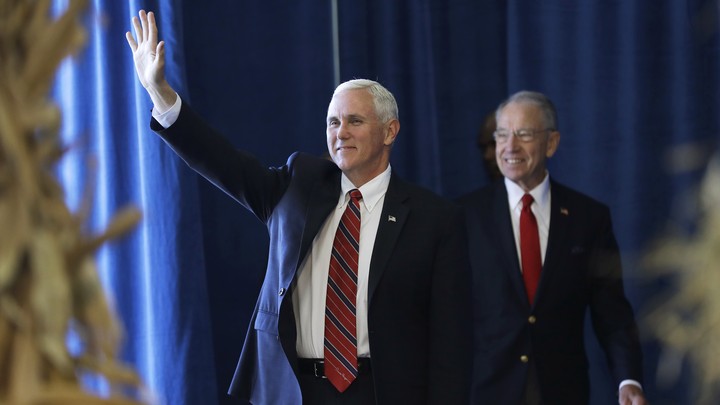 Today in 5 Lines
Vice President-elect Mike Pence will replace New Jersey Governor Chris Christie as the chair of Donald Trump's transition team. Former Maryland Governor Martin O'Malley is considering throwing his hat in the ring to be the next chairman of the Democratic National Committee, joining two other potential candidates, former Governor Howard Dean and Representative Keith Ellison. President Obama is expected to approve the Dakota Access Pipeline as early as Monday. Obama encouraged Americans to "find strength in our common creed" in a Veterans Day speech at Arlington National Cemetery. And Secretary of State John Kerry addressed climate change during an address at a U.S. research hub in Antarctica, saying, "We need to get more of a movement going."
---
Today on The Atlantic
'This Is Who We Are': Vann R. Newkirk II reflects on the election of Donald Trump and what it reveals about the true character of America.

What Will Trumpcare Look Like?: It's likely that the new president will repeal parts or all of the Affordable Care Act, but what remains uncertain is what he'll replace it with—and whether he'll choose to take on the insurance industry. (James Hamblin)

Go Ahead and Try: A crackdown on illegal immigration could negatively affect North Carolina's construction industry, but immigrant laborers in the state aren't worried. "He can build a wall, but we'll just build a tunnel," said Magdaleno Santos. (Alexia Fernández Campbell)
Follow stories throughout the day with our Politics & Policy portal.
---
Snapshot
---
What We're Reading
Who Will Lead?: The 2016 race for the White House is over, but a new battle is already under way: the fight between progressives and moderates over who should chair the Democratic National Committee. (Gabriel Debenedetti, Politico)
A Conversation With Michelle: Vogue's Jonathan Van Meter spoke with the first lady about her final months in the White House, the future of her garden, and what it's like to have young women across the country look up to you.
The Midwest Bubble: Coastal elites underestimated white working-class Americans, but Midwest and rural voters are in a bubble of their own, writes Patrick Thornton: They could stand to see more of America and embrace change, rather than fight it. (Roll Call)
What Can Trump Do?: Critics of the president-elect are worried about what Trump will do when given executive authority. But there are limits to what Trump can accomplish unilaterally—and how quickly he can do it. (David Lauter, Los Angeles Times)
What Women Want: Fifty-three percent of white female voters checked the box next to Donald Trump's name at the polls on Tuesday. Who are they—and what do they see in him? (Sheryl Gay Stolberg, The New York Times)
---
Visualized
Interviewing Henry Kissinger: Jeffrey Goldberg shares what it was like to speak with the 93-year-old American controversial statesman for his story in the December issue of The Atlantic. (Leah Varjacques)
---
Question of the Week
This week, we asked you what movie or TV series title you'd give to the 2016 presidential race—a race that lasted more than 600 days and concluded with the election of Donald Trump. We got several responses that were both hilarious and fitting.
Props to Jack Stone, who suggested The Neverending Story because "electioneering apparently no longer ever ends in the USA."
Thanks to Cay Lackey for suggesting Apocalypse Now and to Lisa Relaford for recommending The Year Hell Froze Over.
And a big old LOL to Dirk Bloemendaal for suggesting Predator vs. Alien, a film where "two creatures from the Outer Limits battle it out for earthly domination, even as the American citizenry recoils in disgust and horror."
Keep an eye out for next week's Politics & Policy Daily to enter our Question of the Week contest.
-Written by Elaine Godfrey (@elainejgodfrey)
We want to hear what you think about this article. Submit a letter to the editor or write to letters@theatlantic.com.
Elaine Godfrey
is a staff writer at
The Atlantic
, where she covers politics.