The Atlantic Politics & Policy Daily: Guess Who's Coming to Dinner?
President Obama met with President-elect Donald Trump at the White House.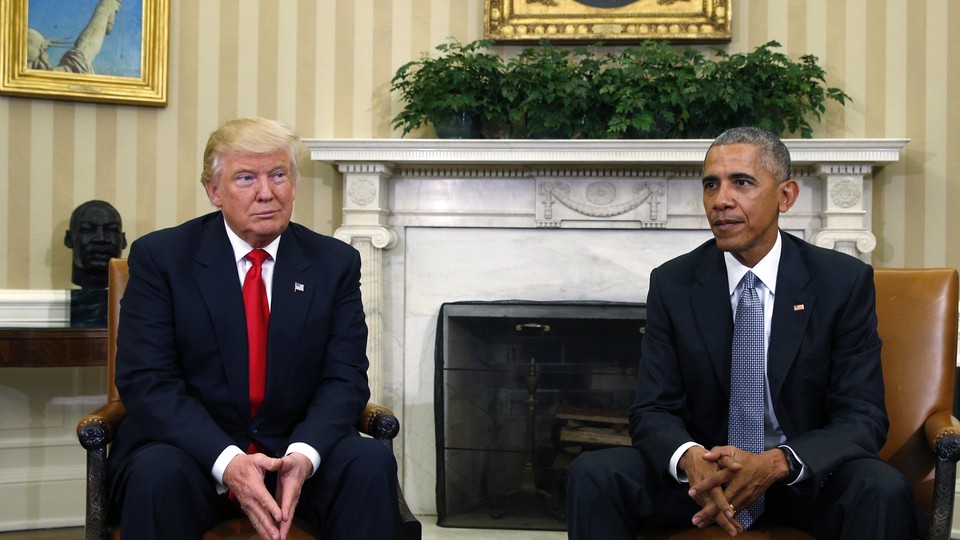 Today in 5 Lines
President Obama hosted President-elect Donald Trump for a 90-minute meeting in the Oval Office. Obama pledged to participate in a smooth transition of power, and Trump said that he would seek out Obama for "counsel" in the future. Trump also met with House Speaker Paul Ryan and Senate Majority Leader Mitch McConnell to reportedly discuss the Republican Party's legislative agenda. A federal grand jury indicted former U.S. Representative Aaron Schock on 24 counts, including theft of government funds and fraud. Senator Bernie Sanders' office confirmed his plans to back Minnesota Representative Keith Ellison as the next chairman of the Democratic National Committee.
---
Today on The Atlantic
Trump's Road to Victory: The now-president-elect beat Hillary Clinton by winning over the biggest battleground states and several Democratic-leaning Rustbelt states that Clinton neglected in the closing weeks. (Ronald Brownstein)

What's Next for the Supreme Court?: Donald Trump's victory means that he'll be tasked with filling a seat formerly held by Justice Antonin Scalia. Matt Ford attempts to answer 10 questions about the Court's future.

An Evangelical Reckoning Is Coming: White evangelicals overwhelmingly voted for Donald Trump. But vote counts, writes Emma Green, "conceal deep, painful fractures among the huge, diverse group of Americans who identify as evangelical Christians."
Follow stories throughout the day with our Politics & Policy portal.
---
Snapshot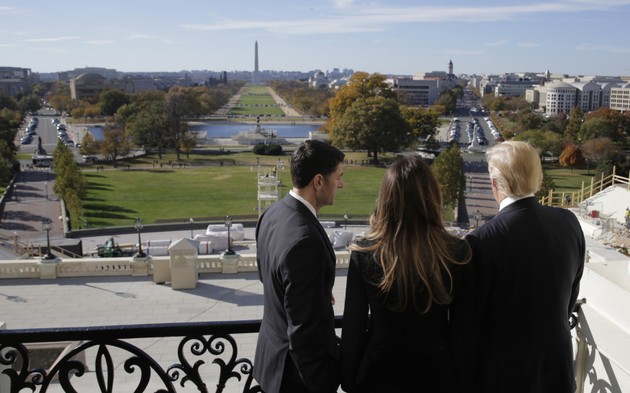 ---
What We're Reading
Strength in Numbers: The 2016 election revealed the large number of white, working-class voters who feel disconnected from the political establishment. Perhaps one of Hillary Clinton's most significant mistakes was underestimating their political power. (Alec MacGillis, ProPublica)
Hindsight Is 20/20: Hillary Clinton's decades of political experience initially seemed to give her a leg up on Donald Trump. In the end, however, her background "left her unable to tap into the anti-establishment and anti-Wall Street rage." (Amy Chozick, The New York Times)
'Backpage Backlash': Government officials in a number of states are investigating Backpage.com—a classifieds website similar to Craigslist that is also used to solicit commercial sex. But cleaning up the website has been anything but easy. (Max Kutner, Newsweek)
Danger Alert: Donald Trump will, among other things, have to confront climate change. Here's how his administration could dramatically change President Obama's efforts to reduce global warming. (Michael Greshko, National Geographic)
Survivor's Guide: Following the president-elect's victory on Tuesday, the award-winning creator of The West Wing, Aaron Sorkin, wrote a letter to his daughters offering advice on how to live in under a Trump administration. (Vanity Fair)
---
Visualized
Connecting the Dots: In these maps and charts, The Washington Post shows how Donald Trump redrew the electoral map. (Lazaro Gamio and Dan Keating)
---
Question of the Week
This has been a highly unusual, contentious, and seemingly never-ending election year. But soon, it'll all be over. If you had to give this election a movie title or TV series title, what would it be?
Send your answers to hello@theatlantic.com, and our favorites will be featured in Friday's Politics & Policy Daily.
-Written by Candice Norwood (@cjnorwoodwrites)