The Age of Trump Begins
His victory shocked the world and reordered the American political landscape.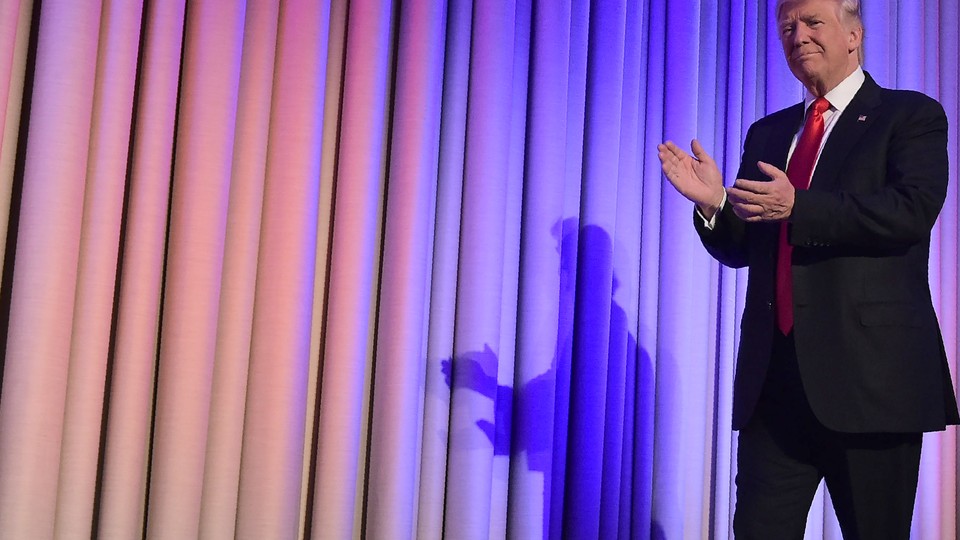 NEW YORK—The end of the campaign came for Donald Trump early Wednesday morning, but it was not the ending almost anyone foresaw.
It was victory.
He emerged at nearly 3 a.m. on a balcony overlooking the hotel ballroom where hundreds of his supporters had gathered, weary from hours of waiting but energized by the incredible, gradually dawning result. A throng of high heels and red caps, they cheered as he descended the ramp to the stage, trailed by his family and advisers.
Gripping the podium and squaring his shoulders, Trump praised his opponent—the one he had spent months deriding as a liar and a criminal—and called for the healing to begin. "Now it is time for America to bind the wounds of division—have to get together," he said.
To say Trump's election sent shockwaves through the American political system would be an understatement. When he began his campaign for the Republican nomination, he was regarded as a joke; when he entered the general election, he was seen as a sure loser. He campaigned on a dark medley of lies and conspiracy theories, an insistence that America had lost its soul to crime and terror and corruption and could only be saved by a strongman's firm grasp.
It was clear from the beginning that a lot of people believed him. It just wasn't clear that there were so many of them.
"Ours was not a campaign, but rather an incredible and great movement," Trump said. It was, he added, "a movement comprised of Americans from all races, religions, backgrounds, and beliefs, who want and expect our government to serve the people, and serve the people it will."
He assembled a coterie of castoffs and has-beens (the fearmongering former New York mayor; the criminally implicated governor of New Jersey). Most in his own party's professional class recoiled from his crudely divisive appeals, his appalling behavior. Staffers refused to work for him; elected leaders held him at arm's length. To his many opponents, he was a dilettante and a fraud, but also a monster and a demagogue, someone to be feared and mocked. His own party, tasked with helping him win, believed to the end that he would lose.
He showed them all.
He broke the pollsters' models. He redrew the electoral map. He smashed the smug certainties of the arrogant prognosticators. Just as he had in the primary, he changed the axis of politics as we knew it, from a contest of left versus right to one about open versus closed, in versus out, up versus down. And the forgotten and discarded people heard someone speaking to them for the first time they could remember, and they thronged his raucous rallies by the thousands. On Tuesday, they proved they mattered.
Jerry Falwell Jr., the Liberty University president whose embrace of Trump was widely criticized by other evangelical Christian leaders, dubbed it "Trexit," an analogy with Britain's similarly shocking vote in a June referendum to leave the European Union. "What we've seen this year is a peaceful revolution by the American people, the common man, to take the country back from the elitists and the establishment—and it's badly needed," Falwell said.
Trump also embraced the parallel, telling his rallies in the final weeks of the campaign that the election would be "Brexit-plus-plus-plus" or "Brexit times 50." At the time, this was seen as a flailing candidate grasping at straws as his chances narrowed. It turned out to be true.
Trump's victory decimated and demoralized the Democrats, who had put their faith in the destiny of demographics and the false god of campaign tactics, neither of which proved reliable. Republicans won the presidency for the first time in 12 years and retained the House and Senate. But Trump also has reordered the GOP around a new set of priorities—restricting immigration, limiting free trade, and a transactional rather than idealistic approach to the world. "The message to the Republican Party is it got too country-club-driven, too affectionate with lobbyists, too cut off from ordinary men and women," Representative Peter King, a Republican from Long Island, said.
Early in the night, as the crowd inside the ballroom impatiently chanted "U-S-A," the conservative commentator George Will, who left the Republican Party rather than side with Trump, appeared on Fox News, which was blaring from big screens in the hall. "This is not the center-right country that Republicans supposed," he said, perplexedly.
A man in a white Make America Great Again hat and a blue-striped dress shirt and light pink tie said his name was John Sarcone; he was a volunteer lawyer for the campaign and registered independent. "Speaker Ryan should resign," Sarcone practically spat. "He will not have a place on the podium when Mr. Trump is sworn in as president of the United States." Anti-Trump Republicans such as John McCain, the Arizona senator, and John Kasich, the governor of Ohio, were "a disgrace," he added.
"There's a new party—a party of people who care about America," he said. "It's not about Democrats or Republicans. That's not what happened tonight."
Senator Jeff Sessions of Alabama, who was the first and most enthusiastic senator to support Trump, took a bow onstage when Trump declared victory. He pointed to the success of Bernie Sanders in the Democratic primary as proof of bipartisan hostility to established elites. "The mainstream media, big business, [George] Soros and his globalist crowd—those people are getting hammered by Donald Trump, who has cast his lot with the interests of average people," Sessions said.
No one really knows what a Trump presidency will bring. In his short victory speech, he mentioned helping inner cities, rebuilding public infrastructure, taking care of veterans, growing the economy, and "getting along with all other nations." He didn't mention his controversial immigration and refugee policies.
Because he is not beholden to Republican orthodoxy, some hope he could break the Washington gridlock by making bipartisan deals—a big-ticket infrastructure plan, for example, might mean raising taxes on the rich to spend money on the creation of government jobs, things strict conservatives have not often wanted to do. "I think America has been frustrated with Washington because of the empty promises of both parties," former Representative Jack Kingston, a Georgia Republican, told me. "Washington just seems to talk about problems without getting anything done." Sessions said he has spoken to leading Democratic senators who hope to find common ground with Trump on trade and foreign policy.
To Trump's most ardent supporters, the specifics hardly matter. "I feel like I've been reborn. This is a new nation," said Stephanie Jason, a 44-year-old business owner who traveled from Jacksonville to see Trump's victory in person. "We're going to do the right thing. We're going to come together and make America great again. God has had a hand in this day—it's a miracle."
---
Related Video: