Pennsylvania Is Ready to Stop Being a Full-Time Swing State
The residents of one county evenly divided between Democrats and Republicans look forward to the day when they are not being bombarded with political appeals.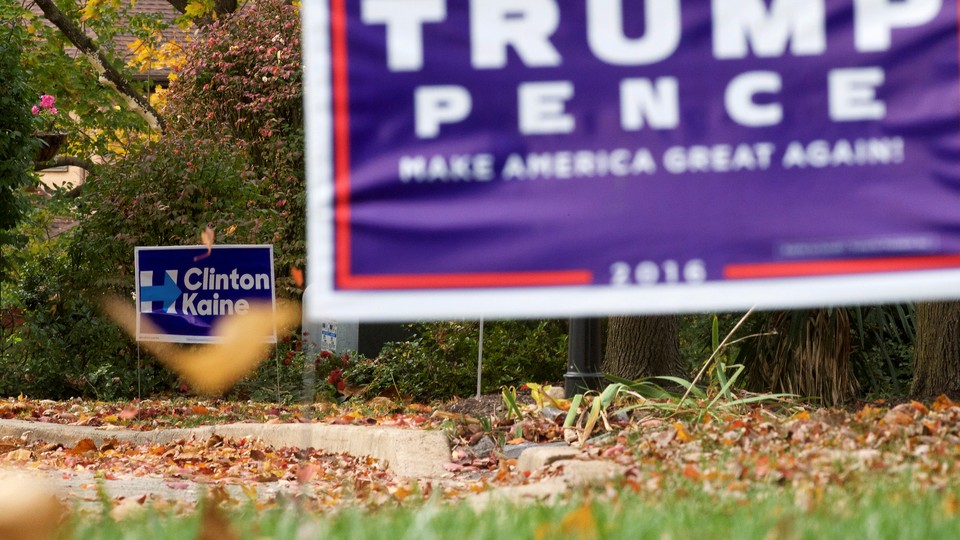 COATESVILLE, Pa.—Double D Diner in Coatesville, Pennsylvania, is like a restaurant out of a movie: red plastic booth seats, rounded metal roof, a long counter where the regulars huddle up front.
That's probably why Katie McGinty, who's running for Senate, chose it as the set for her latest political ad. She stands, perfectly coiffed, before the Regular People of Pennsylvania, and explains that her mother provided for her family by working in a diner—not this diner, just a diner. It's an apparent appeal to the working-class folks here in Chester County, one of the most competitive electoral areas in the state.
The women who work at Double D, however, weren't having it.
"They shut down my section and I couldn't make any money," said Carly Correa, a 21-year-old waitress who has been working at the diner for nearly a decade. She said the servers just stood around and watched as McGinty's staff staged fake customers—the Regular People—among the seats in the front. Because the ads are airing so frequently, they now have the added pleasure of constantly watching McGinty pose in their diner on television while they work booths full of actual patrons.
"We kind of felt like she was trying to belittle us around here," said Correa, who has a 2-year-old daughter. "She was saying, 'Oh, I was raised on the salary of a restaurant hostess.' But we work here. This is what our kids our raised off of." The aspiring senator didn't really talk with the staff when she came in, Correa added. "She didn't even say like, 'Hi,' 'Bye,' 'Thank you.'"
Outside of Double D, a McGinty sign is plucked in the grass about three feet from a Trump-Pence sign. This is pretty much a perfect metaphor for Chester County during election time: Every campaign has a shot of winning here, so they make a point of showing up. In 2012, the county tied 49-49 for Obama and Romney, with just a slight edge to the Republican; increasingly, the demographic mix makes Chester a true swing county. Democrats and Republicans have been pushing their ground games hard in the last few weeks—Correa said that because she lives on one of the main streets in Coatesville, she's gotten at least 20 door-knock visits from campaign volunteers. The parties are focused on Hillary Clinton and Donald Trump, but they're also talking about the race for Senate—McGinty and her opponent, the incumbent Republican Pat Toomey, are effectively tied in the polls.
The unevenness of Chester County is part of what makes it a political toss-up. Once a Republican stronghold, it  is now almost perfectly split between the two major parties. The county's demographics are a mix of the rural conservatives who make up Trump's base; the rich voters who help make the county's median income the highest in state; middle-class moderates; and some of the poor, minority voters whom Clinton is counting on. All these voters, of different classes and races and ideologies, live close together.  As a result, campaigns have descended on Chester with ads, rallies, and meet-and-greet events—potential voters are targeted with almost scientific precision. The county is a case study in American demographic change, with its wildly uneven growth in prosperity, influx of Latinos, and fallen steel industry. All of the stark divides that have defined this election exist here in Chester County, in close proximity to one another.
Trump-Pence signs dot the farmland along the border with Maryland; white people drive nice pick-ups through mini-townlets covered in fall leaves. To the east, stretches of highway feel like one long suburb: Stores sit in identical, pleasantly gray buildings, a sure sign of centralized planning. Closer to Coatesville, the only official city in Chester County, the landscape changes: more rowhouses and duplexes, greater density and lots of boarded-up businesses. Along the streets, a few bright blue signs cheer on Clinton-Kaine.
Democrats in Chester County are focusing their energy on Coatesville, where roughly 47 percent of the 13,00 residents are African American. For a long time, it was home to the booming Lukens Steel Company, one of the biggest steel manufacturers in the U.S. But in the late '90s, Lukens was purchased and the mill jobs slowly started going away; now one-third of the city lives in poverty.
"A lot of Coatesville is old—a lot of the houses are ... in disrepair," said Porsha Stark, one of the leaders of the Democratic get-out-the-vote effort in Coatesville. "It's not really a family place like it was at one point." There's still some sense of identity, though: Locals said the city is obsessed with the high-school football team, and signs for the annual Christmas parade were hanging everywhere.
Democrats have had a full-time coordinator in Coatesville since at least August. As the election approached, they had more and more help from out-of-towners: Over the weekend, bus-loads of campaigners from D.C. and New York came by, volunteers said. On Monday, people from all over the county, along with a few from outside Pennsylvania, milled around in the basement of Judah Ministries, the small Pentecostal church where Democrats have set up their HQ. Middle-aged white women posed by an orange "Stronger Together" sign—"Say, 'Hillary!'" a volunteer cried as she took a picture. A coordinator coached door-knockers on their lines and tone of voice: "You should sound like you're concerned." With the day halfway gone, a couple of dozen people had stopped by to knock on doors or make phone calls.
Mae-Ling DeShields, a homeless, 39-year-old mother of two stopped by with her kids to tape up signs and help out. She said she had volunteered at a soup kitchen and other charities, and she wanted to try something different. "Hillary's pretty cool," she said. "It's time for a woman president."
Like many others in Coatesville, DeShields has found it difficult to find work recently; she previously had jobs as a receptionist, at a Burger King, and at K-Mart, but had to stop because she needed to care for her kids. She was born in the city and has lived in town for roughly 30 years. She stays because she has family close by, but "if I had the opportunity to go, I would go, and I wouldn't look back."
Other parts of Chester County have seen a lot more development—business from Philadelphia seems to be spreading west into the once-rural county, said Christopher Kowerdovich, a gay former combat medic in Iraq who got out of the military in part because of Don't Ask, Don't Tell. In the area where he lives, the neighborhoods are split between older, small homes and newly constructed "McMansions," as he called them.
"You can go by subdivisions of different political ideologies," he said. Chester used to be thought of as a solidly Republican county, and still has a strong conservative base—"if you like life in Chester County," as one yard sign said, "vote Republican." But the changing demographics, and Trump, have challenged that stereotype. "The liberal Republican is what you're seeing collapse in suburbia," Kowerdovich said. "They're confused—they're not sure where they want to go."
As Republican candidates try to keep those voters in their party, they, too, have sometimes misfired. Earlier this year, for example, Donald Trump tweeted out a picture of Downingtown, a comparatively wealthy and white borough close to Coatesville. "Passing what was once a vibrant manufacturing area in Pennsylvania. So sad!" he wrote. In fact, said the 33-year-old mayor, Josh Maxwell, the space Trump tweeted about is about to be rebuilt into a brand-new train station.
On Monday, Chester County Republicans settled in at their "Victory office" in a business suit in Malvern. A life-size Trump cut-out stood before a "Make America Great Again" sign; volunteers had laid out snacks on charmingly clashing America-themed tablecloths. A few volunteers sat in the back making phone calls from a script; 20 to 30 people came through the office on Monday, volunteers said.
Mary Judge, a 47-year-old stay-at-home mom who drives a mini-van decorated with the slogan "Women for Trump," said she's voting for the Republican presidential candidate in part because she believes he cares about protecting religious liberty and freedom of speech. "I think that if the Democrats take office, my children could grow up without those freedoms," she said. She attends a theologically conservative Baptist church; while she's not sure if Trump is a Christian, she said, "I'm not voting for my pastor. I'm voting for my president." The reporting on Trump's recent comments about "grabbing" women by their genitals has not affected her opinion of him. "I'm voting for the big picture here," she said.
In true Chester County form, Judge is a committed Republican who lives close to a predominantly Democratic area—she's got a Coatesville zip code, although she technically lives in West Brandywine Township. "The inner city tends to have a lower income, and tends to be Democratic, because they get promised free things," she said. "If you don't have a lot, that's attractive."
Tony, a 73-year-old resident of Devon who has lived in Chester County for 25 years, said he was a Ted Cruz supporter during the primaries, but he started supporting Trump "more and more enthusiastically as he started coming around to conservative views." He cited the need for "originalist" Supreme Court justices and lower taxes as his main reasons for supporting Trump; when he makes calls for the campaign, he also encourages people to vote for Toomey, but thinks the senator made a mistake by not supporting the Republican presidential nominee. He wasn't sure about recent demographic changes in Chester County, he said—he's note very involved in local politics. He mostly listens to talk radio and reads select conservative newsletters, he said, and occasionally comes out to volunteer for presidential campaigns.
Outside of the committed few, people in Chester County seem to be tired of this election. Correa, the Coatesville waitress, said she probably won't vote, despite all those volunteers knocking on her door. On Monday afternoon, a few men gathered at the P.J. Whelihan's in Downingtown said they'd be voting Republican, but they weren't thrilled about Trump. "Everybody hates the two people running for president," said Jim Carey, a Westchester resident. But "his party represents my values better than the other," he said. "If I don't vote for Trump, I'll be helping Hillary."
Roy, a West Bradford resident who refused to share his last name, said campaigning in the area had been over the top. "I watch Netflix because I got tired of the [political] commercials," he said. The ads for the Senate race have been so nasty, he said, that "they're almost funny." Both men are feeling depressed about the political mood in America, but they're resigned. "We get one vote and then we have to live with it," said Carey.
For his part, Roy said he's looking forward to November 9, when Pennsylvania can stop being a full-time swing state—in part, he said, because he's "looking forward to seeing different commercials."
---
Related Videos