Q of the Week: What Are You Thankful For?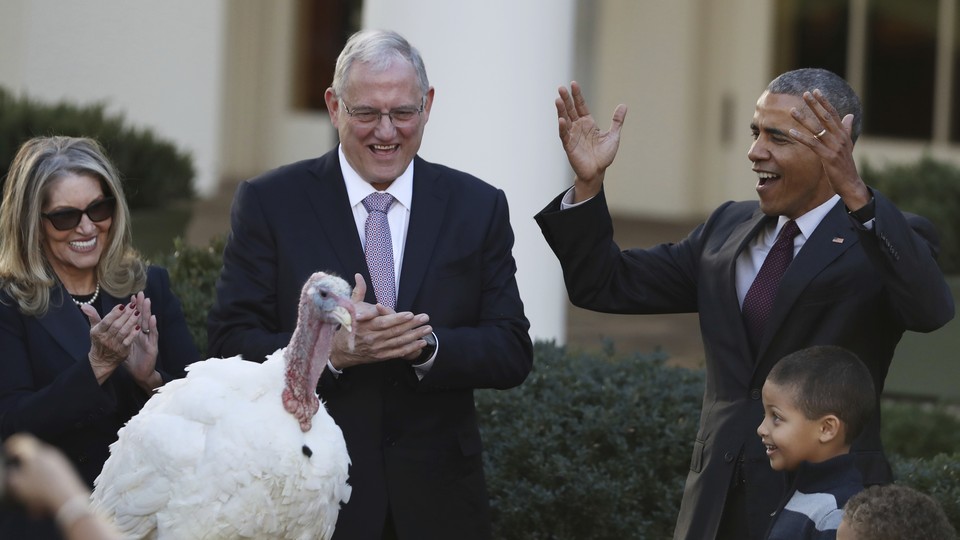 Editor's Note:
This article previously appeared in a different format as part of The Atlantic's Notes section, retired in 2021.
We can all agree that 2016 has been a long year, but this week, we asked Politics & Policy Daily readers to explain what they're most thankful for in the world of politics.  Here were some of our favorite responses:
Miriam Helbok said she's grateful for Bernie Sanders's campaign because it "energized and perhaps even awakened thousands of young people to the importance of taking an active part in maintaining our democracy."
For several readers, including David Lippman, Sheriff Joe Arpaio's loss in Arizona was "the only piece of positive news in a horrifying political year."
Carl Dennis writes:
One of my favorite political responses this year happened as a result of one of the greatest tragedies in American history. After the shooting in Orlando at a gay bar, the outpouring of support and love expressed by political figures of both parties from President Obama to GOP figures gave me a glimmer of hope that in spite of our differences, we will be able to come together to support one another.
Grace Lutfy had a whole list of 2016 positives:
1. Ken Bone. At a time of high tension between Democrats and Republicans, he gave us a couple things we could all agree on: his awesomeness and how adorable he is.

2. That the government didn't shut down this year! The little things go a long way!

3. Saturday Night Live. Larry David as Bernie Sanders and Alec Baldwin as Donald Trump have been nothing short of amazing.

4. That Donald Trump and Hillary Clinton could find something they liked about each other when prompted to do so.

The election is over! Happy Thanksgiving!
On that note, Craig K. Lehman is grateful that at least we've reached "the end of the Bush and Clinton dynasties."
David Caskey, from University Park, Maryland, is thankful for California:
Governor Brown signed a law which will require farm workers to get overtime after an eight-hour day. No developed society I know of has been this committed to a decent life for those who labor for our food.

Trump was defeated in California by over 3 million votes. Big old California gives me hope for America.
And finally, Barry Tarshis wrote in to say that he's "thankful to be a Canadian." Thanks for that, Barry.