The Disturbing Details of Trump's Alleged Voter-Intimidation Efforts
Democrats have filed nearly half a dozen lawsuits against the Republican presidential nominee and his party about "ballot security" efforts. It seems the old days of poll watching never ended.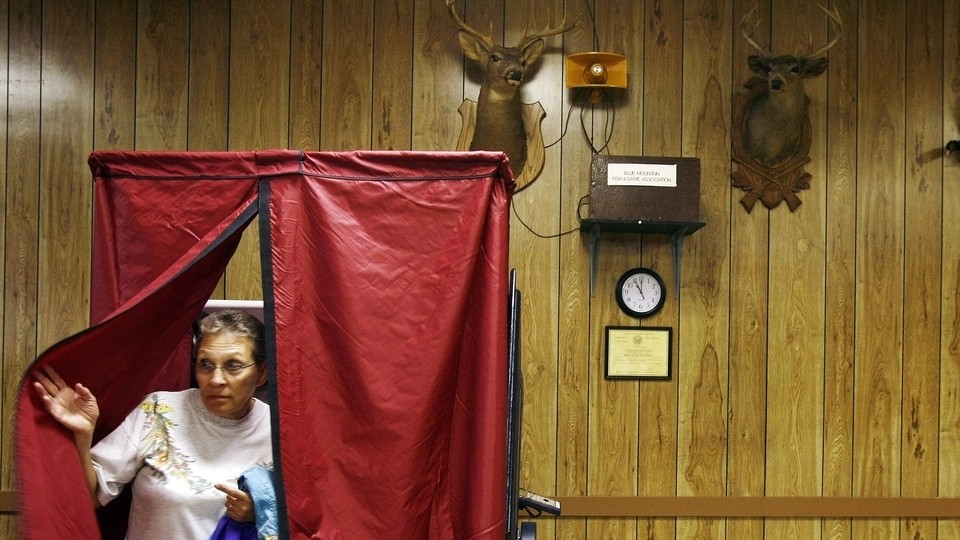 The lawsuits are piling up. Over the last two weeks, the Democratic and Republican parties have filed half a dozen warring complaints about poll monitoring. Democrats allege Republicans are coordinating widespread voter-intimidation efforts. Republicans in at least one state have argued that poll watching should be expanded, not limited.
All sides are seeking emergency relief, calling on judges to consider their cases in the next seven days before the election. While both parties fight for their lives life in states like New Hampshire, North Carolina, and Pennsylvania, they're now having to battle each other in court as well.
On their face, these cases may seem like a form of legal subterfuge—attempts to distract the other party and float damaging allegations days before the election. The cases focus on just a few hundred volunteers in a handful of states: The Arizona Democratic Party said 93 people are signed up to conduct "exit polling" with Stop the Steal, a voter-fraud-related super PAC, and the Ohio Democratic Party said "dozens" have volunteered for the same effort in their state.
Taken together, though, these cases speak to one of the most important functions of democracy: the ability to vote, free of intimidation and coercion, and to ensure that others have the same right. At many points in American history, poll monitoring has been used to dissuade voters—especially black voters—from exercising their right of enfranchisement. The Supreme Court argued in 2013 that "our country has changed," striking down the part of the Voting Rights Act that determines which parts of the country are overseen by strict federal supervision. But the recent allegations suggest voter intimidation is still happening all over the country.
The specific details from each case are striking. Last week, the Democratic National Committee filed a complaint against the Republican National Committee, arguing that the RNC violated a 1987 legal agreement which prohibits either party from organizing volunteers to challenge voters' eligibility at polling stations. Democrats also argue that the RNC is providing resources and coordinating with the Trump campaign on poll-monitoring efforts, per statements from Trump's campaign manager, Kellyanne Conway. According to the filing, "the Trump campaign [recently] distributed talking points to Republican Party surrogates directing that they 'must make points on rigged system,' and encouraging them to claim there has been 'an increase in unlawful voting by illegal immigrants.'"
On Monday, a federal judge in New Jersey ordered the RNC to turn over all communications with the Trump campaign related to poll watching, voter fraud, or "ballot security." The judge specifically requested testimony and documents related to Conway and two RNC officials—Rob Gleason in Pennsylvania and Ronna Romney McDaniel in Michigan—who have allegedly recruited poll watchers and organized "massive, statewide anti-voter fraud efforts." All of this has to be gathered up in just three days.
Then, two days ago, state Democratic parties in Arizona, Ohio, Nevada, and Pennsylvania sued Trump for encouraging unlawful voter intimidation. They argue that Trump's calls for his supporters to "watch" polling for suspected "cheating" and "fraud" violate two laws: the Klu Klux Klan Act of 1871, which was passed during Reconstruction to protect newly emancipated freedmen from harassment at polls, and the Voting Rights Act of 1965, which prohibits "intimidation," "threats," and "coercion" of voters. The parties are also suing their respective Republican party counterparts, along with a man named Roger J. Stone Jr., who is allegedly recruiting poll watchers and organizing "ballot security" efforts in a number of states.
Republicans are allegedly encouraging volunteers to follow people, "interrogate them, [and] … even call 911 to report that a felony is in progress."
The suits allege several instances of attempts to mislead and intimidate voters. The Arizona Democratic Party said the state's Republican Party "is training poll watchers to demand identifying information from voters dropping off multiple ballots [and] encouraging volunteers to follow suspected violators of Arizona's ballot-collection law into parking lots, interrogate them, record their license plates, and even call 911 to report that a felony is in progress."
In Ohio, Pat McDonald, the Republican director of Cuyahoga County Board of Elections, has apparently reported that "Trump supporters have already visited the county elections board identifying themselves as poll observers, even though they did not appear to be credentialed as poll observers as required under Ohio law." Election officials have expressed concern about "instability on Election Day," one suit alleges, and discussed the possibility of bringing police officers to polling sites to address conflicts.
In Nevada's Clark County, one suit alleges, "a Trump supporter harassed and intimidated multiple voters outside of the Albertsons early voting location on Lake Mead Boulevard, repeatedly asking voters for whom they were voting, and then yelling at them belligerently and attempting to keep them from entering the voting location when they stated they were not voting for Donald Trump." When poll staffers asked him to stop, "the Trump supporter told poll workers that he had 'a right to say anything he wanted to the voters.'" They called the police, and he left. Other incidents have also taken place in Nye county, the suit says.
And in Pennsylvania, a Republican city councilman, Joshua Lorenz, allegedly posted instructions for the way Clinton supporters could vote online. "More proof that the election process is rigged," he allegedly wrote. "Only Hillary supporters can vote from their smartphones or in the comfort of their own homes." Online voting in Pennsylvania does not exist.
"Citizens have a fundamental right to a fair and honest election process."
Meanwhile, Republicans in Pennsylvania have brought a lawsuit of their own. Eight registered electors, mostly from counties around Philadelphia, have challenged the portion of the state Election Code that prevents poll watchers from observing elections outside of the counties where they live. Because U.S. Congressional districts are drawn to encompass multiple counties, the plaintiffs argue, poll watchers should be able to monitor voting in their full electoral district, not just their county. The current law limits Pennsylvanians' political speech, they say. A district-court judge is expected to rule in the case this week.
As the Pennsylvania lawsuit points out, poll watching is legal in the state, just as it is in other states. "Poll watchers fulfill a critical function in Pennsylvania elections," the plaintiffs argue. Since 1937, Pennsylvania has allowed candidates and parties to appoint monitors, they say—"citizens have a fundamental right to a fair and honest election process."
This is true. But it's true for all citizens, not just those of one party. The eight Pennsylvania plaintiffs who are trying to expand poll watching in that state are mostly from counties around Philadelphia, a strongly Democratic city with a large black population, where literally every voter in 59 districts voted for Barack Obama in 2012. Trump and others have cited this as evidence of fraud, but The New York Times has shown that it's more a sign of politics—those precincts are Democratic strongholds.
If outsiders show up in those districts on Election Day, it's highly unlikely that they'll catch voter fraud in action. But it is possible that they'll persuade people to stay home.
---
Related Video: