All Eyes Are on Pennsylvania
Politicians are descending on the Keystone State, which will help determine which party wins the Senate—and the White House.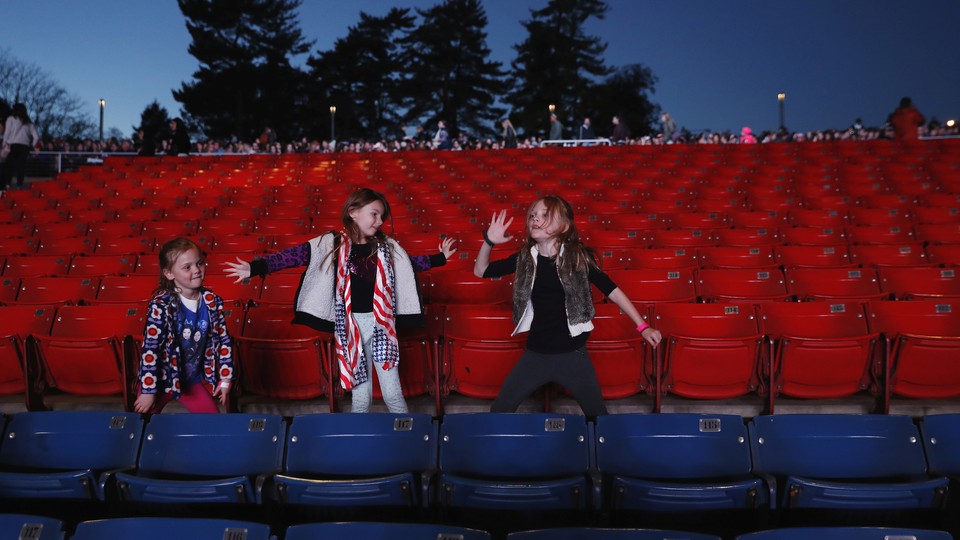 In the end, they all descend on Pennsylvania. There were the "Coffee With Ivanka" events all over Lehigh Valley on Sunday, the nearby "phone-bank kickoffs" with Chelsea. Donald Trump will head to Scranton Monday night, while Mike Pence hangs out in Erie. And after partying with Katy Perry in Philly on Saturday, Hillary Clinton will hit the city again on Monday, taking the stage with her husband and the Obamas.
The Keystone State is an obvious choice for each campaign's last hurrah. Unlike some other states, Pennsylvania doesn't have early voting, so late appeals have more potential effect. It's also high-stakes territory—a swing state with 20 Electoral College votes. The way the polls are going right now, Clinton will easily win: She's up roughly five points compared to Trump, according to averaged estimates.
But the U.S. Senate race is still extremely tight: Democrats are hoping to knock out Pat Toomey, the incumbent Republican, and take back the chamber. The Democratic Party has put big money and political capital into the race, bringing the Democratic candidate Katie McGinty on stage at events with Clinton. Toomey, meanwhile, has kept his distance from the presidential campaign, neither affirming nor denying his support for Trump in an effort to win over Clinton voters.
Toomey may be seeing something about the state that Trump doesn't: Pennsylvania is also a microcosm of the demographic change that's been happening all over the country. Outside of the big cities, Pennsylvania is theoretically Trump country, with large white, working-class populations. Out of its 18 U.S. congressional districts in the state, only four are represented by Democrats. (A fifth Democratic representative, Chaka Fattah, was convicted of corruption charges in June and resigned from his seat.)
But where the state is really growing—and where national elections are decided—is in and north of Philadelphia. "The growth of the eastern part of the state … has made it more racially diverse," said William Frey, a demographer at the Brookings Institution. "Those are areas that have tended to become more Democratic." The state is roughly 83 percent white, 12 percent black, and 7 percent Latino, according to the U.S. Census. But places like Allentown, Lancaster, and Reading have seen huge influxes of Puerto Ricans in recent years—as of 2010, Philadelphia County had the fifth-largest population of Puerto Ricans in the country. Many of the counties that have seen the most demographic change over the last decade and a half are the same counties that had the closet margins in the 2012 presidential race.
That explains why Clinton is spending her last night on the campaign trail in Philadelphia: High turn-out there, and in the "collar counties" surrounding it, can make or break an election. "Focusing on a lot of those collar counties is going to be important," said Frey. It's a way of "making up for everything she might lose with a bigger turn-out of white-collar, working-class men" elsewhere in the state, he said, "or maybe a somewhat lesser turn-out or enthusiasm among African Americans" compared to 2008 and 2012.
Perhaps because the stakes are so high, Pennsylvania has become one epicenter of a nationwide fight over voter intimidation and fraud, largely focused on voters of color. "The only way we can lose, in my opinion—I really mean this—in Pennsylvania, is if cheating goes on," Trump told an Altoona crowd in August. He encouraged his supporters to "look and watch other polling places, and make sure that it's 100 percent fine." In October, he claimed voter fraud is "all too common," including in places like Philadelphia.
"We don't want people staying home because they think it's going to be chaos."
During the last week, the parties have taken this fight to the courts. First, Republicans attempted to expand the rules around poll-watching: They asked a judge for an injunction against the Pennsylvania law that prevents residents from monitoring polls outside their own county. They lost.
Then a week ago, the state's Democratic Party filed a suit of its own against Donald Trump, the state GOP, and Roger J. Stone Jr., the head of a voter-fraud-related super PAC, for allegedly recruiting unauthorized poll watchers to conduct "ballot security" efforts throughout the state. A hearing is scheduled for Monday morning.
Finally, late last week, police officers raided two Democratic organizing offices for evidence of fraud; they were reportedly searching for "forms that could be used to 'construct fraudulent voter registration forms' and 'completed voter-registration forms containing same or similar identifying information of individuals on multiple forms.'" No charges had been filed as of Friday.
Local leaders, including the Philadelphia Republican Party chairman Joe DeFelice, have tried to tamp down concerns about potential fraud. Sara Mullen, the communications director for the ACLU of Pennsylvania, said advocates are worried that voters, and particularly voters of color, won't show up on Tuesday. "Our concern is that we don't let this climate interfere with people going to the polls," she said. "We don't want people staying home because they think it's going to be chaos. … We want people to know that it's going to be fine—don't let yourself be disenfranchised by being afraid to go out."
But the state is still geared up for potential conflict. A voter-protection coalition has set up seven staging areas in Philadelphia to respond to complaints of voter intimidation or technical trouble, particularly focusing on precincts with large black and Hispanic populations. They also have staffers in 16 counties around the state. "We are fully prepared to be bored silly," said Joe Certaine, who's leading the effort in Philly. "These guys are very braggadocios—they're really full of shit, and we know it. But we want to be prepared for any possibility, because there are enough crazies out there who would come into Philadelphia into our neighborhoods to do something stupid. If anyone is inclined to come this way, we're ready for them."
Whatever happens in Pennsylvania on Tuesday, it will be important. Voters there may very well tip the final count in Electoral College, and they could determine which party controls the Senate. Most importantly, if local leaders are right, and November 8 turns out chaos-free, that would further affirm the legitimacy of the election's results. In a year when politicians have often used the word "rigged," Pennsylvania could show what democratic voting looks like, even while everyone watches for evidence otherwise.
---
Related Video: