'It's Time to Come Home'
In Wisconsin, Mike Pence pitches Donald Trump to the reluctant Republicans he needs most.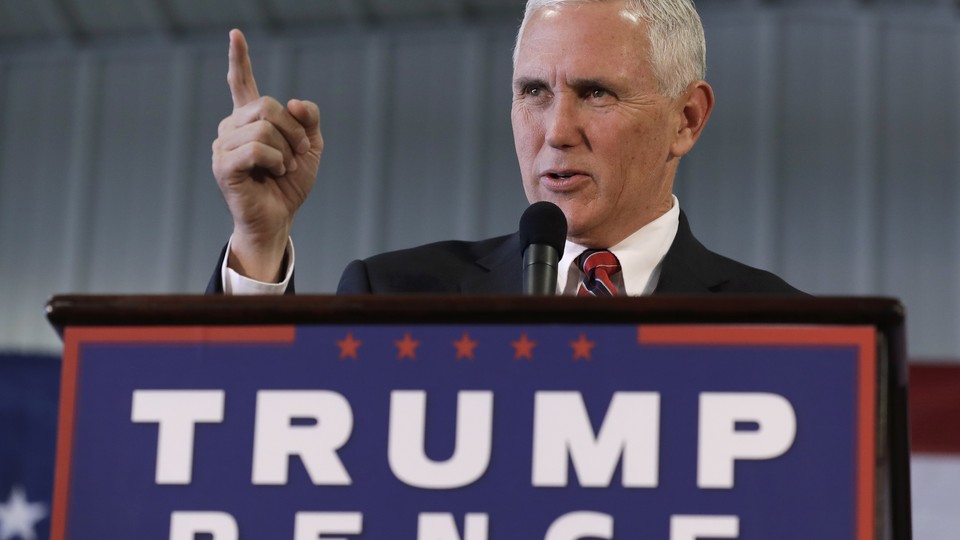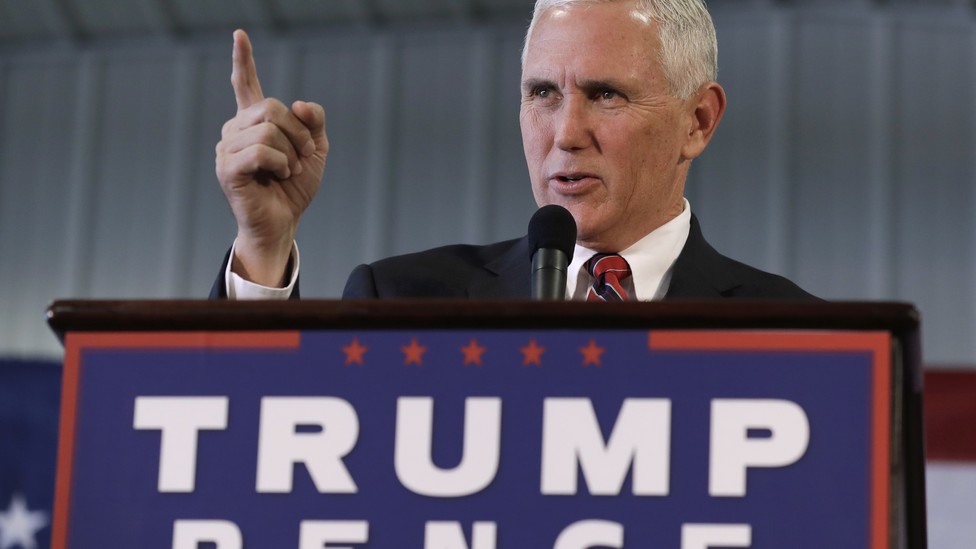 MUKWONAGO, Wis.—Mike Pence's mission when he came here to the Wisconsin suburbs on Saturday was to gin up support for Donald Trump among undecided voters.
But the fence-sitters the Trump campaign is targeting aren't the people that usually come to mind when pundits pontificate about undecided voters. These aren't centrists in the mushy middle, torn between right and left. The hundreds who came out to see Trump's running mate on a pristine, unseasonably warm November morning were rock-ribbed Republicans. They certainly aren't casting ballots for Hillary Clinton, they said, and they aren't staying home; they plan to vote GOP down the line for other offices and especially for Senator Ron Johnson, the incumbent who is now running nearly even with Democrat Russ Feingold after trailing for much of the last year.
They haven't yet come around to Trump.
"We need to say to our fellow Republicans and conservatives here in Wisconsin, with one voice: It's time to come home," Pence told a crowd of several hundred—a turnout that might have been larger if it didn't conflict with a University of Wisconsin football game. The Indiana governor had linked up with Johnson's statewide bus tour for a rally that also featured Governor Scott Walker and House Speaker Paul Ryan, no longer estranged from the Republican ticket.
Like a parent calling after a wayward child, Pence has been exhorting Republicans to "come home" quite a bit lately. It's a slightly more polite way of telling them to fall in line. In Mukwonago on Saturday, Pence was speaking to people like Bob Bruemmer, a 55-year-old Republican who works in the financial sector. He had decided on every name on his ballot except the top one. "The question is, do I vote for president?" Bruemmer said before the rally. Trump, he said, "wasn't a good Republican." But he wasn't considering a third-party candidate. "It'll either be blank, or it'll be Trump," Bruemmer said.
Trump likely needs the Bob Bruemmers of the world to come home if he has a chance at breaking through any of the Democratic-leaning states in Clinton's Midwest and Rust Belt firewall, including Pennsylvania, Michigan, and Wisconsin. The challenge is particularly stark in southeast Wisconsin, a region that Ryan represents in Congress and which turned decisively against Trump in the April primary won by Ted Cruz. Mukwonago is part of Waukesha County, an affluent collection of suburbs west of Milwaukee that usually go strong for Republicans.
Clinton must overcome similar doubts among liberal Democrats who backed Bernie Sanders in the primary, but at least in Wisconsin, she appears to be doing a better job than Trump of consolidating the party rank-and-file. A Marquette University School of Law poll released last week found that 89 percent of Democrats were backing Clinton, while just 81 percent of Republicans supported Trump. Clinton led by six points overall in the survey.
There is some evidence that the Trump campaign is having success wooing reluctant Republicans. National and battleground state polls have tightened in the last two weeks, as support for Libertarian Party nominee Gary Johnson has dropped while Trump has risen. And last week's disclosure that the FBI was reviewing new emails "pertinent" to its investigation of Clinton's private email server has likely helped bring Republicans back into the fold. "Trump's going to be the first president that nobody voted for him," joked Holly Watts, 52, as she described the unpalatable choice that she and many other Republicans had made. Watts is cake decorator, but she offered a politician's explanation for her stance. "I don't endorse Trump, but I'm voting for him," she said after the rally. Clinton, Watts said, is plainly worse. "How do I tell my children I voted for her?"
Trump faces another hurdle in states with early voting like Wisconsin, where Pence's pitch for party unity has come too late for some Republicans.
Wade Hummer, a 60-year-old landscape contractor, said he almost voted libertarian but ended up casting an early vote for Trump. "I figured that's a wasted vote," he told me. Hummer's family, however, went the other way: He said his wife and at least three of his four adult children—all reliable Republicans—had already voted against Trump.
No one has embodied the Republican waffling over Trump quite like Ryan, the party's policy-focused leader in Washington who felt duty-bound to support the nominee even though he would have preferred just about anyone else who ran in the primary. A month ago, Ryan seemed to be on the brink of rescinding his support after the release of the 2005 Access Hollywood tape in which Trump bragged about groping women. He cancelled a planned appearance with Trump in Wisconsin, and he told Republican lawmakers his sole focus would be on saving their majority in the House rather than the presidential race. But after considerable blowback from Trump supporters—and with Trump's standing improved—Ryan has hung closer to the top of the ticket of late.
On Saturday, Ryan traded kind words with Pence, his one-time close ally in the House, and he even told reporters earlier in the day that he would attend a rumored Trump rally in Wisconsin. The event would have been Ryan and Trump's first joint appearance of the campaign, but the idea was short-lived: Shortly after the speaker offered to attend, the Trump campaign called off the rally and said Trump would head to Minnesota instead. Still, Ryan made sure to remind the Mukwonago crowd that he had, in fact, voted for Trump and the whole Republican ticket. Then he turned to the watchword of the day: "It's time," Ryan said, "to come home and get out and vote."
After so many months of awkward distance between the nation's top two Republicans, the subtext of Ryan's message to his state's wavering rank-and-file was clear: I've come around on him, and now so should you.