Paul Ryan's Gamble
After months of keeping his distance without repudiating his nominee, the House speaker embraced Trump just in time to see his bet pay off.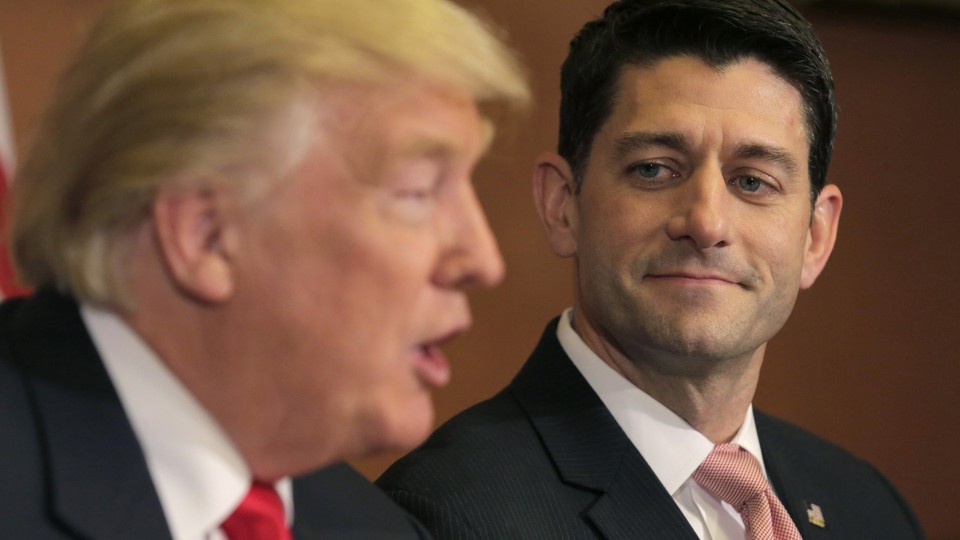 MUKWONAGO, Wis.— "Wow! Yay!"
Paul Ryan, dressed in his official campaign uniform of a red pullover sweater on top of a blue-and-white button-down shirt, had just bounded onto the makeshift stage in his home district on the Saturday before the election.
He was pumped, or trying to be.
It was a gorgeous fall day, and the several hundred people arrayed before him in a public park seemed like a decent crowd considering it was also a Badgers game day. This was the closest thing to a party-unity rally Ryan was going to attend. No, Donald Trump wasn't there. After swallowing hard and endorsing the Republican nominee, and then spending months avoiding him, Ryan had finally offered to join Trump for a rumored rally the next day, Sunday. It would have been the first time the two men had shared a photograph, much less a public stage. But in short order, the Trump campaign scrapped the event. Maybe it was because the Packers had a home game Sunday afternoon, or maybe Trump just felt like returning a snub.
It didn't much matter to Ryan. The House speaker was focused on preserving his majority and barnstorming Wisconsin to reelect Ron Johnson, the first-term senator facing an increasingly competitive race with Russ Feingold. Ryan would get to show his support for the top of the ticket instead by introducing Mike Pence—a longtime friend from their days together in Congress and a Republican much closer to his conservative heart than the non-ideological Trump.
Knowing many were there to see Pence, Ryan began his short speech with his version of red meat: mild attacks on the Clintons.
"I've got a couple of points to make," Ryan said. "Number one..."
"LOCK HER UP!" a man shouted.
Ryan ignored him.
"For those of you who did experience the '90s like we did, this is what life with the Clintons looks like. It is scandal after scandal after scandal," the speaker continued.
"HILLARY FOR PRISON!"
Ryan forged ahead. "The point I'm trying to make it, do we want four years of that stuff? Good lord no."
"Where were you when we needed you?" another man called out. A few others joined in, demanding that Clinton be jailed.
"Let me tell you what we do need. We need courage," Ryan said.
Now the crowd was chanting almost as one. "LOCK HER UP! LOCK HER UP!"
Ryan let out a nervous chuckle. The mild-mannered, conservative ideas man could see this was getting away from him. He tried to steer them toward safer, more comfortable ground. "I've got a better idea!" Ryan said, his voice rising to meet the crowd's. "Let's make sure she never becomes president of the United States in the first place!"
They cheered, and Ryan moved on. He praised Governor Scott Walker. He lauded Johnson. He urged Republicans to vote for several other local candidates.
One name was missing.
"And Donald Trump!" a man yelled. Then everyone joined in again. "TRUMP! TRUMP! TRUMP!"
"I'm getting there," Ryan replied. "Just wait."
Ryan did get there in the end, and perhaps just in time to save his job.
In the closing weeks of the campaign, the Republican speaker began to more fully embrace the candidacy of "our nominee"—the man his party had chosen over 16 other candidates, each of whom the media, the GOP establishment, and likely Ryan himself had deemed more suitable for the job of president. For one, Ryan finally started uttering his name. "I walked in to the City Hall in Janesville, Wisconsin, about two weeks ago, and I cast my ballot. I voted for Donald Trump and Mike Pence," he said in Mukwonago, a line he used at just about every stop across the state last week.
That Ryan had to announce his vote at all was revealing. If Trump is the bad boy of Republican politics, the 46-year-old speaker is the Eagle Scout. Born and raised in Janesville, about a 50-minute drive south of Madison, Wisconsin, Ryan was both prom king and class president. As a young activist and congressional aide in Washington, he studied under Jack Kemp before winning his first House race in 1998 at the age of 28. He's been a conservative star in Congress for more than a decade, having crafted budget proposals centered around steep cuts to taxes and entitlements that began as non-starters among Republicans and ended up as party doctrine. That is, until Trump came along.
Ryan is every bit the career politician that Trump is not, and he rose in stature in part because of his ability to explain his conservative manifestos—and the philosophy of the party—cogently, if not always eloquently. But the white papers always came easier to him than the politics. "Paul has always been a policy guy and always been an issue guy," said Representative James Sensenbrenner, a fellow Wisconsin legislator who has been a mentor to Ryan. "There were times early in his career where he would hand me these lengthy treatises, and I'd say, 'Well how are you going to sell this to the people?' Because they're not going to sit and listen to an academic lecture."
"Paul's made an awful lot of progress getting away from that," Sensenbrenner told me.
The "Path to Prosperity" budgets that Ryan wrote annually in Congress bear little resemblance to Trump's platform. There are exceptions, of course. Both Ryan and Trump have called for deep tax reductions for the wealthy and corporations, cuts in regulations, and legislation to repeal and replace the Affordable Care Act. But where Ryan calls for dramatic cuts to discretionary and entitlement spending, Trump has said he wants to spend more than half a trillion dollars on infrastructure and has vowed not to touch Medicare or Social Security for seniors. Ryan has championed free trade and supported the deals Trump has pledged to redo. He has favored immigration reform and supported an internationalist foreign policy; Trump wants to turn inward.
Ryan's reluctant ascension to the speaker's office last year after the resignation of John Boehner coincided with Trump's rise to the fore of the GOP nomination battle. With the primary focused so little on serious policy, and knowing that the party might not have a standard-bearer until well into the summer, Ryan directed committee leaders in the House to draft their own agenda. The idea was that if Republicans nominated someone who did not have his own agenda or was agnostic about policy (Hint: Trump), then the House GOP would have a platform ready for him to adopt.
The "Better Way" agenda that Ryan unveiled in the spring served both as a substantive campaign agenda for Republican candidates and as a political shield. When Ryan was peppered with questions about Trump's latest controversies, he'd simply pivot to the "Better Way." The actual policy meshed with the broad brush ideas Trump talked about in some areas—like taxes and Obamacare repeal—and it ignored them in others. It did not, for example, call for a border wall with Mexico or a ban on Muslim immigrants, and it contained an anti-poverty plan that was nowhere on Trump's thin list of priorities.
Yet the conflict that Trump has posed for Ryan goes far beyond policy differences. On a personal level, the speaker left little doubt about how he felt about Trump. When Trump first proposed banning Muslims from entering the U.S. last December, Ryan decried it as "not conservatism." When Trump began charging that the American-born Judge Gonzalo Curiel could not rule fairly on the lawsuit against Trump University because of his Mexican heritage, Ryan said it was "the textbook definition of a racist comment." Time and again, however, Ryan would stop short of abandoning Trump altogether. The operating principle was denounce but not reject. Hold Trump at arms length, but hold him all the same.
The politics of the decision were easy to see: As the highest elected Republican and the official chairman of the party's convention in Cleveland, Ryan felt he didn't have the luxury of ditching Trump completely, as had Mitt Romney and other former or lower-ranked party officials. And after Trump's nomination, GOP leaders needed rank-and-file voters at least to turn out at the polls to support the party's congressional candidates even if they weren't going to cast a ballot for Trump.
The quandary was especially frustrating for Ryan and other traditional conservatives on Capitol Hill, who had looked to 2016 as the party's best chance to hit the trifecta, to seize control of the House, Senate, and White House and enact the policy agenda they'd been advancing for years. It was the culmination of a comeback that began with winning the House majority in 2010 and the Senate majority in 2014. "It's like tantalizingly close. They felt they were just one election away from being able to do this," said Charlie Sykes, a conservative radio host who has been supportive of Ryan in Wisconsin.
Trump was the wrench in those plans, both for his rejection of conservative orthodoxy and for the fact that few top Republicans, including Ryan, believed he could win. Ultimately, however, the prospect of securing Trump's signature on legislation meant more than his foul mouth or populist leanings. "No matter how awful he is, he will be the guy that will sign our agenda. Hillary Clinton won't," Sykes said. "This was very, very important for Paul Ryan—that you could get through your tax reform, your other pieces of legislation, and that a President Trump, whatever our relationship is, he will at least sign it into law."
So Ryan split the difference. Even when the Access Hollywood video came out in October and showed Trump boasting about groping women, the principle remained the same. Ryan disinvited Trump from a unity rally the next day in Wisconsin, and that Monday he pointedly told House Republicans on a conference call that his sole focus for the final month of the election would be saving their majority. Still, he did not rescind his endorsement. Representative Bill Huizenga, the Michigan Republican who asked Ryan about Trump on the call, described his answer this way: "I'm not saying I'm not voting for him at all. I'm just changing my focus to make sure that I'm adhering to my first responsibility, which is those of us in the House."
What Trump and his supporters heard was something quite different. They saw Ryan cutting the nominee loose, consigning him to defeat in a desperate bid to save the party from a total wipeout. Trump, predictably, lashed out. "Our very weak and ineffective leader, Paul Ryan, had a bad conference call where his members went wild at his disloyalty," he tweeted. He told Bill O'Reilly: "I don't want his support." In another tweet days later, he said Ryan "doesn't know how to win," criticized his budgets, and needled him over losing the vice presidency in 2012.
Publicly and privately, Ryan ignored Trump's taunts. He criss-crossed the country raising money and campaigning for Republican candidates, building up political chits that might come in handy after the election. "I'm sleeping pretty well," he told one Wisconsin buddy who asked how he was holding up in mid-October. "I'm okay with where we're at."
The threat to Ryan was not Trump, who most Republicans believed would lose. It was his loyalists in the House and in the conservative media, especially Steve Bannon, the Breitbart executive who had become Trump's campaign chief. Would they blame Ryan for Trump's defeat and try to oust him from the speaker's post? Already, members of the Freedom Caucus were withholding support from Ryan and plotting their post-election moves. Ryan's allies, in turn, warned that if hard-liners tried to impose conditions on his reelection, the speaker would simply walk away. He didn't want this job in the first place, remember?
"Paul Ryan will not allow himself to be blackmailed, by any individual or by any group," Representative Mario Diaz-Balart told me. "Period."
Ryan spent the final days of the campaign on his home turf in Wisconsin, riding in a giant green bus with Johnson, Walker, and other Republican elected officials and party leaders. He wore the bright red University of Wisconsin pullover nearly everywhere, except when he switched it out for Packers green ahead of a Sunday tailgate party.
If Ryan could find protection from the political headwinds Trump was fanning anywhere, it would be here. Trump lost the state's primary badly to Ted Cruz in the spring. And when Trump supporters backed a challenger, Paul Nehlen, against Ryan in the congressional primary in August, the speaker made a mockery of them. He won by 70 points.
"There's been too much hype about that," Ryan told me when I asked him about the rumblings of discontent among Wisconsin Republicans over his tepid support for Trump. It was the Sunday before the election, and we were standing, along with a local newspaper reporter, in the cramped kitchenette of the county GOP headquarters in Fond du Lac. "The point is we're trying to get everybody to unify and turn out, and that's what the focus is."
Whether Ryan was paying attention or not, there was a considerable amount of angst among conservative voters in his state. A few minutes after I spoke to him, I came across Kim Brandow, a 51-year-old nurse who had attended the unity event and was now laying into Ryan in the parking lot. "Paul Ryan, in my opinion, is a traitor. He betrayed the Republican Party," Brandow said. "I will never vote for him again. I'm done with him."
The overflow crowd in Fond du Lac had greeted Ryan warmly, but at a similar rally about an hour's drive northeast in the small blue-collar city of Manitowoc, the welcome for the speaker was no more than polite. A few dozen mostly older Republicans had turned out for the breakfast event at the local Holiday Inn, and afterward a woman made a beeline for Ryan and asked him why he wouldn't appear with Trump. Ryan told her he was definitely willing to campaign with Trump and mentioned his offer from the day before for the rally that the Trump people promptly cancelled. The interaction ended quickly.
"A lot of Trump supporters are negative toward Ryan. I think it has damaged him," Don Zimmer, the Republican county chairman in Manitowoc, told me after Ryan had left the room. He cited the speaker's "tepid support" for the nominee and his "hostility" toward him throughout the campaign. "If Trump loses then there will be a lot of conservatives who blame Paul Ryan," Zimmer said.
Trump didn't lose. He didn't lose the election, and of particular importance to Ryan, he didn't even lose Wisconsin.
Nothing soothes anger like winning, and none of Trump's former critics raced to his side faster than Ryan. "This is the most incredible political feat in my lifetime," the speaker declared in a post-election press conference in Janesville. Trump, he glowed, had "set a perfect tone" in his victory speech on Tuesday night. Ryan credited the president-elect not only with winning his own election but with helping Republicans maintain a stronger-than-expected majority in the House. His aides quickly reminded reporters that the speaker's relationship with Trump was never that bad to begin with, that he had kept his commitment to support the party's nominee and that his efforts to campaign for Republicans—and raise money for the GOP—had boosted the Trump-Pence ticket.
By Thursday, Ryan was giving Trump a tour of his Capitol office, showing him the amazing view of the Washington Monument, pointing out where Trump would take the oath of office, spotting the big, beautiful hotel the president-elect had renovated down the street. They were strangers no more. The two men who will now lead the country posed for a photograph together for the very first time. They spoke jubilantly of all the things they would do—tax reform, healthcare, cutting regulations.
"The past is the past," Ryan told Fox News' Bret Baier later that evening. "Look at how we closed the campaign."
His journey to Trump had been like a kid trying to walk across slippery rocks without falling in the stream—slow, halting, wobbly at first, then faster and more confident, and finally taking that giant final leap onto dry ground on the other side.
Trump hasn't crossed over to Ryan with equal enthusiasm, but he hasn't pushed Ryan away either. With the Freedom Caucus standing down for now, the speaker's reelection seems all but assured. He and Trump will surely clash at some point, and perhaps sooner than later if the president-elect forges ahead with a big-spending infrastructure plan that small-government conservatives like Ryan have in the past derided as a stimulus boondoggle, or if Ryan pushes privatizing Medicare to the fore of his agenda.
Incredibly, Ryan's once-shaky bet has paid off. In the span of 12 minutes on Wednesday, he mentioned the words "unified Republican government" no fewer than four times. He may not have his preferred president, but after years of writing plans to overhaul the government that went nowhere, Ryan finally has what he wanted most: the promise of a signature in the Oval Office. "This was an unconventional year, and he was an unconventional candidate. But the point is, we unified, especially at the right time at the end," he said Thursday night.
"And it worked."
---
Related Videos