President Obama Hits Another Commutation Milestone
With 79 new grants, he's set a modern-era record for presidents.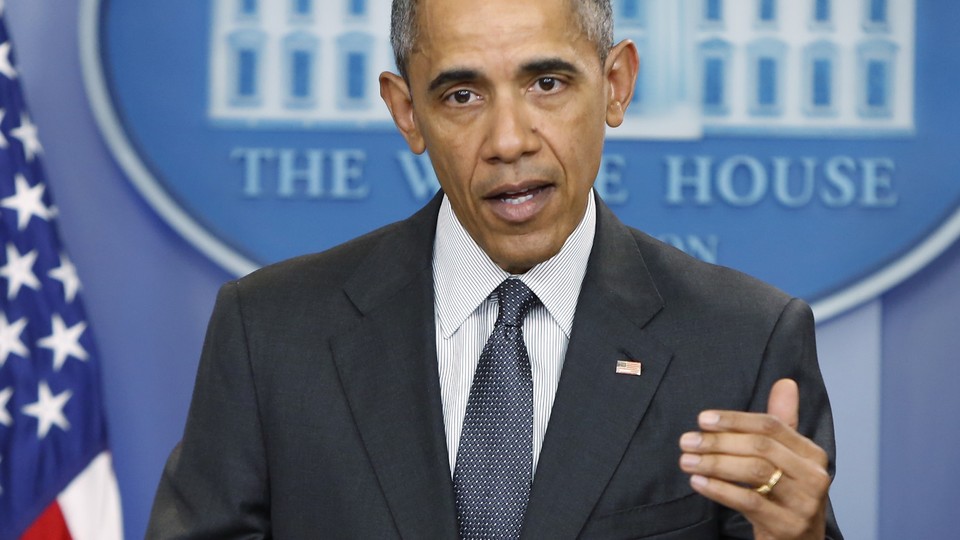 The White House announced Tuesday that President Obama has granted an additional 79 commutations to federal inmates, bringing his total to 1,023, a figure that surpasses that of the last 11 presidents combined.
In a press call, Deputy Attorney General Sally Yates and White House Counsel Neil Eggleston described how the administration, through the Justice Department, has reviewed thousands of applications in the last two years, and will continue to do so as the president's time in office winds to a close. "The president has not just met, but exceeded what he set out to do in 2014 by re-invigorating the clemency process," Eggleston said. He reiterated the two driving principles behind Obama's overall criminal-justice reform initiatives: "fairness under the law and the right to earn a second chance."
Most of Obama's communications, 839 of them, were granted this year, "which is more than most modern presidents granted during their entire administrations," Eggleston said. Justice Department officials intend to continue to make recommendations to the president until he leaves the White House. Still, they anticipate that the incoming administration will be met with a large pool of applicants. Some 6,300 petitions were under consideration as of August 31, when the Justice Department committed to reviewing all pending petitions before January 20. Yates said they are on track to make recommendations on all of them.
More than 1,000 of the total recipients "served far more time than the sentences they would receive today" for their offenses, Eggleston told reporters.* Among them, 342 were serving life sentences at the time they received commutations. "This is more than statistics," Yates said. "There are 1,000 lives behind that number, 1,000 people who've been sentenced under unnecessarily harsh and outdated sentencing laws."
Yates, who reviews applications herself as part of the DOJ process, identified commonalities between those who seek clemency, including "lack of access to education or real economic opportunities," "absence of parents," "drug addiction," and "hopelessness." On the other hand, she said she has also seen: "remarkable introspection," a "real sense of responsibility for their conduct," and "a dogged determination not to repeat the mistakes of the past and to ensure that they, and especially their children, chart another path."
Among the recipients in the latest group are Donna McDaniel, Cindy Shank, and Lisa Ball, all of whom received support from CAN-DO, an advocacy organization that promotes the cases of women seeking clemency. Its founder, Amy Povah, served nine years for a nonviolent drug offense before receiving clemency from President Clinton. "While we are elated for everyone who received clemency today, again, only five women out of 79 recipients," she told me. "That is not enough, given the fact that most women are in prison due to conspiracy laws that hold them responsible for the actions of their significant other, but there are very few men who are serving time due to what their girlfriend or wife was doing."
Yates framed Obama's commutations as necessary for the well-being of the public. "What we see is when we keep people in prison for longer than is necessary for public-safety purposes, we are diverting precious resources away from that—away from prosecutors and agents, and critical prevention programs as well," Yates said.
---
* This article originally misstated the amount of time inmates served as "four more times." We regret the error.