How Young Voters Reluctantly Learned to Love Hillary Clinton
Many admit she's a flawed candidate, but have come around to the idea that she's the best choice all the same.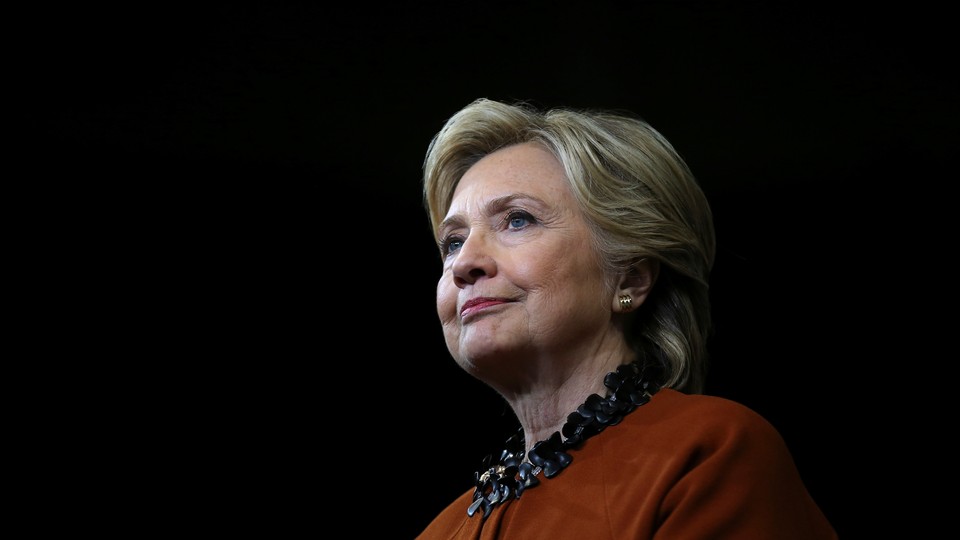 She doesn't have the odd charm of Bernie Sanders or the effortless charisma of Barack Obama, but at least she's not a demagogue with authoritarian tendencies like Donald Trump. That's a powerful motivator for young voters who plan to vote for Hillary Clinton.
Young voters overwhelmingly prefer Clinton in the 2016 race, and polling indicates they've increasingly rallied around her in the closing stretch of the campaign. That's no small feat for the Democratic nominee considering that millennials, a voting bloc roughly defined as anyone between the ages of 18 to 35, were more likely to vote for Sanders during the primary, and many remained reluctant to support her candidacy throughout much of the general election.
"I used to think that she was like the devil, but now I think she's actually a great candidate," said 30-year-old PJ Edwards, a supporter of Sanders during the primary from Detroit, Michigan, who plans to vote for Clinton.
The threat of a Trump presidency has partly motivated the turnaround. "When Bernie lost, it was like any breakup. At first you're really sad, then you're in denial and you don't want to think about it," said Armand Domalewski, a 27-year-old  from San Francisco, California who will vote for Clinton. "But pretty quickly, I was less concerned with my disappointment, and more concerned about the possibility that Trump could win."
It was never going to be easy for Clinton to woo younger voters. Her status as a government insider clashes with millennial distrust of government. She has a track record, including her more than a decade of opposition to gay marriage and support for the Iraq War, that puts her at odds with socially liberal and war weary younger voters. She's also played the role of opponent to Democratic candidates who have proven particularly popular with younger voters—Sanders and Obama.
Millennial voters are acutely aware of her flaws, but as the race drags on many sympathize with Clinton as they see her in a different light than when the race started. "She's not a perfect candidate," said Amelia Yousey, a 21-year-old from Upstate New York, who was a fan of Sanders, but plans to vote for Clinton. "She's been guarded in a way that hasn't helped her, but I think that's partly a reaction to how much criticism she's faced."
Jonathan Rezach, a 27-year-old from California, once worried that Clinton was too cozy with corporations, but says he has since become more of a realist. "Wall street and big banks finance a lot of our world and are necessary institutions," he said. When Clinton came under attack for her Wall Street speeches, Rezach looked into the paid speaking industry and concluded there's nothing particularly sinister about it. "She did a job, and she got paid for it," he said, "I don't think doing a job necessarily makes you corrupt."
Millennial voters aren't only voting for Clinton because of Trump. She may not be as thrilling a candidate as they might have wanted, but Clinton converts have found things to like about her all the same. "I'd characterize her as the smartest girl in the class," said Cameron Strickland, a 26-year-old from North Carolina who supported Sanders during the primary. Now, some younger voters lament that everyone else seems to give her such a hard time."She just seems so intelligent, I think it's a shame that people can't get past sort of how boring she is to see that she's extremely prepared," Strickland added.
Young voters who plan to vote Clinton after previously supporting Sanders add that it is inspiring to vote for a candidate who could make history as the first woman president. "I didn't really think about it until recently, but it really is the ultimate glass ceiling," Edwards said. That's not the only inspirational quality some millennials have come to see in Clinton. "In a way, I think the most inspiring thing about her is that she just keeps going even after being subject to so many attacks," he added.
Meanwhile, many millennials believe a sexist double-standard is at play in the criticism she faces. "It's hard not to think that," Yousey said. "I think almost any woman can relate to the idea of being extremely prepared, and people totally disregarding you."
A national poll of 18 to 29-year-olds conducted by Harvard's Institute of Politics in October found Clinton winning 49 percent of likely young voters in a four-way race. "What the data shows is that millennials have started to overwhelmingly coalesce around Hillary basically since Labor Day," said John Della Volpe, Harvard's Institute of Politics polling director. "For a candidate who has had a very complicated relationship at best with that generation, she has made a lot of progress in a relatively short period of time."
GenForward, a survey of the Black Youth Project with the AP-NORC Center for Public Affairs Research released at the end of October, suggests that Clinton may win 60 percent of the youth vote, the same share as Obama in 2012. That doesn't mean the composition of her youth vote coalition will be identical: Survey data shows that younger voters of color support Clinton at a lower rate than they did Obama during the last presidential election.
"I don't think she's as bad as people make her out to be, but she does have things in her past that kind of make you think twice about her," said Nkiru Sewell, a 22-year-old living in Upstate New York, pointing to Clinton's 1996 "super-predators" comment, a remark she has since expressed regret for, as one example. "I think she realizes what she did was wrong," said Sewell, who plans to vote for Clinton, "but it's not that easy to forgive something like that."
If nothing else, millennial voters seem to agree that the election has been anxiety-inducing and stressful, and more than anything, they want it to be over.
"When Obama was running for the White House there was a sense of optimism, hope, change, all that stuff, and now it feels like we're just desperately trying to save ourselves," Strickland said.
"The entire thing has felt like a really strange movie," Sewell commented. "A few weeks ago, when Trump was down in the polls, it felt like a horror movie where you think the villain is finally dead, but then he gets up and you're like 'oh my god he's still alive.'"