What Happened to Hillary Clinton's Support Among Latinos?
The electorate seemed poised to help her secure a victory, and yet her support trailed behind Barack Obama's numbers in 2012.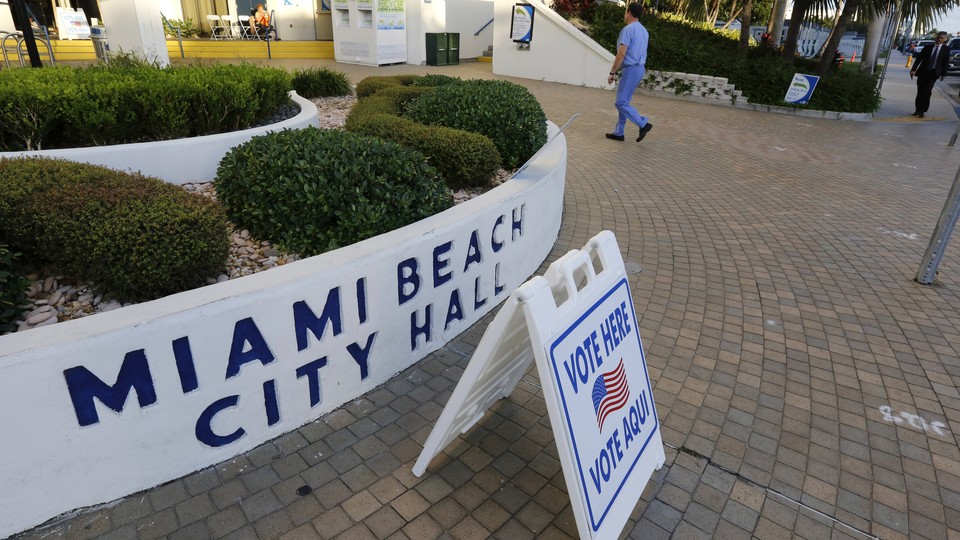 A looming question ahead of Election Day was whether Latino voters could deliver the White House to Hillary Clinton. The Democratic nominee's team seemed optimistic, as polls showed her with a significant advantage over Trump and Latino early-voting turnout spiked in Florida and Nevada, two swing states.
But on November 8, their hopes were dashed: While exit polls suggest turnout among Latinos was slightly higher than in 2012, their support for Clinton fell short of that of President Obama that same year—and support for Trump was unexpectedly strong. This outcome raises questions about why increased turnout in 2016 didn't translate to greater-than-usual support for the Democratic nominee.
Latino voters are more likely to favor the Democratic Party than the Republican Party, a trend dating back to "at least the 1980s," according to the Pew Research Center. And though they've traditionally lagged behind white voters and black voters in turnout, this election cycle, many—especially younger voters—seemed driven to vote by anti-Trump sentiment. Exit polls on Tuesday show that Latino voters made up 11 percent of the electorate, an increase from 10 percent in 2012 and 9 percent in 2008. National Council of La Raza, the largest national Latino civil-rights and advocacy group in the country, issued a statement applauding turnout: "Based on preliminary data, a record number of Latino voters went to the polls, reflecting the tireless work of national and community-based Latino organizations across the country."
The trouble for Clinton was that only about two-thirds of that turnout was for her. According to exit polls, 65 percent of Latino voters backed Clinton, while 29 percent backed Trump—a number that's in line with that of past Republican candidates. Trump's level of support was two percentage points higher than what Mitt Romney saw in 2012 and two shy of John McCain's 31 percent in 2008. Those pro-Trump results are remarkable in light of his remarks about Latinos. After all, Trump launched his presidential campaign calling Mexican immigrants rapists and criminals, and has promised to double down on combatting illegal immigration. Clinton, meanwhile, fell short of Obama's 71 percent support in 2012, coming closer instead to Obama's support among Latinos in 2008, which stood at 67 percent.
It should be noted that these numbers are early, and that a greater picture of turnout and candidate support will emerge in the coming weeks. Surveying Latinos using exit polls can be challenging for a number of reasons, so those numbers aren't entirely set in stone. Still, an early look at Clinton's performance seems to demonstrate that even robust turnout of Clinton-supporting Latinos didn't always help her win.
Take Florida—a state where Latinos make up 24 percent of the population and account for roughly 18 percent of the state's eligible voters. Exit polls there showed a majority of Latinos backed Clinton over Trump. Her lead among Latinos in the exit polls surpassed Obama's in the state in 2012. Support for the Democratic nominee in this slice of the electorate was evident in Latino-heavy counties. In Miami-Dade County, where Latinos account for 56 percent of registered voters, Clinton performed far better than Trump did, receiving more than 280,000 votes. But despite Clinton's performance in the southeastern part of the state, it was not enough for her to win it, delivering a blow to the Clinton campaign days after an unprecedented showing from Latinos in early-voting turnout.
Meanwhile, in Nevada, where 28 percent of the population is Latino, Clinton secured a victory. Clinton's team poured resources into the states in hopes of mobilizing voters. A surge of Latinos turned out during early voting, to Clinton's ultimate benefit. According to exit polls, 60 percent of Latinos in the state backed Clinton, compared with Trump's 29 percent. The story in Nevada among Latinos doesn't seem all that different from Florida—only in Florida, the Latino vote wasn't enough to help shield Clinton from a loss.
In states with high numbers of Latinos, the anticipated, overwhelming support for Clinton appeared to bear out. Yet Trump's support nationally among Latinos was higher than expected. Matt Barreto, the co-founder and managing partner of the polling firm Latino Decisions, suggested some of that contrast can be attributed to flaws in exit polls: "The exit polls—and this is not to criticize them, they will admit this—are completely guessing in the moment, on the fly, on what the composition of the electorate is. … But they don't know, and nobody will know until we look at the election data, what the turnout is."
Yet even if the exit polls were off—as Barreto suggested—Latino support for Trump should not be dismissed. The Republican nominee appeared to be making gains among the Latino electorate coming into Election Day, said Mark Hugo Lopez, the director of Hispanic research at Pew Research Center. The "Florida International University poll … was showing an uptick in support for Donald Trump in the weeks prior to the election. It was gradual but it was rising into the mid-20s," he said. "And when you take a look at the Univision/Washington Post poll that was done in the last few days of October, that, too, showed Trump was winning somewhere in the 20s. To me, that suggests there was something going on and perhaps support for Trump was showing." Such gains likely went under the radar, overshadowed by the expectation that Clinton would over-perform among Latino voters.
Latinos' background, too, has an effect on their political allegiances. There are 57 million Latinos in the United States, and their priorities can differ according to their heritage. Cuban Americans, for example, tend to lean Republican. Media reports appeared to suggest a possible shift in their voting patterns in light of Trump's remarks about Latinos this cycle. But in Florida, which is home to 68 percent of the country's Cuban American population, Trump led Clinton in support among Cuban Americans, according to exit polls. The gap between Trump and Clinton among the group was 13 percentage points—a larger split from 2012, when Obama received 49 percent support compared with Romney's 47 percent. A Latino Decisions poll ahead of the election captured Trump's lead among Cuban Americans in Florida, showing 47 percent of Cuban Americans backing Clinton, compared with 52 percent backing Trump. Had Clinton bested Trump among Cuban Americans, the race in Florida would've been even closer than it was.
A fuller picture of Latino turnout will soon emerge. But one thing is clear, even now: The Latino population is a young electorate that will continue to make up a considerable share of the eligible voters in the country. And not all those who turned out to vote this year went for the Democrat.