Ladies First
Hillary Clinton has campaigned by bringing women up on stage alongside her—cooperating with them, instead of competing.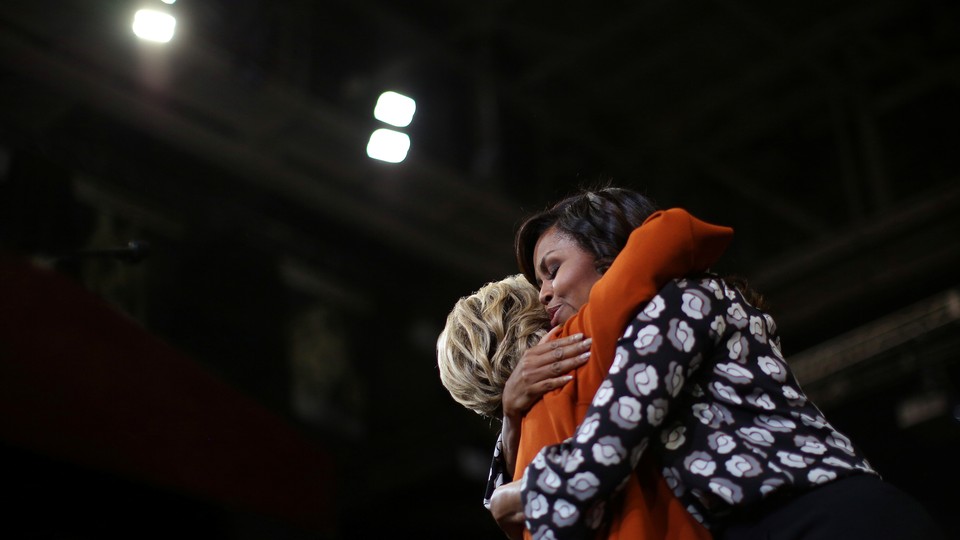 In the battle of the sexes, 2016 has brought no shortage of new lows. The phrase "pussy grabbing" is now officially part of our cultural lexicon. Whether or not you hold sexist views correlates strongly with which candidate you support. The gender gap in American electoral politics is no longer a gap—it is a chasm. Even if Hillary Clinton wins on Tuesday, a woman in the White House is likely to spotlight an ongoing debate over where women belong and how they should be treated once they get there. America will be no more post-gender in a Clinton administration than it was post-racial under President Obama.
And yet. There is another aspect of American womanhood that has been mightily well-served by the never-ending election of 2016: For the first time in America's history, women politicians are acting the most powerful surrogates for each other. Sisterhood is on the march.
Down in Winston-Salem, North Carolina, last month, First Lady Michelle Obama and Hillary Clinton stood on stage together at their first-ever joint campaign appearance. The scene was striking. There was the fact that a black woman—a representative of one of the most marginalized groups in the American political grid—sat at the nexus of power (in one of the seats of the former Confederacy, no less). But what seemed even more unusual was the fact that there were women—and only women—holding the mics that afternoon, united by their shared goals.
This was an echo of another signal moment this past June, when Senator Elizabeth Warren joined Clinton for their first rally together in Cincinnati. Taking the stage, Warren shouted, "I'm here 'cause I'm with her!" before launching into Clinton's career-long history as a true "fighter." This was not merely Democratic duty: Warren relished the moment.
"You know I could do this all day, right?" she said to her audience, beaming. "I could—I could!"
At the end of the speech, the two women stood on stage in their matching blue suits, fists raised in front of their Ohio audience. America had not seen campaigning like this before.
I asked Senator Amy Klobuchar about these moments. "In the past, you thought you'd have to balance it," she told me. "That you'd need a man up there on stage, that people wouldn't accept you without man."
I asked Klobuchar why, and she said that having a man on stage, "would give you this air of authority. You were acceptable because you brought in a man."
The reverse, she said, was not true—men could arrive on stage with other men in, "matching khaki pants and blue shirts" and no one would take issue with the fact that there was no woman anywhere to be seen.
But it wasn't just pairs of powerful women on stage simultaneously, but pairs of women working together. They upended the popular and pernicious narrative about female power: the notion that women are constantly in competition with one another. Through media and entertainment, the public is often led to believe that even if women are friends, they must really, secretly, be frenemies. (Combat between women is weirdly salacious in American politics: witness the frothing earlier this year about about a possible Carly Fiorina-Hillary Clinton general election matchup).
Michelle Obama seemed to understand this view—the latent desire to see the two women as adversaries, the unspoken belief that they always have been—and began her speech by improvising a rebuttal:
I just want to take this moment publicly to thank Hillary. I mean—it takes a level of generosity of spirit to do what Hillary has done in her career in her life for our family, for this nation. And if people wonder: yes, Hillary Clinton is my friend. She has been a friend to me and Barack and Malia and Sasha. And Bill and Chelsea have been embracing and supportive from the very day my husband took the oath of office.
The same spirit—contra expectation—has been a hallmark of Warren's time with Clinton, despite the fact that she really does remain Clinton's most potentially devastating adversary in the party. Warren (not Tim Kaine) has ultimately proven to be Clinton's most enthusiastic attack dog, and at a rally late last month, Clinton acknowledged as much:
I kind of expect if Donald heard what she just said, he's tweeting away. [Warren] gets under his thin skin like nobody else.
It is possibly precisely because Warren is a woman that she has been such an effective offensive linewoman for Clinton, more so than her fellow progressive in the Senate, Bernie Sanders. Warren's shrugging off of the stereotypes about female competition—with such abandon—has made her work as a surrogate all the more powerful. (Warren, after all, never endorsed Sanders, with whom she is more naturally aligned on progressive policy.)
Klobuchar credited Clinton with creating this dynamic on the campaign: "She's the one that wanted that image….That was important to her—that it wasn't just about her, but supporting other women."
But it is not without precedent in American politics. The women of the Senate, for example, have been working in partnership for several years to get things done, and Klobuchar said she "hopes [they] have paved the way" for moments like the ones the country has seen in 2016. And Senator Claire McCaskill confirmed that she and her fellow female senators "have a really tight knit group. We share the scars and we share the experience of fighting our way to the jobs that we have. And those experiences are so similar among us. It really does breed a special kind of collegiality. We trust each other."
How, I asked her, did she understand the popular narrative about competition between women?
In the past, McCaskill said, "there were so few women struggling to reach the apex—there was a sense that, 'It's really hard to compete with men, because of all the institutional barriers, so I have to look over my shoulder at that other woman.' Now that there are other female colleagues, I think you get over the Queen Bee Syndrome. If you're not gonna be the only woman, you're less worried about other women competing with you."
And some of the lessons that Clinton took from her time as a woman in the Senate may prove particularly valuable if elected. "Clinton understands that in our democracy, you can't change anything if you don't play well with others," McCaskill said. The collaborative approach she's shown on the trail might be even more useful in office. "It's the person who take the low profile and isn't the center of attention who can get things done. She will be a much better president than she is a candidate."
Klobuchar added, "I like to say that women politicians speak softly and carry a big statistic. They have had to prove themselves more … When you come up that way, you want to get results when you come to office—not just massacre each other."
If she is elected, Clinton's ability to get anything done—on trade or immigration or even infrastructure—will ultimately rest on the men of Congress, who far outnumber the women, and may very well still want to massacre each other. The gender balance in American politics remains woefully, shamefully, out of whack—and women, if they are to correct that, will need more encouragement to run. As much as the 2016 race has been a carnival of degradation and diminution, it has, however fleetingly, demonstrated that candidacies for office can now be built on the foundation of sisterhood.