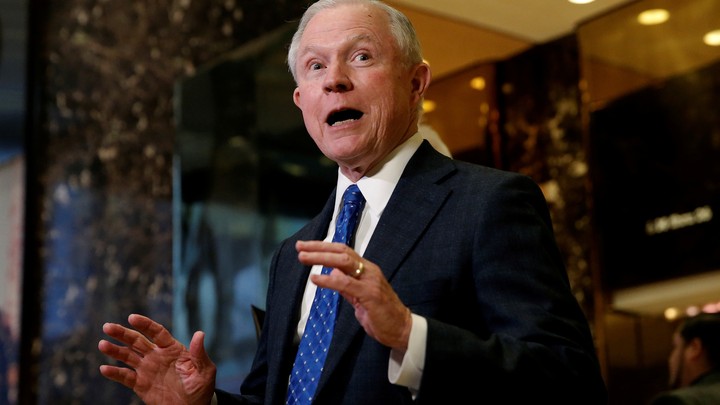 Updated on October 18 at  2:22 p.m.
Jeff Sessions is President-elect Donald Trump's pick to become the next U.S. attorney general.
"It is an honor to nominate U.S. Senator Jeff Sessions to serve as Attorney General of the United States," Trump said in a statement released by his transition team on Friday, calling Sessions "a highly respected member of the U.S. Senate" and "greatly admired by legal scholars and virtually everyone who knows him."
The Alabama Republican is one of the most conservative members of the Senate. He has staunchly opposed efforts to pass comprehensive immigration reform in Congress, and has accused President Barack Obama of presiding "over an historic weakening of some of our most important criminal-sentencing policies."
Sessions has also proven extremely loyal to the president-elect. He was the first sitting U.S. senator to endorse Trump, and has frequently defended him in the midst of controversy. In October, Sessions argued that it would be "a stretch" to characterize the behavior described in a 2005 Access Hollywood recording— in which Trump bragged about grabbing women "by the pussy"—as sexual assault, though he did call the comments "very improper language."
Sessions has defended Trump's call for a temporary ban on Muslims entering the U.S. as well. "It's time for us to review what we're doing, put aside political correctness, [and] reject the idea that we can't even say that radical Islam is the driving force behind this terrorism," Sessions commented during an interview on MSNBC in June. "We absolutely protect the right of every Muslim that's in America to be able to carry out their religious beliefs," he said, but he added: "there's no constitutional right to come to America if you possess an ideology that's dangerous."
Earlier in his career, Sessions served as the U.S. attorney for Alabama's Southern District. He is also a former Alabama attorney general. As the nation's chief law-enforcement official, the U.S. attorney general oversees the Department of Justice. The selection is subject to confirmation by the Senate.
Sessions is no stranger to contentious hearings in the upper chamber. In 1986, the Senate Judiciary Committee voted to reject Sessions for a federal judgeship. The Washington Post recently described the incident: "His former colleagues testified Sessions used the n-word and joked about the Ku Klux Klan, saying he thought they were 'okay, until he learned that they smoked marijuana.'" In response, Sessions told the committee: "I am not a racist. I am not insensitive to blacks. I have supported civil rights activity in my state."
So far, Senate Republicans seem inclined to look favorably on the nomination of one of their colleagues. "He knows the Justice Department as a former U.S. attorney, which would serve him very well in this position," Senate Judiciary Committee Chairman Chuck Grassley said in a statement, predicting that "he would be reported favorably out of the committee." Grassley's panel would handle Sessions' confirmation hearings.
Even Republican Senator Jeff Flake, who had been a vocal critic of Trump during his campaign expressed support, and is a member of the Senate Judiciary Committee. "Senator Sessions is well like[d] and well regarded, even by those who don't always agree with him. I look forward to supporting his nomination," he tweeted on Friday.
Democratic Senator Dianne Feinstein, who will serve as ranking member of the Senate Judiciary Committee in the next Congress, said in a statement that "Senator Sessions has served on the Senate Judiciary Committee for many years so he's well aware of the thorough vetting he's about to receive." She added that she is "committed to a full and fair process."
Civil-rights groups, meanwhile, have sharply criticized Trump's choice. "Sen. Sessions as AG is deeply troubling, and supports an old, ugly history where Civil Rights were not regarded as core American values," the NAACP tweeted. In a statement, the ACLU noted that Sessions' "positions on LGBT rights, capital punishment, abortion rights, and presidential authority in times of war have been contested by the ACLU and other civil-rights organizations."
For his part, Sessions said he was "humbled" by the announcement in a statement released by the Trump transition team, adding: "I love the Department [of Justice], its people, and its mission. I can think of no greater honor than to lead them."
We want to hear what you think about this article. Submit a letter to the editor or write to letters@theatlantic.com.
Clare Foran
is a former associate editor at
The Atlantic
.