Women Aren't Responsible for Hillary Clinton's Defeat
The media has created a misleading narrative in a rush to assign blame for the outcome of the election.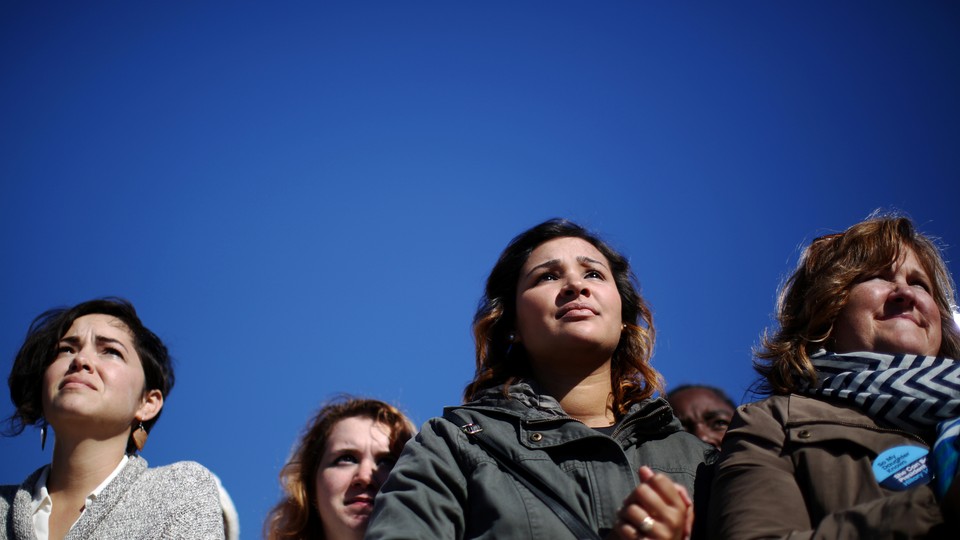 Women failed Hillary Clinton—and none more so than white women. That idea has congealed into conventional wisdom in the aftermath of the election. Vanity Fair published an article titled: "Why Hillary Clinton Couldn't Win Over Female Voters" while Time ran a story headlined: "Why So Many Women Abandoned Hillary Clinton." Slate declared: "White Women Sold Out the Sisterhood and the World by Voting for Trump." Samantha Bee had harsh words for white women, too. "A majority of white women, faced with the historic choice between the first female president, and a vial of weaponized testosterone said, 'I'll take Option B. I just don't like her,'" she said, scathingly, in an episode of Full Frontal. The accusation leveled at women voters is clear: They didn't just betray the woman who tried to shatter the ultimate glass ceiling, they also failed each other.
The problem is that accusation is misleading at best and inaccurate at worst. To start, assertions that Clinton did not win over women voters are simply not true. A majority of women backed Clinton over Donald Trump, 54 percent to 42 percent. Exit-poll data indicates that 94 percent of black women and 68 percent of Hispanic women voted for Clinton. "If only women voted in this election [and no one else], Clinton would have won," commented Kelly Dittmar, a scholar at the Center for American Women and Politics at Rutgers University. "I think that this narrative about Clinton failing to win white women really overshadows the strong support she had among all women, and women of color in particular."
It is true that Clinton did not win a majority of white women voters; Trump did, with 53 percent support. But a closer look at the data, and historical context, suggests that far from failing to convert white women to her cause, Clinton actually succeeded in winning the votes of at least some white women for whom support for the Democratic candidate in the election was never a given.
According to Pew Research data, most women identify as Democrats, but white women are more likely than not to identify as Republican. That suggests that white women did not abandon Clinton, since many were likely to vote for the Republican candidate regardless of who ended up as the nominee for either party. Yet even so, Clinton still managed to win 51 percent of college-educated white women to Trump's 45 percent—a partisan reversal from the 2012 election when then-Republican presidential nominee Mitt Romney won 52 percent of college-educated white women while Barack Obama won 46 percent.
Clinton lost non-college-educated white women, winning only 34 percent to Trump's 62 percent. But that data point requires context as well. In a post-election analysis titled "No, women didn't abandon Clinton, nor did she fail to win their support," Dittmar points out that loyalty to the Republican Party has intensified among that portion of the electorate. "Among white women without a college degree, Republican party identification has grown over the past 24 years," she writes. "With this knowledge, it's far less surprising that Trump outperformed Clinton among this demographic. Party identification is the key indicator of vote choice, and there is no evidence that gender affinity would buck that trend."
The split among white women may also highlight the potential power and limitations of Clinton's historic bid to become the first woman president. The fact that she won college-educated white women while losing white women without a college degree suggests that her campaign had more success winning over Republican-leaning women who fit a similar demographic profile to the candidate herself: white, highly-educated, and affluent.
Anecdotal evidence supports the idea that Clinton's candidacy resonated strongly with women who saw themselves in her, and who viewed the presidential race through a personal as well as a political lens. Ahead of the election, my colleague Nora Kelly reported on the efforts of high-powered Washington women getting out the vote for Clinton, and noted the following dynamic:
[F]or many of the women I talked to Wednesday—the government workers, think-tankers, and nonprofit employees—Clinton isn't just an aspirational figure, though she's that, too. Rather, they seemed to see Clinton in the late days of the campaign as something of an avatar, a living representation of their own daily striving against a culture and a professional world that privileges men. When they watch her face "Trump That Bitch" t-shirts, suggestions that she is too frail or weak to assume the presidency,  and other examples of blatant sexism, they recall their own, similar experiences. And when they see her succeed, it's edifying.
That doesn't mean that gender was necessarily a deciding factor in how women decided to vote. Pew Research data shows that women and men prioritized many of the same issues during the election, including concerns over the economy, terrorism, and health care. But rather than thinking about gender as a separate issue that voters either care or do not care about, or assign a level of importance somewhere on a scale of priorities, it may be more useful to consider gender norms and ideals as inextricably intertwined with economic and social realities.
Overall, college-educated white women may not have only, or even consciously, voted for Clinton because she seemed similar to them. Yet the symbol of gender progress that her candidacy represented may have held more appeal to them because of its relevance to their own lives and aspirations.
Conversely, other white women who voted for Trump may have felt that Clinton did not adhere to their vision of what it means to be a woman. Trump may either have affirmed the gender dynamics they want to see or already observe and have no problem with, in society, or they must have decided that even if they didn't like what he had to say about women, it did not matter enough to withhold their vote.
To understand that kind of calculation, consider how one white woman voting for Trump explained her support to New York magazine ahead of the election:
There isn't any perfect person on the planet. I heard that he said something about groping women, and I'm thinking, Okay, No. 1, I think that'd be great. I like getting groped! I'm heterosexual. I'm a woman, and when a guy gropes me, I get groping on them! I grope them back. Groping is a healthy thing to do. When you're heterosexual, you grope, okay? It's a good thing. Try it.
For that particular woman voter, Trump's boasts about forcing himself on women in a 2005 Access Hollywood recording that surfaced during the campaign—something that many women found revolting and dangerous—were not only excusable, they were entirely welcome. His actions seemed to align with her expectations of how men and women should interact. Presumably, she was glad to see those expectations validated by the outcome of the election.
The Clinton campaign made overt appeals to women voters throughout the election, often by emphasizing the Democratic nominee's track record of advocacy on behalf of women and girls. Yet what women should strive for, how they should be treated, and even what they should have the right to do, are far from uncontested ideas in American society. That's not just true among men, but among women as well. And the results of the election have made that entirely clear.
The way women voted in the presidential election is nuanced and complicated. Still, at least one thing is clear: Clinton did win women voters. Not only did she win women voters overall, but she succeeded in winning women who might have voted for the Republican candidate in any other election. Those votes weren't enough to deliver Clinton victory, but that doesn't mean women are responsible for her defeat.