Haunted in Hazleton
The artist James Moran preserved a small postindustrial Pennsylvania city's history—and bygone prosperity—on canvas. In 2016, his paintings of an imagined past are particularly resonant.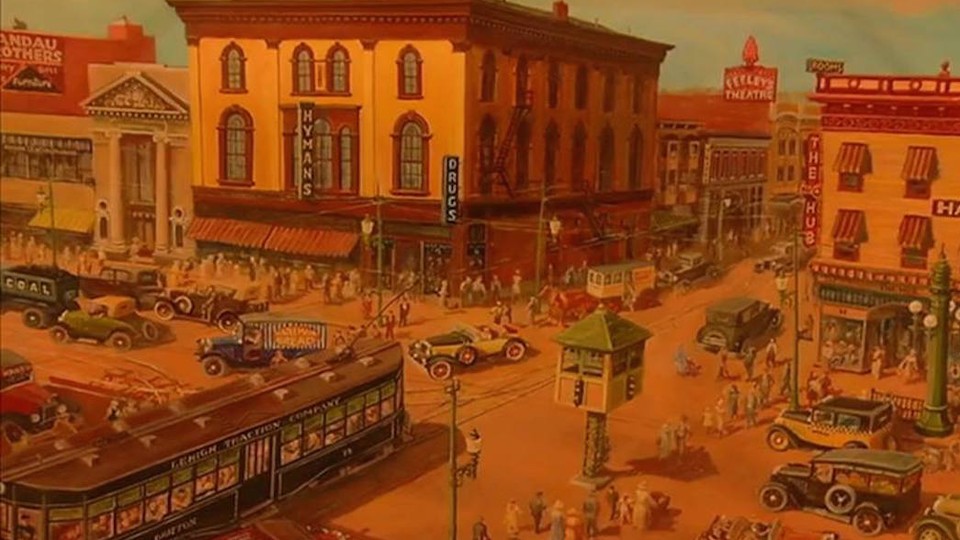 Nestled on a picturesque plateau in Pennsylvania's northeastern region, Hazleton is the kind of postindustrial city that for decades looked as though its best days were behind it. That's why artist James Moran revealed on canvas the vitality of his hometown of Hazleton not as he saw it, but as it was—when the city was in its heyday in the first half of the last century.
Moran, who passed away in March, was born in 1940, a time when the downtowns of American cities featured blocks of cinematic quality: neon lights, flashing marquees, bustling stores, and packed diners. In Moran's youth, Hazleton possessed all these features, instilling a perception that the city was larger than its real size. And so, after the neon lights were turned off and the downtown façades had started to crumble, it was the more nostalgic vision of Hazleton that would inform Moran's work. But nostalgia erases the hard edges and magnifies the romantic. It also undermines the value of the present. Which is why Hazleton is in many ways a perfect expression of the themes of 2016.
Hazleton's prosperity was the consequence of geological serendipity. The city sits on the world's richest vein of anthracite coal, which propelled a massive influx of immigrants to Hazleton from Ireland, Italy, and Eastern Europe in the 19th century. Moran's ancestors were peasant farmers who hailed from Donegal, Ireland; they immigrated to the New World to labor in Hazleton's mines. Upon arrival, they settled in one of Hazleton's surrounding coal-company-owned "patch towns," and along with other Irish newcomers eventually established their own ethnic enclave—Donegal Hill—which abutted the city's downtown.
Hazleton's economy, unlike other parts of the region, wasn't exclusively dependent on coal. Most immigrant families needed supplemental income, and it was through picking the plateau's abundant huckleberry bushes or finding employment in the city's shirt factories and silk mills that wives, mothers, and children could financially endure. It was a city of extremes—massive wealth and widespread poverty, grand Victorian mansions and dilapidated shanties—but its residents, whether beneficiaries or casualties of its economy, adopted an enduring pride in their melting-pot culture.
Moran appreciated this culture, but he also resented the community leaders' disregard for Hazleton's architectural and industrial heritage. His training in fine arts at Brooklyn's Pratt Institute, combined with a native son's love for the city, served as a catalyst for his paintings of Hazleton's lively past—preceding even his own memories and back to when the ornate buildings he loved were erected and Hazleton boomed. Moran's true inspiration, in other words, was Hazleton's Belle Époque, a period between the two world wars when local industries thrived, a leisure culture reigned, and neighborhoods clamored with the sounds of familial vigor.
His paintings, stylistically reminiscent of the Ashcan School, illustrate the building façades of Hazleton's once densely packed urban landscape. Through impressionistic brush strokes and warm pastel colors, Moran outlines a stage of theaters, banks, trolleys, breweries, and train stations. The buildings are Moran's main characters, handsome and poised and releasing light onto crowded downtown streets. The people he portrays at street level often appear somber, intimating an indifference toward their impressive surroundings, a reminder perhaps that prosperity has its expiration date.
Did Moran realistically capture Hazleton's past, or did he affectionately depict an imagined history? The answer of course is: both.
A visit to the local museum's vast archives of newspaper clippings, photos, and silent film testify to Moran's accurate interpretation of street scenes—not to mention Hazleton's wealth and urbanity. Between the city's incorporation in 1891 and the Great Depression, Hazleton transformed mining technology, became the third city in the nation to have a full city-wide electric grid, recruited a textile magnate to build the world's largest silk mill, and pioneered an electric third rail later adopted by the Long Island Railroad. Innovation sparked prosperity, and during this same period, Hazleton's compact downtown blossomed with department stores, high-rise office buildings, a half-dozen theaters, and the first skyscraper in the state exclusively constructed out of steel. In 1912, the state's secretary of internal affairs reported that Hazleton was "one of the most cosmopolitan cities in the state," estimating that over 30 languages were spoken on its streets. It was also part of the same region portrayed in John O'Hara's Gibbsville, PA, short stories that unveiled the social mores of America's small-city country-club elite.
Of course, as in Gibbsville, Hazleton's flourishing past also had a darker history. But unlike O'Hara, Moran did not depict it. The region's oppressive and dangerous mining industry instigated labor disputes and political violence. In 1897, striking miners marching just outside Hazleton were massacred by a Luzerne County sheriff's posse. The shocking event mobilized miners and, within five years, led to major victories for the United Mine Workers. Subsequent UMW strikes, compounded by a declining demand for coal after World War I, imperiled much of Hazleton's economic health. Poverty, crime, and limited educational opportunities were also part of Hazleton's urban milieu.
Moran understood this, but he intended his paintings to remind viewers of what Hazleton had lost because of urban renewal. In the 1960s and 1970s, the city's redevelopment authority, armed with federal funding, oversaw the clearance of residential and commercial blocks in the city's Donegal Hill neighborhood. The city's intention was to recruit new businesses and increase parking for downtown merchants. The result was the displacement of hundreds of families and merchants, hastening the downtown's decline during a period of deindustrialization and suburban expansion.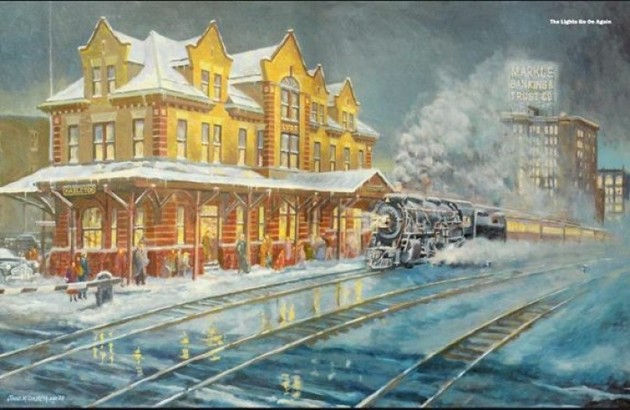 Urban renewal infuriated Moran, who mourned the eradication of historic landmarks. In one painting, "The Lights Go on Again," he displays the downtown's train station. The brick edifice glows in the melancholic stillness of a winter night; back then, trains provided passenger service to New York's Penn Station—that is, before the station was razed for a parking lot in 1963. In "'They Talk' at the Feeley," set in 1929, Moran focuses attention on the ornate Feeley Theatre, which met the wrecking ball for yet another parking lot. He presents the theater surrounded by a city of light—illuminated buildings, a passing electric trolley, and a well-dressed crowd navigating a rain-soaked evening.
The Feeley was located on Hazleton's Wyoming Street, a commercial stretch that by the early 2000s was better known for its bars and drug deals. In 2006, a series of high-profile crimes in the neighborhood's vicinity contributed to Hazleton's local lawmakers' decision to pass severe illegal-immigration ordinances, a move that attracted national attention, led to a Supreme Court battle, and highlighted the city's massive wave of Latino migration.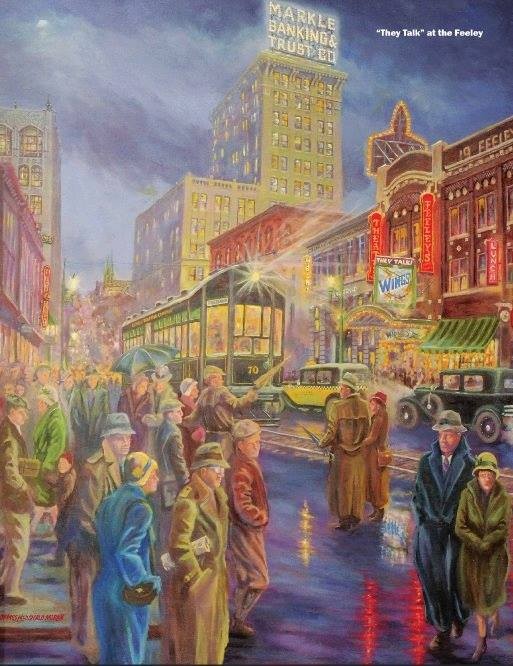 In recent years, however, the Latino community—like the immigrants at the turn of the century—has become part of the lifeblood of Hazleton, and the downtown has witnessed a revival. Moran's passing occurred as the remaining historic buildings began to undergo restoration projects and draw new tenants. Since 2014, the downtown has attracted restaurants and over 40 businesses. On Wyoming Street, an ongoing mural project pays tribute to the thoroughfare's historic contributions and immigrant experience to instill hope for the city's future.
Still, challenges remain in Hazleton, where many residents of duplex-lined neighborhoods question their city's future, lament its present maladies, and yearn for a past when their neighborhoods were stable, their parishes were open, and an industrial economy thrived. Like Moran, they yearn for a past that occurred mainly before they were born. They express frustration over the socioeconomic shrapnel of contemporary urban dysfunction: crime, drugs, gangs, blight. And so, Moran's halcyon work speaks to them. Through Moran's paintings, they discover the forgotten radiance of their city and rekindle a profound sense of their history and culture. After all, Hazleton was part of an assembly line of communities in Pennsylvania that once heated, mechanized, clothed, and protected the country's coastal cities. But in a globalized-information economy, these same coastal cities now thrive to the detriment of towns like Hazleton.
In the 2016 presidential race, Donald Trump has tapped into the sense of longing felt by so many in the working class in Hazleton and across postindustrial America. These communities nurture a combination of inherited New Deal optimism and Pat Buchanan-inspired nationalism. Their nostalgia has found refuge in the populism and ethos of Trump's campaign.
Moran's artistic intentions, however, were never political, yet his paintings glaringly remind its viewers of what was lost in one postindustrial city. But Moran himself loved Hazleton through all of its iterations. Every building that was brought down to make space for a parking lot did not dampen his love. But sometimes it broke his heart. If Moran conveyed any message through his paintings, it was simply for Hazleton residents to love their hometown.