A Republican Mandate, but for What?
As GOP leaders line up a long list of conservative policy priorities, some lawmakers are already warning against overreach.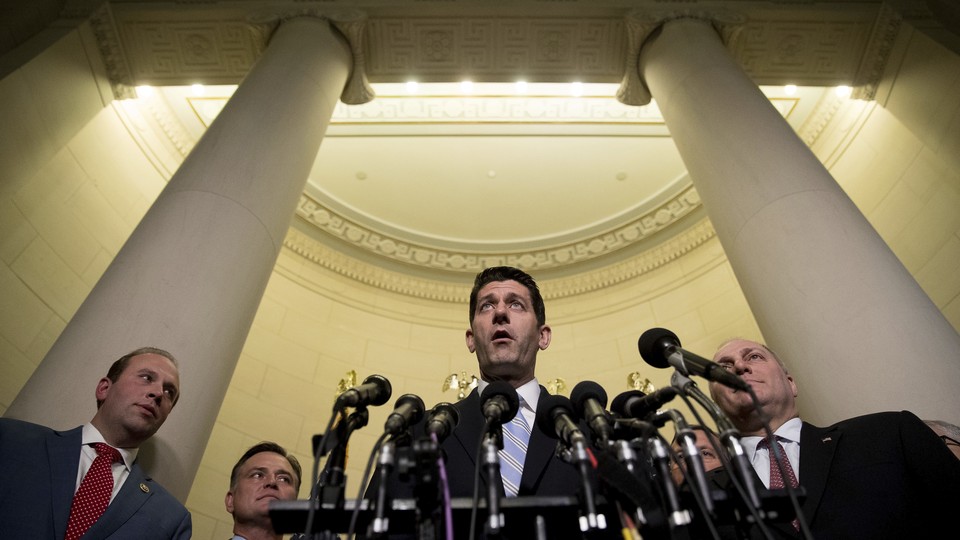 Congressional Republicans returned to Washington this week flush with the kind of power their party hasn't seen for a decade, and it didn't take long to scratch out their wish lists for what they want to do with it.
Repealing and replacing Obamacare. Cutting taxes on individuals and businesses. Rolling back regulations across a wide swath of the economy. Bolstering the military and border security.
"If we are going to put our country back on the right track, we have got to be bold, and we have to go big," House Speaker Paul Ryan told reporters on Tuesday. "This country is expecting absolutely no less."
Yet amid all the celebrations, a nagging question followed Republican lawmakers around the Capitol: How much of that agenda did Americans actually vote for?
The GOP won control of Congress and the White House by running campaigns that on issues like trade, immigration, and federal spending were often at odds with each other. Donald Trump will become president despite having received well over 1 million fewer votes than Hillary Clinton and after waging a fierce campaign that officials in both parties argued had a lot to do with personality and very little to do with actual policy. A poll released Wednesday by the Washington Post and the Schar School found that just 29 percent of Americans believed Trump had a mandate to carry out his agenda—far less than the 50 percent who said the same following  Barack Obama's victory in 2008 or even the 41 percent who backed a mandate after George W. Bush's contentious election in 2000.
That uncomfortable reality has led some Republicans to warn their leaders to be careful about misreading the message of the electorate, a mistake that they said Democrats made after they won even bigger majorities after 2008 and moved swiftly to enact liberal policies long sought by their base. "You've got to recognize the popular vote tally," said Representative Tom Reed, a Republican representing upstate New York. "There is a voice out there that supports a counter message. So I think the critical thing that we've got to find the sweet consensus on is not to overreach, not to commit the Obama mistake, in my opinion, of 2008 going into 2010 where you had an ideological agenda carried through."
When House Republicans met for the first time since the election on Tuesday, Majority Leader Kevin McCarthy reminded them how things quickly turned upside down for Democrats after 2009. The message? "The same thing happens to us if we take ourselves too seriously," said Representative Peter King of New York.
Electoral mandates are inherently difficult if not impossible to discern. Voters don't check off a set of policy preferences when they elect their leaders, and polls often indicate a disconnect between the people they choose and the policies they support. Americans routinely told pollsters they supported a higher minimum wage and immigration reform, yet they sent representatives to Washington opposed to those ideas.
For Senator Roy Blunt of Missouri, who narrowly won reelection in a state that Trump carried by a wide margin, the easiest answer is the simplest one. "The mandate that you shouldn't under-read is change," Blunt told me. The problem for Republicans, however, is that their vision of change did not always align with Trump's. While House leaders like Ryan ran on an agenda heavy on conservative doctrine, Trump ran a more populist, anti-Washington campaign. So who has the mandate: Congressional Republicans, or Trump?
"It's clearly a mandate for Donald Trump," said Representative Raul Labrador of Idaho, a conservative who dismissed the president-elect's popular vote loss as "irrelevant." Labrador said Ryan was mistaken to believe that voters had embraced the House GOP's "A Better Way" agenda, which differs from Trump's view of trade, immigration, and foreign policy. "The policy that they advocated is not the policy that the American people are really excited about," Labrador said.
Ryan has already indicated he wants to pursue changes to Medicare and Medicaid as part of an Obamacare repeal, despite the fact that Trump opposed his proposed overhaul and vowed repeatedly to protect entitlement programs that many of his older, lower-income voters rely on. And conservatives in both the House and Senate will likely try to use their newfound power to further restrict funding for abortion and contraception and to reverse Obama administration policies favorable to gay, lesbian, and transgender Americans. "Donald Trump is the ultimate pragmatist, and he's going to be bumping up against some members of our conference who can excruciatingly ideological," said Representative Charlie Dent of Pennsylvania, a Republican moderate. "I suspect Donald Trump is not going to want to dealing with issues like Planned Parenthood or revisiting marriage equality."
Republicans say they are likely to try to stick to the things that unite them and the Trump administration. Repealing the heath care law, for example, is an obvious place to start given that it was a centerpiece of campaigns in both the presidential and congressional races. Tax reform is another area where Trump and Ryan are aligned, although neither of them spent much time talking about specifics.
What might ultimately save Republicans from their own hubris is the fact their majorities are not quite as expansive as those Democrats enjoyed in 2009 and 2010, when they had 60 votes in the Senate for nearly a year. The GOP is likely to control just 52 Senate seats beginning in January. "I tell everyone who will listen: There's only one number that really matters right now, and that's the number eight," Dent said. "That's how many Senate Democrats we're going to need to pass whatever initiative we want to pass."
Does President-elect Trump realize that, a reporter asked him? "He will soon enough," the congressman replied.