If Jeff Sessions Opposed Lurleen Wallace, Who Did He Support?
Republicans have said that Donald Trump's attorney general nominee began his career fighting against a segregationist in Alabama. The truth is more complicated.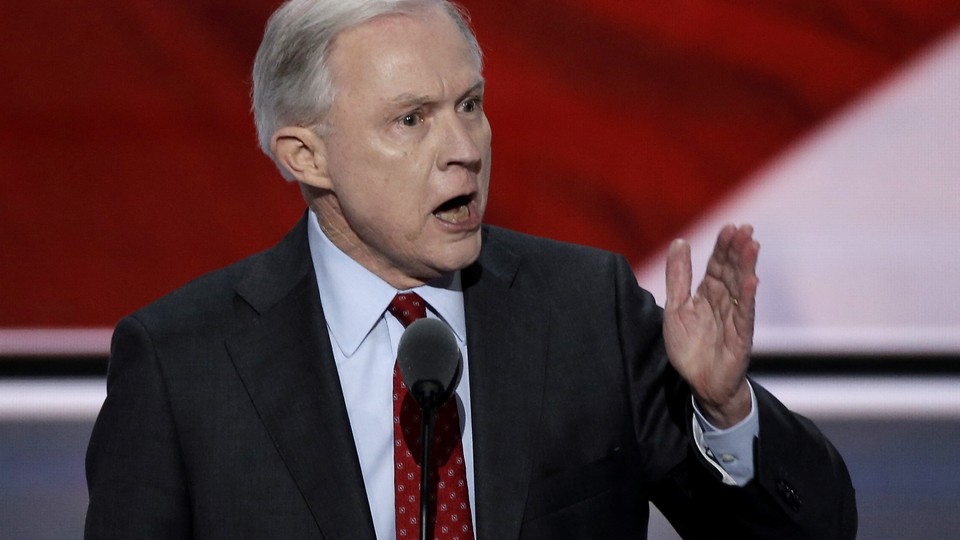 Defenders of Senator Jeff Sessions's nomination to be attorney general have relied heavily on a particular talking point: that Sessions campaigned against the segregationist Democrat Lurleen Wallace, the wife of Alabama Governor George Wallace, in the 1966 governor's race. Lurleen was running because George was barred by the state constitution from occupying the office again, but she was seen as his successor and like-minded, especially in matters of race.
"He's an unbelievably honest, dignified man who started his career working against George Wallace," Reince Priebus told ABC News on Sunday. "A man who has spent his entire life fighting for equality, freedom and opportunity." Priebus repeated that argument in an interview with CNN, again describing the genesis of Sessions's career as a battle against an iconic arch segregationist whose name is practically synonymous with racial hatred.
Sessions's own staff told the story to The Washington Post in similar terms. "Aides to Sessions said that he was not insensitive to African Americans," the Post reported, "and pointed out that as a young Republican at Huntingdon College in 1966, Sessions campaigned against segregationist candidates such as Lurleen Wallace, who was running for governor to sustain the policies of her husband, then-governor George Wallace, a staunch opponent of desegregation."
It's a nice story––in fact, it's one Sessions himself occasionally tells. In an interview with Politico in 2015, Sessions framed his own political awakening as a reaction to Wallace's racism.
SEN. SESSIONS: I met him—I guess maybe the only time I met him was when—at a boy scout meeting in Montgomery, and he met 10 or 15 of us from different areas. I'm not sure why I was there.

But, with regard to the Wallace movement, initially he was very much an open, dynamic defender of segregation.

THRUSH: Right.

SEN. SESSIONS: He was not—he didn't apologize for it—

THRUSH: Right.

SEN. SESSIONS: —one bit. And the Republican Party, in many ways, grew up as a reaction to that, and a lot of people have misunderstood that. But when I was coming along—and we campaigned against George Wallace when I was in college—

THRUSH: So when did you become a Republican? Did you become a Republican—

SEN. SESSIONS: Basically, pretty early. I had an English teacher that got me to subscribe to the National Review.

THRUSH: It's always the National Review.
But this telling elides an important fact: Jim D. Martin, the Republican candidate running  against Wallace, was also a segregationist. It's unclear whether Sessions's staff is claiming Sessions worked on Martin's behalf or campaigned against Wallace in some other capacity––they have declined repeated requests for clarification or comment.
In 1966, the Republican Party was seeking to capitalize on Barry Goldwater's success in earning the votes of segregationist Democrats in the 1964 presidential race. Martin, a former oil salesman turned U.S. representative, was seen as a viable opponent to Wallace in part because he had come close to unseating Democratic Senator Lister Hill in 1962, after, according to a 1966 article in the New York Times, denouncing Hill "as being insufficiently militant in opposing racial integration."
The Times also wrote that, "Martin is identified in the minds of many Alabama segregationists as having virtually the same racial views as Governor Wallace." An earlier Times article from that year describes him as a "Goldwater conservative and a 'sophisticated' segregationist." In October, in an article headlined "GOP Threatened By Loss of Backlash Vote: In Many Races, Democrats Are Even Stronger Foes of Integration Drive," he was described by the Times as being "noted for his opposition to President Johnson and the civil rights movement." During the race, Martin attacked Governor Wallace for his signing of a law rejecting federal integration guidelines, but only because he feared it "opened the door to a single Federal Court desegregation order that would cover all schools."
Wallace ultimately trounced Martin 64-31 percent, with five percent going to Carl R. Robinson, a liberal candidate.
Reached by phone at his home in Alabama Monday evening, former Representative Martin, at 98 one of the oldest living former congressmen in the United States, had high praise for Sessions, although his memory of an election held five decades ago was understandably hazy. "Yes, I knew Jeff Sessions, he worked on my campaign,"  Martin said. "I've known him since he was a young man, I admire him, I think he's done great, he's well educated, he has a good temperament, he knows how to deal with problems."
Asked to clarify whether the campaign Sessions' worked on was his 1966 campaign against Wallace, or his 1962 campaign for the U.S. Senate, Martin did not seem certain. (Sessions, who was born in 1946, would have been 16 in 1962). His wife, Pat Martin, offered that Sessions had probably volunteered and voted for Martin in 1966 but was not a paid member of the campaign staff.
It's possible then, that Sessions's office is either inflating the extent of his efforts against Wallace, or attempting to gloss over the fact that those efforts were on behalf of a candidate who at the time was also a segregationist.
If Sessions did work for Martin, that suggests that in 1966 he was less a principled racial egalitarian than a partisan. There were two segregationist candidates running to be the governor of Alabama that year; if Sessions simply supported the segregationist who was also a Republican, it would be hard to use that choice as evidence of political courage.
That was of course, many decades ago. Sessions has since made many statements in favor of equal rights. He has also amassed a record that many civil-rights groups find deeply disconcerting. If Sessions worked on behalf of Martin, that doesn't mean he endorsed all that Martin stood for, but it would suggest that his opposition to Lurleen Wallace was not an expression of support for racial equality, and should not be read as evidence of a deep commitment to civil rights.
Lurleen Wallace died in 1968 while in office. George Wallace later apologized for his segregationist views, and died in 1998. After Wallace's death, the Associated Press asked important political figures in Alabama about his legacy.
"He'll be remembered as one of the most formidable third-party candidates in this century," Senator Jeff Sessions told the AP, "as a person who challenged the liberal elite in America."