The Conservative Case for Voting for Clinton
Why support a candidate who rejects your preferences and offends your opinions? Don't do it for her—do it for the republic, and the Constitution.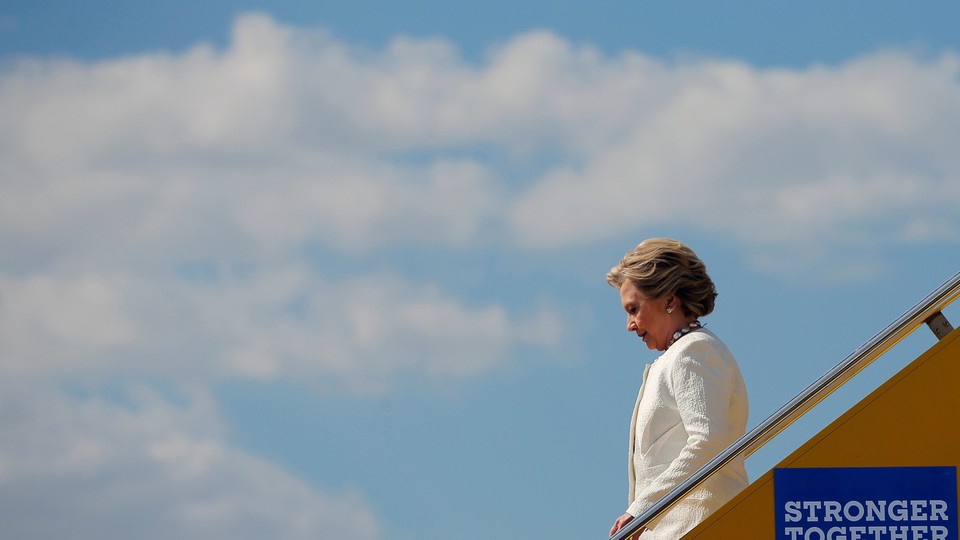 If the polls are correct, many disaffected Republicans are making their peace with Donald Trump in the final hours of the 2016 campaign. The usual term for this process is "returning home." This time, we need a new phrase. The familiar Republican home has been bulldozed and replaced by a Trump-branded edifice. It will require long and hard work to restore and rebuild what has been lost.
Between now and then, however, there is a ballot to face. Last week, I advanced the best case I could for each of the available options. Now, however, comes the time for choosing—and for explicating the reasons for that choice.
Those attempting to rally reluctant Republicans to Trump seldom waste words on the affirmative case for the blowhard businessman. What is there to say in favor of a candidate who would lie even about his (non) support for a charity for children with AIDS?
Instead, the case for Trump swiftly shifts to a fervid case against Hillary Clinton. Here for example are some lines from an op-ed coauthored by Bill Bennett, a high conservative eminence and former secretary of education, and F.H. Buckley, a law professor, Trump supporter, and sometime speechwriter.
Consider, then, what would happen were the "Clinton Cash" machine to move into the White House. We'd have a government with the morals of a banana republic; and crony capitalism, the silent killer of the American economy, would increasingly burden entrepreneurs. Wasteful regulations, drafted to benefit the clients of K Street lobbyists, would transfer wealth from dispersed lower and middle-class Americans to the rich and well-connected.

The courtier class of Clinton donors would flourish, but woe to those who would fail to partner with the government. It might not be a kleptocracy, but it would be a huge move in that direction.

Worse still, all the powers of the state would be unleashed against political enemies, with tax audits, EPA investigations, and charges brought under one of the numberless and technical federal public welfare offences. Montesquieu defined political liberty as the "tranquility of spirit which comes from the opinion each one has of his security," and a Clinton administration would see to it that its political opponents would never know such tranquility.

We saw a bit of this during Bill Clinton's presidency, and (whatever else might be said about him) he didn't have a mean bone in his body. With Mrs. Clinton it would be far worse. She is a very different sort of person from her spouse, and much more closely resembles a Richard Nixon, a Nixon without his accomplishments and with a fawning media that could be relied upon to defend her when it counted, as well as a corrupt administration that would back her to the hilt.
The conclusion that follows from such sizzling philippics is that anybody, literally anybody, wearing an "R" by his name should be preferred to the demonic Clinton. "Everybody on this stage is better than Hillary Clinton," argued former Florida Governor Jeb Bush in the sixth Republican debate, January 2016. Bush surely did not believe that, but in the moment, it must have seemed a forgivable fib. Hillary Clinton would have paid a similar compliment to Bernie Sanders on a Democratic debate stage, but who doubts that privately she would have preferred Jeb Bush to the cranky Vermont socialist?
Demonology aside, most conservatives and Republicans—and yes, many non-conservatives and non-Republicans—will recognize many of the factual predicates of the critiques of Hillary Clinton's methods and character. The Clintons sold access to a present secretary of state and a potential future president in pursuit of personal wealth. Hillary Clinton does indeed seem a suspicious and vindictive personality. For sure, a President Clinton will want to spend and regulate even more than the Obama administration has done.
Like Henny Youngman, however, the voter must always ask: compared to what?
One of only two people on earth will win the American presidency on November 8. Hillary Clinton is one of those two possibilities. Donald Trump is the only other.
Yes, I fear Clinton's grudge-holding. Should I fear it so much that I rally to a candidate who has already explicitly promised to deploy antitrust and libel law against his critics and opponents? Who incited violence at his rallies? Who ejects reporters from his events if he objects to their coverage? Who told a huge audience in Australia that his top life advice was: "Get even with people. If they screw you, screw them back 10 times as hard. I really believe it"? Who idealizes Vladimir Putin, Saddam Hussein, and the butchers of Tiananmen as strong leaders to be admired and emulated?
Should I be so appalled by the Clinton family's access-selling that I prefer instead a president who boasts of a lifetime of bribing politicians to further his business career? Who defaults on debts and contracts as an ordinary business method, and who avoids taxes by deducting the losses he inflicted on others as if he had suffered them himself? Who cheated the illegal laborers he employed at Trump Tower out of their humble hourly wage? Who owes hundreds of millions of dollars to the Bank of China?  Who refuses to disclose his tax returns, perhaps to conceal his business dealings with Vladimir Putin's inner circle?
To demonstrate my distaste for people whose bodies contain mean bones, it's proposed that I give my franchise to a man who boasts of his delight in sexual assault? Who mocks the disabled, who denounces immigrant parents whose son laid down his life for this country, who endorses religious bigotry, and who denies the Americanism of everyone from the judge hearing the fraud case against Trump University to the 44th president of the United States?
I'm invited to recoil from supposedly fawning media (media, in fact, which have devoted more minutes of network television airtime to Clinton's email misjudgment than to all policy topics combined) and instead empower a bizarre new online coalition of antisemites, misogyists, cranks, and conspiracists with allegedly ominous connections to Russian state spy agencies?
Is this real life?
To vote for Trump as a protest against Clinton's faults would be like amputating a leg because of a sliver in the toe; cutting one's throat to lower one's blood pressure.
I more or less agree with Trump on his signature issue, immigration. Two years ago, I would have rated immigration as one of the very most important issues in this election. But that was before Trump expanded the debate to include such questions as: "Should America honor its NATO commitments?" "Are American elections real or fake?" "Is it OK for a president to use the office to promote his family business?" "Are handicapped people comical?"
If we arrive at the bizarre endpoint where such seemingly closed questions are open to debate, partisan rancor has overwhelmed and overpowered the reasoning functions of our brains. America's first president cautioned his posterity against succumbing to such internecine hatreds: "The spirit of revenge, natural to party dissension … leads at length to a more formal and permanent despotism. The disorders and miseries which result gradually incline the minds of men to seek security and repose in the absolute power of an individual; and sooner or later the chief of some prevailing faction, more able or more fortunate than his competitors, turns this disposition to the purposes of his own elevation, on the ruins of public liberty." George Washington's farewell warning resounds with reverberating relevance in this election year.
We don't have to analogize Donald Trump to any of the lurid tyrants of world history to recognize in him the most anti-constitutional personality ever to gain a major-party nomination for the U.S. presidency. I cannot predict whether Trump would succeed in elevating himself "on the ruins of public liberty." The outcome would greatly depend on the resolve, integrity, and courage of other leaders and other institutions, especially the Republican leaders in Congress. To date, their record has not been reassuring, but who knows: Maybe they would discover more courage and independence after they bestowed the awesome powers of the presidency than they did while Trump was merely a party nominee. Or maybe not.
What we should all foresee is that a President Trump will certainly try to realize Washington's nightmare. He must not be allowed to try.
That Donald Trump has approached so near the White House is a bitter reproach to everybody who had the power to stop him. I include myself in this reproach. Early on, I welcomed Trump's up-ending of some outdated Republican Party dogmas—taking it for granted that of course such a ridiculous and obnoxious fraud could never win a major party's nomination. But Trump did win. Now, he stands within a percentage point or two or at most four of the presidency of the United States.
Having failed to act promptly at the outset, it's all the more important to act decisively before it's too late. The lesson Trump has taught is not only that certain Republican dogmas have passed out of date, but that American democracy itself is much more vulnerable than anyone would have believed only 24 months ago. Incredibly, a country that—through wars and depression—so magnificently resisted the authoritarian temptations of the mid-20th century has half-yielded to a more farcical version of that same threat without any of the same excuse. The hungry and houseless Americans of the Great Depression sustained a constitutional republic. How shameful that the Americans of today—so vastly better off in so many ways, despite their undoubted problems—have done so much less well.
I have no illusions about Hillary Clinton. I expect policies that will seem to me at best counter-productive, at worst actively harmful. America needs more private-market competition in healthcare, not less; lighter regulation of enterprise, not heavier; reduced immigration, not expanded; lower taxes, not higher. On almost every domestic issue, I stand on one side; she stands on the other. I do not imagine that she will meet me, or those who think like me, anywhere within a country mile of half-way.
But she is a patriot. She will uphold the sovereignty and independence of the United States. She will defend allies. She will execute the laws with reasonable impartiality. She may bend some rules for her own and her supporters' advantage. She will not outright defy legality altogether. Above all, she can govern herself; the first indispensable qualification for governing others.
So I will vote for the candidate who rejects my preferences and offends my opinions. (In fact, I already have voted for her.) Previous generations accepted infinitely heavier sacrifices and more dangerous duties to defend democracy. I'll miss the tax cut I'd get from united Republican government. But there will be other elections, other chances to vote for what I regard as more sensible policies. My party will recover to counter her agenda in Congress, moderate her nominations to the courts, and defeat her bid for re-election in 2020. I look forward to supporting Republican recovery and renewal.
This November, however, I am voting not to advance my wish-list on taxes, entitlements, regulation, and judicial appointments. I am voting to defend Americans' profoundest shared commitment: a commitment to norms and rules that today protect my rights under a president I don't favor, and that will tomorrow do the same service for you.
Vote the wrong way in November, and those norms and rules will shudder and shake in a way unequaled since the Union won the Civil War.
I appreciate that Donald Trump is too slovenly and incompetent to qualify as a true dictator. This country is not so broken as to allow a President Trump to arrest opponents or silence the media. Trump is a man without political ideas. Trump's main interest has been and will continue to be self-enrichment by any means, no matter how crooked. His next interest after that is never to be criticized by anybody for any reason, no matter how justified—maybe most especially when justified. Yet Trump does not need to achieve a dictatorship to subvert democracy. This is the age of "illiberal democracy," as Fareed Zakaria calls it, and across the world we've seen formally elected leaders corrode democratic systems from within. Surely the American system of government is more robust than the Turkish or Hungarian or Polish or Malaysian or Italian systems. But that is not automatically true. It is true because of the active vigilance of freedom-loving citizens who put country first, party second. Not in many decades has that vigilance been required as it is required now.
Your hand may hesitate to put a mark beside the name, Hillary Clinton. You're not doing it for her. The vote you cast is for the republic and the Constitution.