Bernie and Hillary Take to the Trail Together
The Democratic nominee and her chief rival for the nomination made their closing argument to a stressed crowd in North Carolina.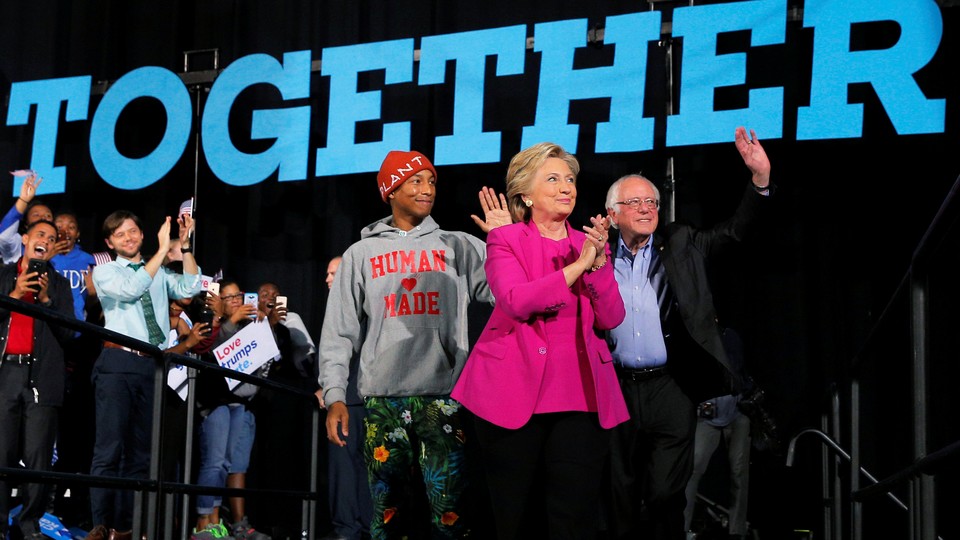 RALEIGH, N.C.—A female presidential nominee, an aging socialist, and a pop star walk into an amphitheater: It sounds like the setup to a bad joke, but it was actually Thursday's Hillary Clinton rally in this crucial swing state. Politics makes strange stagefellows.
So here Clinton was, alongside her former rival Bernie Sanders and Pharrell, working in the final days of the campaign to get as many young voters and minorities to the polls as possible. If she wins North Carolina, she will likely block Donald Trump's path to victory on Election Day. With the candidate scheduled to spend the last days of the election in states that don't conduct early voting, the Clinton campaign is trying to squeeze as many early votes out in the Old North State as possible.
As exhausting and disheartening as this campaign season has been, there's a special feel about going to political rallies, even at this late hour. There's something magical about being around thousands of people who are, to borrow a phrase, fired up and ready to go about a candidate. They have come out to see someone they afford rockstar status, who could in just a few days be elected the next leader of the free world. It's a volatile, easily corrupted energy, since thousands of people united in their views can quickly turn into an angry mob if provoked, but at its best, a political rally is an affirmation of democracy.
Americans may generally view the election process and their choices rather dimly, but the people who show at rallies tend to have fewer hesitations. At the Walnut Creek Amphitheatre, which more typically hosts acts like Florida Georgia Line or Snoop Dogg, many parents had brought their kids. College students clustered together. As fans filled seats, crammed into aisles, and leaned over barricades, they gazed on Clinton with fervor, admiration, and a good amount of nerves.
Especially nerves on this night. Polls show an extremely close race in North Carolina, and around the country. Just how likely you think a Clinton victory is depends on how much trust you put in the polling and whose models you believe, and there was consternation etched on the faces of many attendees. John McDonald had come from Durham, wearing a "Bern Baby Bern" t-shirt. ("I love me some Bernie, but we have to get with the candidate on the ticket," he said. "If there had been a coalition for Bernie, I would have been there.") Did he think Clinton would win? McDonald inhaled, and paused.
"I think so," he finally said, confessing that news coverage was starting to get to him. "I was watching some of the reports, and you get a little nervous. She might squeak it out, but she'll do it."
Kris McCulloch of Raleigh wasn't wearing political clothing: Her shirt and hat bore the logo of the newly minted World Series champion Chicago Cubs, the club Clinton has rooted for since her girlhood. McCulloch was fretting about the continued currency of stories about Clinton's emails, which she thought were overblown but still damaging to confidence, including her own.
"It waxes and wanes. We were feeling good a couple weeks ago. It's kind of like the World Series—back and forth," she said. But she too Wednesday night's ball game as a hopeful sign. "If the Cubs can win, she can do it!"
The amphitheater was full of children and adolescents—not unlike Sanders rallies back in the Democratic primary—many of them seeming mature beyond their years. Addie Esposito, 15 years old, and Adithi Sundaram, 14, waited for more than four hours, having left school early to be there, in part because "we're so dedicated, but also because we got the time wrong," Esposito confessed.
Although she couldn't vote, Sundaram had gotten involved in the campaign, working at phone banks for Clinton. She was concerned about how the 2016 race would color her cohort's views of normalcy in politics. "A lot of people in our generation look at this as what it's like, and it's not," she said. "This is like a reality show. It's like the Kardashians."
Esposito was more focused on an urgent concern: who would win. "You don't know what to expect. That makes it scary," she said.
If the duo were uncommonly mature in their analysis, they were comparatively cheerful. Dalia Place had brought her son Hayden, who is almost six, to try to cut into his pessimistic view about the election, cultivated by seeing endless campaign advertisements on YouTube.
"He doesn't have a lot of trust in our future leaders," she said. "I wanted to bring him here to inspire him and show him why I voted for Hillary Clinton." Unlike Hayden, Dalia saw a clear difference between the two contenders. "I'm very nervous," she said. "We're almost in the Twilight Zone. I have friends who support Trump. I tried really hard to see it from their perspective." She paused a beat. "I've got nothing."
It was up to Pharrell and Sanders and Clinton to try to raise these voters' spirits. Pharrell, sadly sans hat, warned that he wasn't used to speaking as a politician, but then gave a totally competent, if somewhat hippyish speech. ("It makes me angry when people say she can't lead our country because she's a woman. How dare anyone question a woman's ability. Every person on this planet was brought into this world by a woman. Women carry so much every day, including us for nine months. Don't we call the planet Mother Earth?")
Then it was Bernie's turn, and suddenly it felt like January again; thousands of young people, ecstatically excited for the Vermont senator. He was in mid-primary form, too, gesticulating, hectoring, pleading, and joking, only now in service of his old rival.
"Let me give you something radical: I think a campaign should be based on issues," he said. He had more sarcasm on tap. "I try not to be too hard on my Republican colleagues, because many of the suffer from a serious illness called amnesia," he said. "And unlike Mr. Trump, we do not make fun of people with disabilities."
After watching them spar over policy during the Democratic primary, it was striking to watch Sanders deliver a stump speech for Clinton. His influence certainly helped pull her platform leftward, but even so, there's much they agree on. The difference lies in emphasis. Sanders talked about some issues Clinton often discusses on the stump, like women's pay equity. He talked about others in ways she does not. Clinton pledges to try to roll back Citizens United, but she is unlikely to do so while warning that "the country is slipping into an oligarchical form of society."
Sanders likes to be an attack dog, and he turned his anger at voter-ID laws, restrictions on early voting, and the like. "When we talk about democracy, we have cowardly Republican governors all over this country trying to suppress the vote," he said. "If you don't have the guts to participate in a free, open, and fair election, get out of politics and get another job."
He reserved his harshest words for the Republican nominee. "I disagree with Donald Trump on virtually all of his policy positions," he said. "But what upsets me the most—what upsets me, it's beyond disagreement—is we have struggled for so many years to overcome discrimination. And he is running his campaign, the cornerstone of which is bigotry … We are not going back to a bigoted society."
Then it was Clinton's turn. She stuck close to her standard stump speech, with a few additions. One was a forced, painful pun about Pharrell's mega-hit: "Tell me this North Carolina, are you really, really, really happy that we're here tonight?" She spoke at length about Trump's record on race, discussing the Department of Justice's housing discrimination suit against the Trump Organization in the 1970s, which was settled out of court. Clinton also noted Trump's history with the Central Park Five, the young men wrongly convicted in a brutal rape in 1989. Although they were exonerated, Trump recently argued they were still guilty. "If he wants to keep exonerated people in jail, how can we trust him to fight for the right for the rule of justice, and fairness, and criminal-justice reform in America?"
She asked the crowd if they'd already voted. Nearly every hand not belonging to a child went up. That wasn't good enough: "You've got to get everyone you know to get out and vote," she said. "You cannot get discouraged. Do not get weary while doing good, right?" She'll get her answer sometime Tuesday night.