A Final Pep Rally for Clinton
The Democratic nominee spoke to a celebratory crowd in Philadelphia—but elsewhere, Americans remain divided.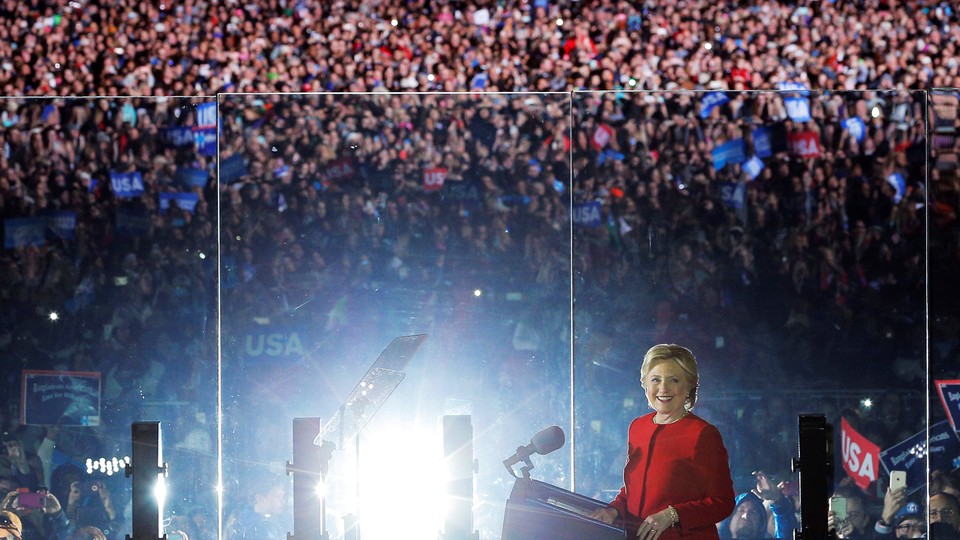 Hillary Clinton stood before a crowd of tens of thousands of people in Philadelphia on Monday night, sounding hoarse from her days of campaigning, wearing a bright red pantsuit as if to dare anyone to make fun it, the night before her historic election. She did not declare the race over, but the whole event felt breathtakingly close to a premature victory party. Clinton is ready to be off the campaign trail, and to be president of the United States.
It was intended as a perfect campaign event—a dignified pep rally for Democrats, featuring all party's greatest hits. Bill and Chelsea were there, sweetly debating who was more excited about voting on Election Day. Barack Obama used his speech as an opportunity to run through his accomplishments and pitch Clinton as a continuation of his legacy. Michelle Obama arguably stole the show, just as she did at this summer's convention, arguing that "we deserve a leader who sees our diversity not as a threat, but a blessing." Like many others in the evening's line-up, she observed that "we are one day away from once again making history."
But beneath the speakers' sangfroid, behind their swagger about Trump and confidence in Hillary and total conviction that she will win on Tuesday, there were hints that this has not, in fact, been eight years of unmitigated success in Washington, and that many Americans do not, in fact, see this election primarily as a historic moment for women. A lot of people, including many of those in Pennsylvania, do not see this as day to be celebrated and relished. Clinton clearly has fans. They came out en masse on Monday night. But if she does, in fact, become president—which looks likely, but is by no means assured—she will take on a country that is right now not "together," but terribly sundered.
The fears were there: that voters will "stay home or play around with a protest vote," as Michelle Obama chastised. That conservatives will vote for Trump, after all, even though many Democrats believe he has "no regard for the Constitution," as Barack Obama put it in his speech. They were small concessions to the uncertainty and division in America, quickly dispensed in favor of a triumphant vibe.
And certainly, those in attendance were into it. The predominantly white crowd screamed obligingly as each successive famous person came on stage. They selfied and waved signs saying "USA." Many progressive cause-bearers were out making the case for Hillary: One  woman stood on a chair wearing a T-shirt for Moms Demand Action for Gun Sense in America, while another held a sign that claimed Hillary is strongly for animal welfare. One couple which had come in from New Jersey said they'd been stuck in a line for several hours and never got into the event—it was so crowded that the line stretched for blocks, they said. After Clinton spoke, the event turned into a huge dance party—those who stayed shimmied and shook to Taylor Swift and Kelly Clarkson.
As the rally got underway, two older ladies stood waving their hands enthusiastically near one of the event stages. Agnes Armao, 74, and Terry Willis, 78, both said they could never have imagined a woman president when they were little girls. "You just didn't think of it," said Armao. "At that time, women weren't being admitted to law school or med school."
Women could only be nurses or teachers, Willis added. "The presidency—are you kidding me?" They both came out because the rally was "a historic moment," Armao said. "The former president, the sitting president, and the future president, all together."
For these women, the election means something incredible. For a lot of people—not just those standing in the cold in front of Independence Hall, not just those waiting in crazy lines to chance glimpsing Clinton—the election is something to be excited about.
This is the story Clinton has to repeat over and over to get out the vote on Tuesday, and this the art of politics: Leaders retell history over and over again, enough times that dissenting narratives get moved to the margins. Clinton's story is one of unity: America is "stronger together," she said as her fans sang Pharrell's "Happy" and danced on Independence Mall.
Despite everything that has happened, from Trump to the emails to the Wall Street speeches and on and on, that's how she's describing this historic moment. Togetherness is the story she's ready to tell. It's just not clear how many Americans are listening.