'I'm Afraid for My Grandchildren'
Hillary Clinton's Manhattan party was supposed to be a coronation. Instead, her supporters left in shock and in tears.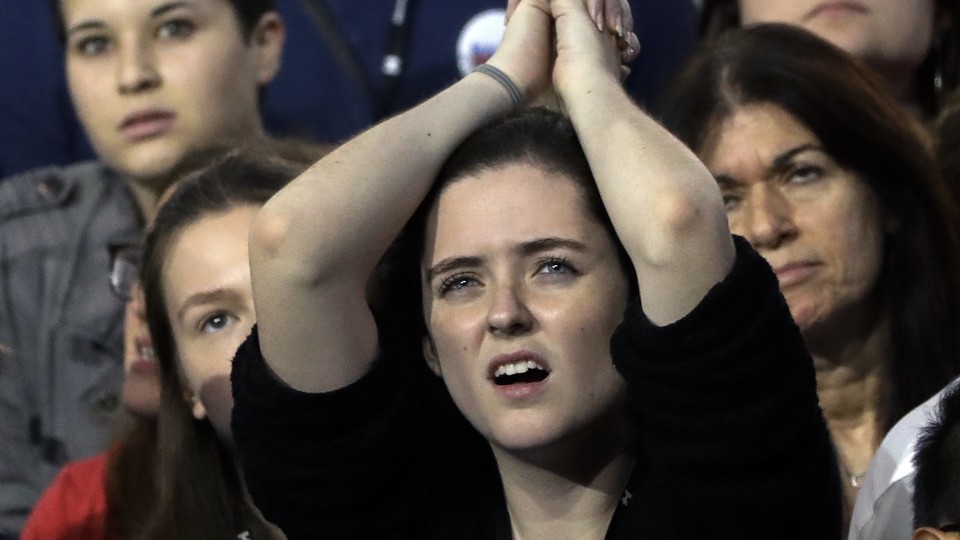 NEW YORK—They had lined up for hours in lines that stretched city blocks, and they streamed into the Jacob Javits Center by the thousands, all trusting they would be witnesses to history and celebrants of the election of the first woman president.
They witnessed history alright, these most devoted Hillary Clinton fans. And they left the building in shock and in tears.
"No part of me expected this," Laura Andrews, 69, said as she departed the Javits Center around 11:30 p.m. She was, like just about everyone who fled Clinton's election-night party as the evening went sour, ashen and shell-shocked. Andrews had flown in from Clinton's hometown of Park Ridge, Illinois, along with her husband, a high-school friend of the Democratic nominee. Mike Andrews, 69, was at a loss for words. "It seems like there's so many people who wanted something different," he said.
Election nights are always agony for the losing side, but defeat at the hands of Donald Trump left Clinton supporters all the more stunned because they believed, deeply, it could never come to pass. The Clinton campaign, too, had not prepared for any of this. Weeks before the election, it had booked the sprawling convention center along the Hudson River for two apparent reasons: It had space for thousands of fans, and it would allow for the dramatic symbolism of Clinton claiming the presidency under a glass ceiling. The only hint of concern had come a few days before the election, when a fireworks show planned for Election Night was cancelled without explanation.
As Tuesday night became Wednesday morning, and Clinton's once-wide electoral path to the presidency narrowed to almost none at all, it became clear that she could never concede defeat under that very-much-intact translucent roof. It would have been cruel.
So shortly after 2 a.m., campaign chairman John Podesta traveled the short distance from Clinton's hotel and addressed the hundreds of remaining supporters, alone. He told them to go home and get some sleep. Clinton would have more to say in the morning—surely from a different location. "Several states are too close to call, so we will not have anything more to say tonight," Podesta said.
He had held out a tiny glimmer of hope for a Clinton comeback, but the partiers who heeded his call to leave had counted the tally for themselves. "At the moment, I'm just numb," said Laura O'Brien, a 29-year-old from Manhattan. Seth Bynum, 23, said he simply felt fear. "Mostly fear, and trying to figure out how to cope," he said.
Others tried to make sense of Trump's victory, and of a nation they thought they knew but perhaps did not. "I'm extremely disillusioned," said Nan Hoffman, a 70-year-old ex-journalist. "It's a reaction to an Obama presidency for eight years. There were a lot of people who were very bitter about it." And, Hoffman added: "I think it's deep-rooted sexism."
"Deep down, I had doubts," Hoffman's husband, Ron, admitted. He remembered living in the south and being taken aback by just how many people seemed to despise Clinton. "I was really shocked by the hatred, the basic hatred of her as an individual," Hoffman said. "That I just didn't understand."
Representative Steve Israel, a Clinton ally from New York, told me before her loss became clear that the election was "not about candidates."
It was about the time that we're in. Donald Trump could never have run in any time other than the time we're in right now. We're witnessing a new convergence of pressures on the American public. The economy is changing radically. They've lost faith in institutions, in government, in sports, and in Wall Street. They feel threatened at home. You put it all together, and you have a very anxious environment that Donald Trump has tapped into.
Chris Lisi, a 44-year-old public relations professional from D.C., was less charitable. "The underbelly of America showed up at the polls," she said. "Donald Trump just won by being the complete antithesis of what makes this country great."
Lisi was there with Mary Frillici, 72, who had traveled up from Florida to celebrate and was wearing a small necklace with the words "Nasty Woman." "I'm afraid for my grandchildren," Frillici said. She could not say more. Her eyes welled with tears, and she walked away.