The Cardinal Trying to Save Chicago
Blase Cupich, who has been called America's Pope Francis, has just been given a powerful new position in Rome. Can he keep his own city from being destroyed by gun violence?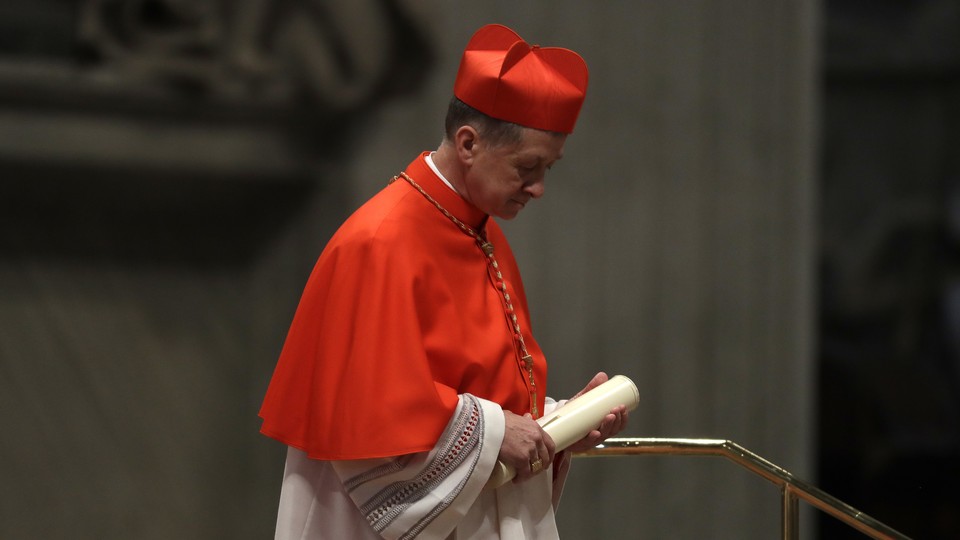 CHICAGO—Salvador Suarez died on Father's Day in 2016, gunned down just feet from Holy Cross Church. He was walking down the street, police said, when a light-colored car pulled up and someone began firing a high-powered assault rifle, hitting Suarez multiple times. It was 1:30 in the afternoon. Inside the church, mass was going on.
"After the shooting, the blood was spread all around on the sidewalk," said Father Nnamdi Ebem, one of the parish's pastors. "People were pretty shaken up. The gun that was used wasn't the kind that we're used to here. It was a military-grade weapon." The shootings in his South Side neighborhood don't happen every week, he said—only once or twice a month, and maybe not every month. It's the sad reality that this is a sign of relative safety: At least 23 people reportedly died of gunshot wounds around Chicago during the week Suarez died. When the violence came to his door, Ebem did the only thing he could: He filled a bucket with water and soap, knelt with a brush, and scrubbed.
Pope Francis often speaks about his vision of a Catholic Church that is focused on the margins of society, where people have the most pain and need. Perhaps it's fitting, then, that the man who has been called America's Pope Francis is assigned to Chicago. This is a city where the need is undeniably great—and where the viability of Francis's vision is being tested.
Two years ago, the pontiff plucked Blase Cupich, then a 65-year-old priest from Nebraska, out of the sleepy diocese of Spokane and put him in charge of one of the largest, most troubled archdioceses in the U.S. Then, last summer, Cupich's job got even more complicated: He was appointed to the Congregation for Bishops, the influential Vatican committee that advises the pope on new leadership assignments. Now, Cupich has reached a pinnacle within the Church: He has joined the College of Cardinals, the small body of leaders that selects the pope.
As Cupich's attention is increasingly drawn to Rome, his archdiocese is going through big changes. Cupich and his staff recently launched a campaign called "Renew My Church," an effort to identify and bring resources to the most vibrant parts of the archdiocese as burdensome maintenance costs, a worsening shortage of priests, and declining church attendance threaten its long-term vitality. Some might see the initiative as a nice way of talking about church closures and budget cuts, but Cupich insists that's not the case. "My predecessors lived in an era in which there was a lot of building of buildings," he said. "It was kind of exciting: People like to invest in brick and mortar. This is a little harder, because what you're doing is saying the goal has to be not a strong building, but a strong Church—meaning the people."
In many ways, Chicago is the American test case for Francis's vision of the Church—one that is vibrant, energized, and focused on caring for those who have been thrown away by society. Many pastors, like Cupich, have welcomed this renewed call to "smell like the sheep" they tend in their churches. But the pope has his enemies, too; especially in America, not everyone agrees that Francis is taking the Church in the right direction. Cupich has made a dizzying ascent, earning a job that's part Roman consigliere, part CEO, and part social worker. If he succeeds, his work will be a testament to Francis-style Catholicism. If he fails, though, the consequences won't just be political. Cupich wants to lift people out of poverty, create better education systems, and bring an end to the gun deaths. But the city and the Church he serves are both struggling to hold violence at bay.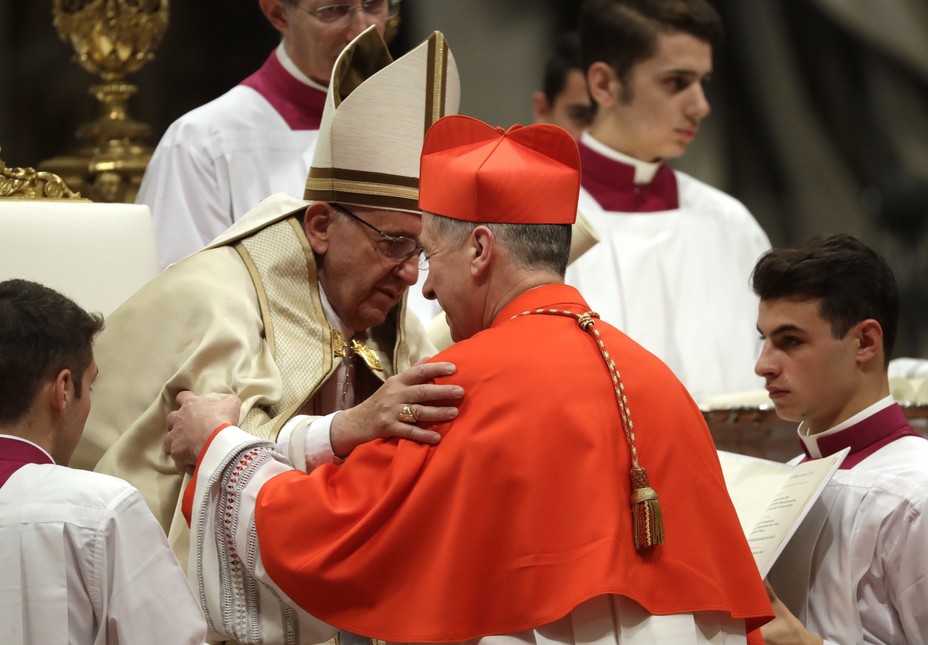 When Cupich became a cardinal on Sunday, he may have had the most high-profile cheering section in Rome. The mayor of Chicago, Rahm Emanuel, personally attended, as did Governor Bruce Rauner, U.S. Senator Dick Durbin, and Illinois Supreme Court Justice Anne Burke. Cupich tried to wave away his new title—"my brothers and sisters will treat me with the same lack of deference they've always had," he said—but his supporters are excited. "It's not an accident that when you look at who's coming, that he's touched them personally," said Emanuel in an interview. These leaders "all see the archbishop's raising in elevation to cardinal as a testament to his work here in the city." As Burke said, "It's like going to a birthday party or an anniversary. Everyone thoroughly loves this man."
In person, Cupich is mild-mannered and friendly—intent gaze, easy smile, direct, earnest. He bears none of the traits of a stereotypical political operator, and yet he has maneuvered quickly to build alliances within his new city: Cook County's sheriff, Tom Dart, and board president, Toni Preckwinkle, both told me they have a tighter relationship with Cupich than they ever did with the previous cardinal, Francis George, who served Chicago for 17 years. "It's just a closer personal relationship," Emanuel said.
While George was born in Chicago, Cupich grew up in Omaha, one of nine children in a family of Croatian descent. (That's the explanation for his "funny name," as a bishop's housekeeper once called it—the pronunciation is SOUP-itch.) He attended seminary in St. Paul, Minnesota, where he proved himself "smart" and "a little obnoxious about Nebraska football," according to his long-time friend John Carr, a former policy adviser to the United States Conference of Catholic Bishops, or USCCB. After completing graduate studies and serving in a number of parishes and universities, Cupich took his first major post as the bishop of Rapid City, South Dakota, in 1998.
It was during this time that he began building his reputation as a Church fixer. In 2002, the American church was just beginning to deal with the fall-out of the clergy sex-abuse scandal uncovered that year by The Boston Globe. Burke, then a justice on the Illinois Appellate Court, was part of the USCCB's initial working group on the matter, and that's where she first met Cupich. "We had a very difficult time with the bishops and cardinals, trying to get them to cooperate with our investigation process," Burke said. Cupich "was a shining light in all of this, because he actually spent a lot of time talking to us and helping us with the whole investigation."
As Cupich's career unfolded, he frequently worked on difficult administrative issues in the dioceses where he was assigned: When he arrived in Spokane in 2010, for example, he initiated a lawsuit against the firm that had led the diocese through bankruptcy proceedings several years earlier, alleging that it could have saved millions of dollars. But the challenges in Chicago dwarf the issues Cupich encountered in places like Spokane: During the fiscal year before he arrived, Chicago's archdiocese ran an operating deficit of more than $123 million, meaning it didn't bring in enough cash to pay for roughly 11 percent of its expenses that year.
One of the first things Cupich did when he got to the city was have dinner with Burke, his old acquaintance from the early days of the sex-abuse scandal. That kicked off a series of dinners, held in Burke's kitchen roughly once a month, where a handful of Chicago's powerful aldermen and pastors and criminal-justice officials would gather to meet the city's new prelate. Cupich has spoken about the need for "civic friendship," which might be another way of saying "smart politicking," and Burke saw that instinct firsthand. "I had different groups of people—what you might call liberals, very gay men—sitting at the same table … as very conservative people who don't accept these kinds of things," she said. Cupich "had no problem with any of that."
"I think he has a much more open and inclusive attitude ... than his predecessor."
In many ways, the Cardinals Cupich and George embody the two poles of leadership style in the American Church. Just as some critics have accused Francis of being "liberal" and soft on essential issues like homosexuality and abortion, so they have accused Cupich. But it's not as if he would fit in with the Democratic Party: When he was in Rapid City, he wrote an open letter condemning then-Senator Tom Daschle's "extreme position" on abortion, and last year, he published an op-ed in the Chicago Tribune decrying the cavalier attitude toward the unborn shown in undercover videos of Planned Parenthood staffers.
The difference is more one of posture. "It seems to me there are two kinds of leadership: One is if you think the culture is overwhelming us, then you try and preserve and protect what we have," said Carr. George was one of the American prelates trusted most by both Pope John Paul II and Benedict XVI; as John Allen Jr. wrote in Crux when the cardinal died in 2015, George was those popes' champion in their fight against secularism. The cardinal had "clear and strongly stated positions on issues such as abortion, contraception, and the Catholic liturgy, [which] could be either celebrated or reviled—and he drew both reactions, repeatedly—but they could never be ignored."
Cupich, however, is not primarily oriented toward opposing the secular pulls of modern life. As his political work across Chicago shows, he's more interested in compromise in the hopes of serving the whole community, not just Catholics. "If you think we have what the culture needs, and that we can make our case, then you engage and persuade," said Carr. "Francis is an engage-and-persuade leader. Cupich is an engage-and-persuade leader." This attitude has seemed to help Cupich maneuver effectively within the city—he even impressed Preckwinkle, the Cook County Board president, who's a Unitarian. "I think he has a much more open and inclusive attitude for the region in which he finds himself than his predecessor," she said. Cupich is "surely more welcoming of people who are not Catholic, or people within the Church who may not have been as warmly received as in the past."
George and Cupich also have distinctive administrative skill sets. Betsy Bohlen, the archdiocese's chief operating officer, said its last major restructuring happened under Cardinal Bernardin, who served in the '80s and early '90s, although some drip-like changes took place under George. Cupich, on the other hand, started his efforts from the top. Overall, his method seems to be drawn from the Vatican II playbook: giving more power to the laity and lower-level leaders in the Church. "He has reduced the number of personnel. He has put more emphasis on the Church administrating itself on the local level," said Father Scott Donahue, the president and CEO of Mercy Home, a care facility for children in the city. "He has taken [on] the financial issues. I won't say Cardinal George didn't take them seriously, but I'm not sure he knew what to do with it."
According to Bohlen, the archdiocese is doing much better financially than it was even four years ago—its operating budget will be close to break even this year. That's partly because it provides less money to individual churches: Last year, the archdiocese gave $22 million to parishes, compared with $29 million in 2012, Bohlen said. And it still has a substantial deficit from money spent on sex-abuse lawsuits, including "significant" legal fees related to Daniel McCormack, the now-defrocked Chicago priest who in 2007 pleaded guilty to molesting five boys.
"It's not just that [parishes] can't afford their operations. They actually don't have enough … people."
Looking ahead, the financial prospects for the archdiocese seem grim. Throughout Chicago's history, each immigrant group that came through seemed intent on erecting its own ornate building; now the archdiocese has to deal with all those crumbling spires and creaky bells. "A lot of our parishes focus on keeping the lights on, fixing the tower, making sure the boiler works, fixing the toilets," Bohlen said. The archdiocese also supports a large number of schools and charity organizations, which have been further squeezed by Illinois's budget crisis: Groups that take state money, or federal funds that pass through the state, have been unable to access some of those dollars.
Many parishes are struggling with decreased attendance and involvement, something that religious institutions all over the country are facing. "It's not just that [parishes] can't afford their operations or they can't afford their capital repairs," Bohlen said. "They actually don't have enough … volunteers and people to have a vital presence." If the archdiocese stays the way it is, staff said, there won't even be enough priests to serve all its parishes within 15 years.
Some would argue that this is a theological challenge, not a structural one. As Ross Douthat wrote for The Atlantic in 2015,
Contemporary progressive Catholicism has been stamped by the experience of the Second Vatican Council, when what was then a vital American Catholicism could be invoked as evidence that the Church should make its peace with liberalism as it was understood in 1960. But liberalism in 2015 means something rather different, and attempts to accommodate Christianity to its tenets have rarely produced the expected flourishing and growth. Instead, liberal Christianity's recent victories have very often been associated with the decline or dissolution of its institutional expressions.
Yet, Cupich sees the problem a different way. He is anxious to emphasize that the impending church closures and mergers—which are going to happen in yet-undetermined numbers, his staff said—are not primarily about money. "My point is, when we do this, how are we going to have vibrant communities?" he said. "There are a lot of places that don't have good music, that don't have a lot of lay involvement, don't have a lot of volunteerism. They have huge deferred-maintenance issue. So how can we use our resources in a prudent way that makes what remains vibrant, vital, and sustainable for the future?"
The mundane budget and infrastructure concerns of the archdiocese of Chicago may seem far removed from social issues like gun violence, but in fact, they are directly connected. The same forces which have concentrated poverty and violence on the South and West Sides have also rearranged the Church so that its neediest parishes are concentrated in certain areas of the city. Many of those parishes are actually the city's most vibrant, with large immigrant populations: Holy Cross, the historically Lithuanian South Side church where the Father's Day shooting happened this year, sat nearly empty for years until parishioners invited their new Hispanic neighbors to come pray with them beneath the church's high cream domes starting in the '80s.
"People here live from hand to mouth—they just work to barely survive, to put food on the table," said Ebem, the pastor. While Holy Cross and its sister church, the Immaculate Heart of Mary, get some assistance from the archdiocese, "we don't really get a lot," he said. "The impression we have here is that they don't pay attention as they should."
As it is, the archdiocese is stretched for money to support these sorts of parishes. If it doesn't make difficult choices, including potentially closing or combining some of the city's less-well-attended churches, the people who strongly want and need to be part of the Church will keep being left to fend for themselves.
"I'm not blaming the archbishop," Ebem added. But "personally, I feel they should pay more attention to parishes like ours, that are struggling."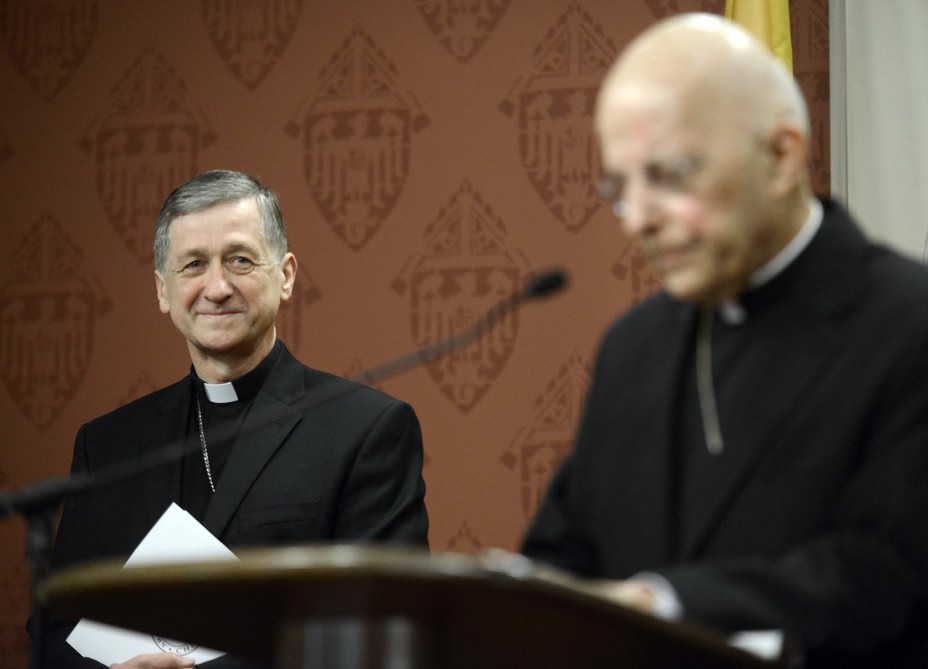 Gun violence is not just one issue in a suit of social ills; every shooting death is the calling card of extreme poverty, poor education systems, and a brutal regime of incarceration. Mike Pfleger, the pastor at the predominantly black St. Sabina Church on the South Side, has been seeing evidence of these problems as long as he's been in Chicago, and "these same systems continue to get worse instead of better," he said. But "I've never in my 41 years here seen guns more accessible," he added. "On top of that, you have a hopelessness and a despair like I haven't seen."
The consequences of guns are ever-present in Chicago, and that includes the Church. Donahue said the kids coming through Mercy Home within the last 10 years have almost universally experienced some kind of trauma, which often includes an encounter with guns. Pfleger said one middle-school-aged girl asked him to pray for her survival. "When a young person grabs a gun and squeezes the trigger on someone else, I believe that young person is making a statement," said Ebem. "And the statement is that I've lost hope in the system. And I'm blaming the government, my family, and my community."
As of mid-November, there have been more than 580 shooting deaths in Chicago this year, eclipsing the tally for last year. "The gun violence in this city is permeating every community," said Dart, the Cook County sheriff. "But in certain communities, it is so bad that it has become normalized, that gun shots will be heard every single day." Chicago's leaders, including Cupich, are hyper-focused on alleviating the violence: In an October speech at a Chicago Bar Association luncheon, he spoke about the need for greater mentorship and mental-health programs in the city. Preckwinkle said guns have been the topic of most of her recent conversations with the archbishop.
When Cupich arrived in Chicago, one of his first stops was the Cook County Jail. "We spent three, four, five hours walking around inside the jail talking with detainees. And that's just really unusual," Dart said. "There's loads of people—and I mean this in the sincerest way—who are good people, who are helpful at different levels. But to give their personal time to be physically at a location—that's usually asking a lot." Over the last couple of years, Cupich has made regular visits to the jail, Dart said, and is interested in creating inmate-support programs at local churches. Dart himself is Catholic, and he has a special appreciation for the way crime has affected the Church: Several years ago, his 80-year-old priest was beaten and robbed inside his rectory in the middle of the night.
Dart said he recoils when people offer "simplistic answers" to gun crimes, and he's working on a number of initiatives to slow the cycle of violence in Cook County, including offering extensive mental-health services inside the jail. But as his work with Cupich has developed, he's come to believe that the Church can be instrumental in ending the shootings. The problem "requires people with a long-term view, who are involving themselves in a solution with no expectation of an immediate type of response," Dart said. "The Church is our ideal body to do that very thing: to be involved for the long run, to be involved with a solution that's going to be multi-generational." That might involve creating more mentorship programs, raising mental-health awareness in parishes, or even just talking about the issue and humanizing inmates, Dart said.
"I think he's a powerful player," Mayor Rahm Emanuel said.
That sketch of possibilities is promising, but it's also vague. As with so much of Cupich's work, everything is in early stages; archdiocese leaders just got done putting together an inventory of the services they offer so that Cupich can have even an initial sense of what might be possible. But all those dinner parties he attended, all those hours spent walking through the Cook County jail, have at least given him the political influence he will need if he wants to make big changes. One priest joked that four people determine everything that happens in the city of Chicago: the editor of the Tribune, the president of the University of Chicago, the mayor, and the archbishop. In just two years, Cupich seems to have earned his spot on that list—the mayor, in particular, was eager to say so.
"I think he's a powerful player," said Emanuel. Ending violence will require more policing, better education, and tougher gun-control laws, he argued, "and the Church is in a cross-section and supports those efforts. And particularly the archbishop—now cardinal—has brought energy behind that."
Cupich's work isn't just about Chicago, or even America. Especially now that he has an elevated leadership position in Rome, his success or failure will have consequences for the future orientation of the Church. If he can achieve what he has set out to do—to make his archdiocese more sustainable and vibrant, to build coalitions across the city, to help bring an end to the city's incredible violence—Chicago will be a living testament to the power of Francis's vision for the Church. As Cupich is trying to keep all of this going—the conversations, the initiatives, the assessments, the reorganizations—the world is watching. It is an enormous challenge. Just this weekend, as Cupich was claiming his red hat in Rome, Jovan Wilson, the grandson of U.S. Representative Danny Davis, was shot in the neck and killed, allegedly by two teenaged neighbors, in a fight over a pair of shoes.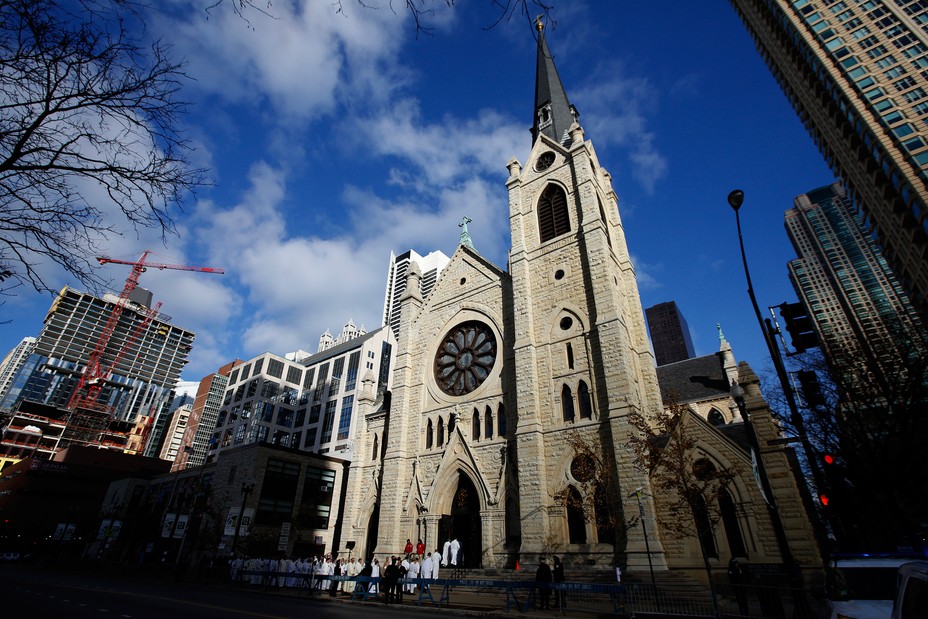 This year, Francis named three new American cardinals: Cupich, Kevin Farrell of Dallas, and Joe Tobin, the former archbishop of Indianapolis who was recently reassigned to Newark. One read is that the pope elevated priests in the most desperate parts of the U.S. Church, the areas with the greatest need of a strong pastor. Partly because of his lofty perch, Cupich bears the brunt of that symbolism. "Cupich says that Francis was sending a pastor, not a message," said Carr. "I think he was sending both."
Comparisons between Francis and Cupich have admittedly been hard to resist. Both men have emphasized the importance of mercy and serving those who live on the margins. Both have been unafraid to articulate Catholic teachings on abortion and same-sex marriage, but have called for the Church to have a broader focus, which has brought backlash. "I don't want to say he's been the pope's spokesman here," said Pfleger. "But he has been consistent with the pope's vision that we ought to be a Church that cares for the poor and the disenfranchised. We ought to be a Church that's more focused on inclusion than exclusion, and on caring [rather] than judging."
At this point, Cupich seems vaguely amused by the fact that "the media has tied my wagon to [the pope's] horse," as he once put it. "I try to be me," he told me. "If people say that there are a lot of things that are in common with me and Pope Francis, I take that as a compliment. But on the other hand, I still have to be who I am."
Especially for high-profile bishops in the American Church, it's relatively rare to not be focused at least in part on winning the ear or imprimatur of the pope—there's a certain status that comes from close ties to Rome. Cupich, however, is reticent to travel for speeches and events; his field trip to claim his red hat is a rare venture beyond the Windy City. Unlike his predecessors, he declined to live in the mammoth archbishop's residence, choosing instead the Holy Name Cathedral rectory. He frequently takes walks in the city at night, he said; people will stop him on the sidewalk for selfies. Becoming a cardinal is an honor, he said, and one for which he is grateful. But the real work, the impossible work, is in Chicago—the hope of the Church, and his new home.
---
Related Videos