Chambers of Pain
Democrats got walloped at the very top of the ticket, but what's happening at the very bottom of the ballot could hurt them for years to come.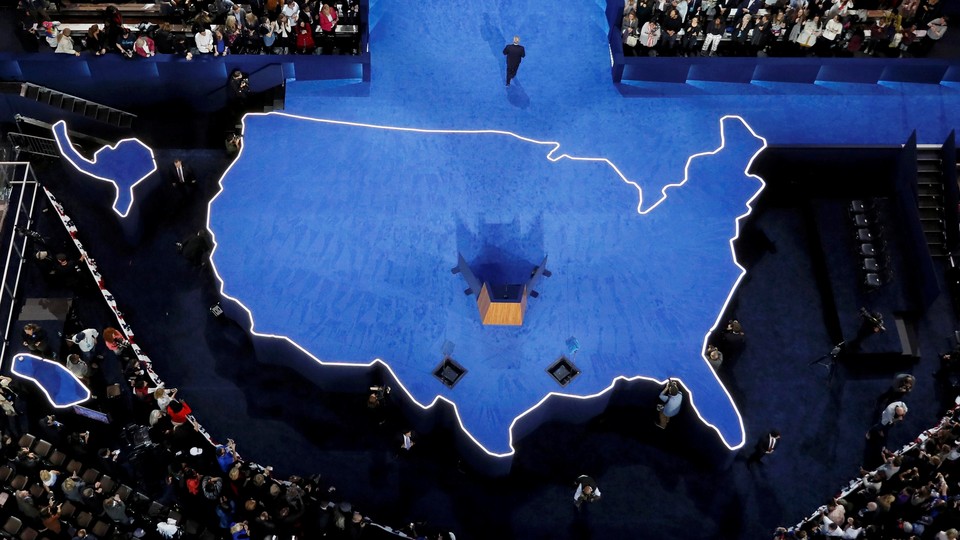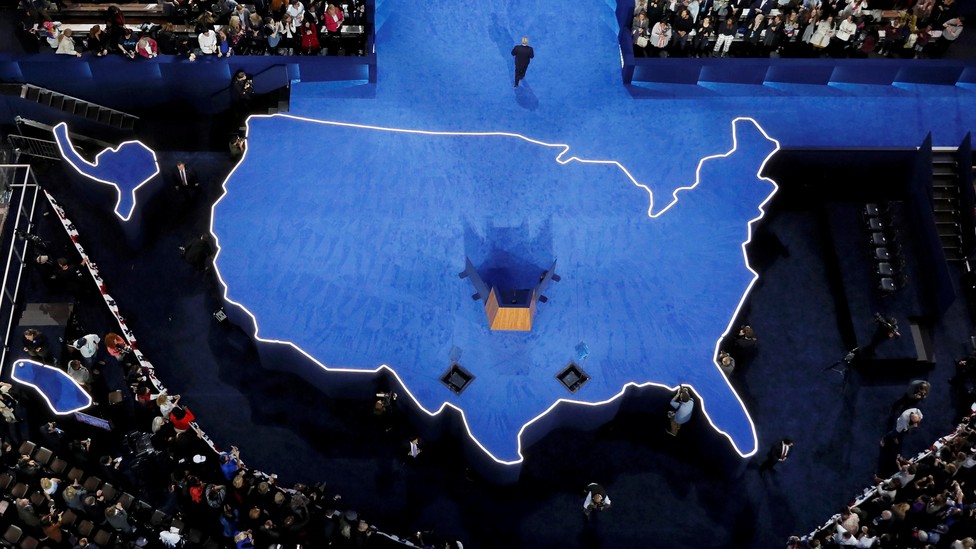 The mood in the Democratic field late last week was one of unbridled optimism. Hillary Clinton, if you believed the polling and the campaign rhetoric, was on track to be the nation's first female president. With this win, Democrats believed, might come a majority in the Senate and a shrinking margin in the House. But it wasn't just that: Democrats, finally, were looking to flip state legislatures and governorships on election day 2016—a bid to begin to correct what happened to the party in 2010. That year, Republican wins at the state level, plus the decennial census, had allowed newly conservative statehouses to redraw House districts in a way that would cement a rightwing majority for the next 10 years—at least.
Anyone who had witnessed the last six years of the Obama administration understood that the House Republican caucus had made it very nearly impossible to pass laws of any kind—necessitating a White House end-run around the legislative process through the use of executive action and regulatory authority. A Clinton administration was likely to have to deal with the same challenging landscape, as long as the House was run by the GOP. The next four years would be critical in winning back control of the House: Its districts will be drawn again in 2020, following the next census. Before then, Democrats had to win control of state chambers in order to control the redistricting process.
Just before election day, I spoke with Jessica Post, the executive director of the Democratic Legislative Campaign Committee, a party organization tasked with winning back state legislatures. Post was door-knocking in Iowa for Democratic candidates—she was clear about the challenge, but she was energized.
"In 2010, I was at the DLCC," she said. "I had a firsthand look. We were prepared for an old fight: lawyers, guns and money—but not a lot of investments were made in the electoral campaigns for state legislators."
That 2010 wakeup call shook (some) Democrats into action.
"We have to invest in campaign infrastructure," she told me.
Groups like the DLCC saw the 2016 presidential election as a critical point to turn statehouses and governorships blue, and ride that momentum into the 2018 midterms—so that by 2020, the eventual redistricting process would take place under Democratic oversight. (No less important, Democratic chambers could put a stop to conservative, state-level legislation like transgender bathroom laws and rollbacks of reproductive-health services). Speaking to my colleague Russell Berman this past August, Post was downright bullish about the prospects of doing this: At that point, the DLCC hoped to flip at least 10 state chambers, and as many as 13.
To do so, Post told me about her organization's grassroots victory program, one that trained state legislative field organizers, "getting them to door knock, make sure the turf was cut, and to train the volunteers around the candidates."
That infrastructure would prove critical in the long-term, according to Post. "This is longer-lasting than direct mail," she said, and it would assist Democratic candidates in the following election cycle, and the one after that.
The DLCC was assisted in its efforts in certain states—like Ohio—by the Clinton campaign, which put hundreds of organizers in the field. President Obama, in a fairly unprecedented move, made 150 down-ballot endorsements. These included U.S. House races, but also candidates running for state Assembly seats and state Senate seats. David Simas, the White House political director, told me that, "Foundationally, the president—on his own—said to me and others on team that he wanted to engage forcefully and aggressively … on the state and local level."
That desire, he said, was "Driven by what the president has seen in the last few years, in terms of legislation passed in statehouses—like SB-2 in North Carolina, voter disenfranchisement laws, attacks on reproductive health and attacks on climate."
President Obama had already announced that gerrymandering will be a focus of his post-presidency, and he will work alongside former Attorney General Eric Holder on the newly-established National Democratic Redistricting Committee. The White House election-year effort to bring attention to down-ballot races, Simas said, "is absolutely consistent with the President's drive to deal with redistricting."
One week ago, the DLCC's target list included flipping seats in critical states: the Michigan House, the North Carolina House, the Pennsylvania House, the Florida Senate, both the Senate and House assemblies of Ohio, as well as Wisconsin's State Assembly and Senate.
But on November 8, all of these states—Michigan, North Carolina, Pennsylvania, Florida, Ohio, Wisconsin—ended up being the ones that ultimately destroyed Clinton's chances of winning the presidency. The DLCC's attempts to make Democratic inroads met with a similar end.
Of the 32 seats the organization had targeted in those states, Democrats won only eight. Ohio's targeted seats remained solidly red, as did those in Wisconsin. In Michigan—once a reliably blue state—just one seat was turned. In Pennsylvania and Florida, both states that Clinton had been projected to win, two out of the four targeted senate district seats turned blue. In the end, it was only in North Carolina, a newly purple state that had been showered with significant attention, thanks to Clinton's campaign, where the DLCC made real inroads: Three of its four House seats turned blue.
Post pointed out that the DLCC had also managed to flip three other state chambers into Democratic control—the Nevada Assembly, the Nevada Senate, and New Mexico House—both in states, not coincidentally, that Clinton won, whether because the state was reliably blue (New Mexico) or because of an extraordinary amount of resources directed there to target a changing electorate (Nevada).
I asked Post what happened in the midwest. She conceded that the DLCC had seen "the race tightening," but "certainly didn't expect bloodbath that happened … We have a lot of learning to do about how to go back to our roots."
This, she explained, included better messaging about economic pain, a focus on solutions, and the use of what she termed "language that real voters speak in."
Yet Post remained optimistic. "The good thing about Wisconsin, Michigan, and Ohio is they have always had strong party organizations. [Those organizations] are thinking about, What we do next to fight back and get back into power?"
I asked Post whether the infrastructure that the DLCC had invested in—that grassroots victory project—would survive until the next election cycle, given the fact that most of the candidates had lost. "There were things in the state that were positive and long-lasting," she told me. "People are more fired up to be engaged."
On that count, there may be reason for Democratic optimism. Given the Republican party's coming grip on all three branches of government—the executive, legislative, and  judicial—Democrats will be looking for any available levers of power that might keep the GOP in check. Statehouses will prove critical in this landscape, both in terms of the legislature they issue, and their role in determining the balance of power in the U.S. House. "I think Democrats are in for a long period of introspection," said Post, "and one of the drums we've been beating for a long time is that the focus has not been on the legislative end of ballot."
As far as the Democratic party is concerned, the very worst outcome on November 8, 2016 may somehow lay the foundation for a better result on Election Day 2020.  By way of evidence, Post offered a story.
"I ran the Boulder, Colorado, Kerry office in 2004," she said. "I would wake up in morning and there would be a line out the door to get involved. I think the Bush presidency motivated a lot of legislative leaders we have in office now to step up and try to do things in their state."
This moment was a tough one, she said. "But in a few days we'll be off the mat and back at it."
---
Related Videos