Can Nancy Pelosi Survive the Trump Aftershock?
With the party in shambles, a little-known Ohio congressman is trying to unseat the longest-serving Democratic leader in Washington.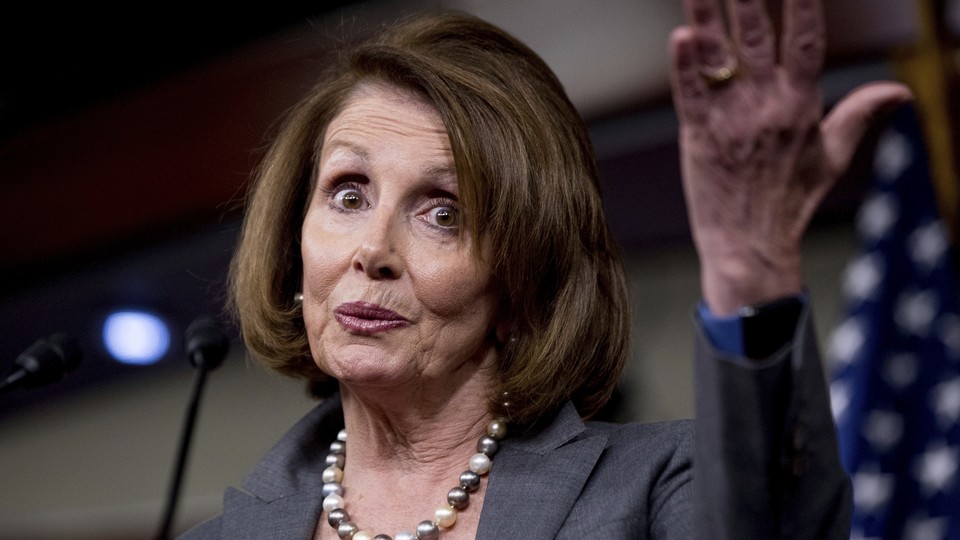 For the last 14 years, the one constant at the highest level of Democratic politics has been Nancy Pelosi.
When she became the party's leader in the U.S. House in 2002, Barack Obama was still a state senator in Illinois. She has commanded the Democratic caucus through both of Hillary Clinton's presidential defeats, and she has served as leader two years longer than her Senate counterpart, Harry Reid, who is retiring in January.
Pelosi brought Democrats back from the political wilderness once, in 2006, and now a decade later, the 76-year-old California powerbroker is bidding to do it again. Clinton's loss means that the former speaker retains a distinction she desperately wanted to relinquish—the woman who has risen higher in elected office than any other in American history.
But in the wake of Donald Trump's stunning election as president, Pelosi is facing her most serious challenge in years, as younger members of the Democratic caucus chafe under the decade-long grip of three aging leaders and worry that a San Francisco liberal is no longer the best spokeswoman for a party that has lost faith among white working class voters in the Rust Belt.
"We've turned into a coastal party," said Representative Tim Ryan, the 43-year-old Ohioan who is trying to supplant Pelosi as the Democratic leader in the House. "You just have to look at the map, and that means you're a minority party." Democrats, he frequently points out, have lost 60 House seats since 2010 and now have fewer seats than at any time since 1929.
Ryan is at once an unlikely and utterly obvious challenger for Pelosi. He's a fresh face on the national scene who represents Youngstown, an old steel town that President Obama won by 20 points in 2012 but which split nearly evenly between Trump and Clinton this year. A co-chairman of the Congressional Manufacturing Caucus, Ryan wants Democrats to promote policies to make the U.S. the "advanced manufacturing capital of the world." "What's America 2.0 look like? Let's build it," he said, ticking off aerospace parts, wind turbines, and high-speed rail as things which yield high-paying jobs that the U.S. should take the lead in producing.
Ryan boasts of his ability to connect with working class voters of all races. As if submitting evidence, his weeklong candidacy has been an explosion of sports metaphors. Democrats, he has said, are akin to a losing football team that must "change quarterbacks." Another more complicated example involved the Boston Red Sox returning to the World Series in 2013, a year after dumping their manager, Terry Francona, who then returned to the Series himself with the Cleveland Indians. (How this differentiates Ryan from Pelosi, known to be a passionate fan of the San Francisco Giants and 49ers, is less clear.)
Yet "fresh face" is also a euphemism for unknown, and that's particularly true of Ryan, who despite his young age for a politician has served in Congress for the last 14 years without making much of a legislative mark. His claim to fame until now has been his advocacy of meditation, as Molly Ball documented in a profile for The Atlantic in 2014. Ryan would face a steep learning curve in fundraising, a key requirement of a legislative leader and a skill that, as much as anything, has kept Pelosi in power all these years.
At the same time, Pelosi has become a piñata over the years for Republicans, who used her unpopularity in red states to tie vulnerable Democrats to her more liberal policies in 2010. After Ryan announced his challenge, the National Republican Congressional Committee jokingly "endorsed" her reelection. "As long as she's there, I think we stay in the majority," House Majority Leader Kevin McCarthy told reporters.
Leaning into his relative anonymity, Ryan argues that with leaders like Obama, Clinton, and Joe Biden all leaving the stage, Democrats should seize the opportunity to begin anew. "We can start fresh. We can build an entirely new brand for us," he told me in a phone interview. "To me, if we don't do it now, it's going to be a lot harder in 2018, and we're going to miss an opportunity."
Pelosi projects confidence about her position in public. At a press conference in the Capitol last week, she casually brought up to reporters asking about the leadership battle that she already has the support of more than two-thirds of the 194 House Democrats who will take office in January. "It's a funny thing in a caucus, when somebody challenges you, your supporters turn out, both internally in the caucus and in the country," she said. "It almost did me a favor."
Yet behind the scenes, Pelosi has been working hard to shore up support, particularly among the dozens of more junior Democrats who did not serve in Congress when she led the party to its last majority in 2006. She agreed to delay the leadership by two weeks until after Thanksgiving, and on Tuesday, she released a set of proposals aimed at giving newer members a greater voice in committees and in leadership. While Pelosi remains heavily favored to win re-election on November 30, her allies say this is a more serious challenge than the one she faced in the aftermath of the GOP wave in 2010, if only because Democrats were so surprised by Clinton's loss. After that election, Representative Heath Shuler, a conservative Blue Dog Democrat from North Carolina, won just 43 votes against Pelosi. In the years since, however, several of Pelosi's allies have retired from the House.
Pelosi's backers, from President Obama on down to back-bench members of the House, say she deserves reelection if for no other reason than she has done an exceedingly good job as party leader—in crafting legislative strategy, keeping Democrats far more unified than Republicans, and of course her prodigious fundraising. Obama offered Pelosi an unwavering endorsement, and she secured important support from Richard Trumka, president of the AFL-CIO. "This is a large, diverse country with many disparate views, and it takes somebody that's going to hold us all together," Representative Debbie Dingell of Michigan said. "You see that she is making changes, trying to bring in and reflect the frustrations and ensure that all the voices are heard at the table."
As Pelosi's supporters see it, the consternation on the part of more junior Democrats is less about her than it is about the difficulty in advancing in a caucus that respects the seniority system more than Republicans do. Whereas the House GOP has imposed term limits on committee chairmen and ranking members, Democrats have not. Their absence is in large part due to opposition from members of the Congressional Black Caucus, who have seen the colorblind seniority system as the surest way to amass and sustain power in a party that for decades was dominated by white men. Pelosi's offer of more leadership and senior committee slots for junior members, then, is a bid to stave off a revolt on term limits that could divide the caucus in an even more acrimonious fight.
Another undercurrent in the leadership turmoil, however, is a debate about just how Democrats lost an election the party believed it had in hand.
"As far as we were concerned, the problem was more with our communication than it was with our policy," Pelosi said. She blamed what she called James Comey's "foul deed," pointing to a steep drop in support for Clinton and congressional Democratic candidates after the FBI director sent his letter to Congress announcing a renewed inquiry into her email server.
Other Democrats have faulted the party for focusing too much on cultural issues to the exclusion of bread-and-butter economic concerns. Among House Democrats, there is also anger at the Clinton campaign's strategy of targeting Republican voters by painting Trump as outside the norm of GOP politics, rather than an extension of it. A more straightforward ideological frame would have left Clinton less vulnerable to the hemorrhaging caused by Comey's letter, which pushed Republican and independent voters back to Trump, they argue. "They were more fixated on getting Republican votes than Democratic votes," one House Democratic strategist said. "It was moronic."
Pelosi made clear she wanted the party to return to core issues, writing in a letter to Democrats that she planned to fight hard against Republican efforts to privatize Medicare and the VA health system while pushing Trump to support an infrastructure bill "that puts good-paying jobs for workers first—not one that is a corporate tax break disguised as an infrastructure bill."
To many Democrats, the fact that Obama, Clinton, and Biden will be gone is even more reason to keep an experienced fighter atop the House leadership. "I think we need her now more than we've ever needed her," said Representative Eric Swalwell, a Californian just elected to his third term.
Ryan doesn't have much against Pelosi specifically—either personally or policy-wise. "Nancy Pelosi," he told me, "has more energy and vigor than half our caucus put together." And while he thinks the party suffered from a poor message—it focused too much on the Zika virus was one complaint—Ryan is cognizant of the diversity of the Democratic caucus and isn't calling explicitly for issues like gay rights or immigration reform to be put on the back burner. "From a national level, we've got to be talking about issues that everyone sees as important," he said.
His biggest critique is that Democrats have developed what he calls "a minority mindset." They are too comfortable with losing, in other words. But Ryan's challenge is that his argument against Pelosi occasionally sounds like merely change for change's sake. "I'm not even saying it had to be me. It had to be somebody," Ryan told me at one point.
The simplicity of the change message worked for Donald Trump, who won over working-class voters with bravado over policy. But the insider-driven leadership races in the caucus rooms of the Capitol are another matter, and the young congressman from Ohio may need a little something more to end Nancy Pelosi's 14-year run of Democratic rule.