Why Two States Are at Odds Over the Future of the Death Penalty
Public support for capital punishment has declined in recent years, but the issue continues to be a point of contention, as some advocate for its repeal and others push for its reinstatement.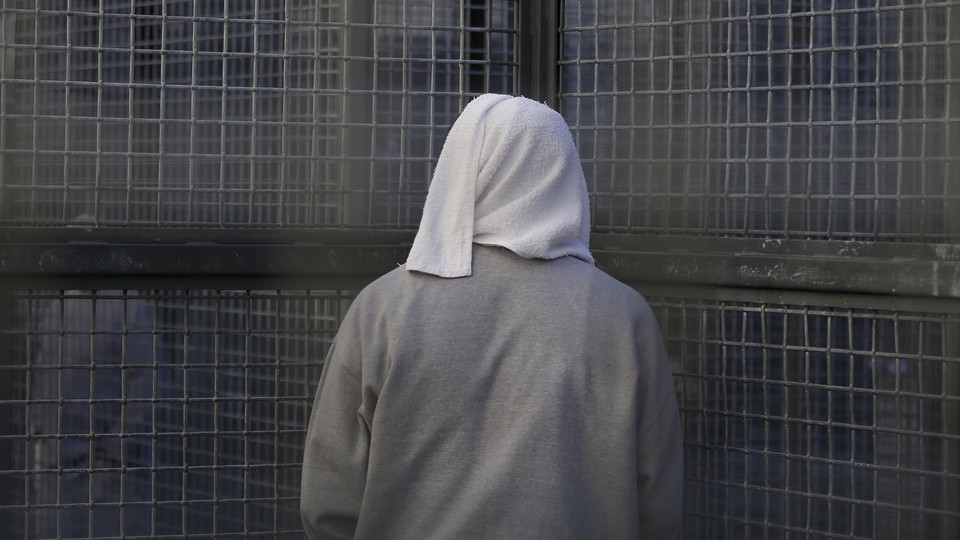 Capital punishment will be on the ballot in a handful of states this week. The propositions come amid rising exoneration rates, more awareness of death penalty costs, and an increasing number of questions over whether the death penalty reduces crime. Still, the country is largely split on the death penalty. Forty-two percent of Americans oppose capital punishment, while roughly half of Americans support it, according to a poll from the Pew Research Center. Since March 2015, the percentage of Americans that favor the death penalty has dropped by seven points. But, as evidenced by California and Nebraska, two states that will include capital punishment on the ballot, it continues to be a divisive issue, as some advocate for its repeal and others for its reinstatement.
In California, two propositions will decide whether the death penalty will be accelerated by imposing time limits on death row cases or whether it will be repealed. Proposition 62 seeks to do what Proposition 34 failed to accomplish four years ago when it was defeated in a 52 to 48 vote: Replace the death penalty with life in prison without the possibility of parole. Meanwhile, in Nebraska, a referendum aims to reinstate the death penalty.
California leads the country in exonerations of wrongful convictions. In July, Francisco "Franky" Carrillo Jr., now on his fifth year of freedom, won the largest per annum settlement that's ever been granted in California—$10.1 million, or $500,000 for each of the 20 years he spent in prison for the drive-by shooting he was wrongly convicted of at 16 years old. Carrillo's story isn't an anomaly. Last year, 149 exonerations—a record high—were granted nationwide, up from 139 in 2014 and 87 in 2013. Reasons for the exonerations ranged from new DNA evidence to the means in which detainees were interrogated to, as in Carrillo's case, recanted eyewitness testimonies.
Proposition 62 argues that in addition to avoiding the possibility of putting an innocent person to death, it would save California "$150 million annually within a few years," according to the California Legislative Analyst's Office. Proposition 66, on the other hand, would save state prisons "tens of millions of dollars annually," but cost the state courts "tens of millions of dollars" before the savings kick in. The "ongoing fiscal impact" on state court costs for processing legal challenges to death sentences is currently unknown.
Cost plays an integral role in arguments for and against the death penalty. Nationwide, the death penalty is more costly than life in prison without parole due to a number of factors. "Thinking that all you have to do is pay for the drugs or method of execution misunderstands the issue," said Robert Dunham, the executive director of the Death Penalty Information Center. "The cost of the death penalty is the cost of every case that is charged as a capital case—from the beginning of the final charges to the deposition of the case. If you charge 100 cases capitally and get 12 death sentences, it's the cost of the 100 cases, not the 12 death penalties."
A death penalty trial consists of two trials—one to decide guilt and the other to decide whether it warrants the death penalty. The process requires an extensive amount of time and research to prove whether a case is "in character"—meaning the life and mental history of the defendant, or his or her family's history with trauma or abuse, could indicate a predisposition toward violent behavior—or "out of character," which involves determining what situational stresses led the defendant to commit the crime, Dunham said. A number of other factors also extend the process: Jury selection is far more involved in order to determine any biases, the appeals process can go through multiple iterations, and  virtually every death penalty inmate gets maximum security and is put in solitary confinement. All of this adds up. In California, it costs $105,905 more annually to house a death row inmate than an inmate who hasn't been sentenced to execution.
The solution laid out in Proposition 66 is to fast track the system by requiring more lawyers to take on death penalty cases, while imposing time limits on when a case needs to be decided. There are two problems with this, according to Dunham. One, requiring lawyers to take on these cases may result in lawsuits filed by attorneys who don't want to take a case as well as lawsuits from those on death row for not receiving fair or competent representation, Dunham said. And two, imposing time limits could increase the likelihood that prosecutorial misconduct will go undetected since the goal, after all, is to close cases as fast as possible, not unearth details that could result in another wave of appeals.
California voters are split over the issue, according to a Field Poll released in September. Forty-eight percent of California voters support replacing the death penalty with life imprisonment compared to 37 percent who oppose it and 15 percent who are undecided. At this same stage four years ago, the proposition that sought to end the death penalty only had 42 percent of Californians in favor of it. The uptick in support suggests that this year may mark an end to capital punishment in the state.
The national mood on the issue echoes California's. The majority of Americans still support the death penalty, but that margin of support has been steadily shrinking since the last presidential election. A 2014 poll also found that 52 percent of Americans prefer life in prison without parole to the death penalty, while Oklahoma—the state with the highest execution rate per capita—is determining whether it can alter execution methods in a ballot initiative.
Nebraska, likewise, contests this shift in popularity. The state legislature abolished the death penalty in May 2015. But in August 2015, Nebraskans for the Death Penalty, an organization aimed at overturning this decision, filed a successful petition with close to 167,000 signatures to get the issue on November's ballot and reinstate the death penalty. "We want to keep it on the books for the most vicious, most violent criminals," said Bob Evnen, a Lincoln attorney and the co-founder of Nebraskans for the Death Penalty.
As is the case in California, Evnen acknowledges that in Nebraska it costs more to try a death penalty case, but argues that a process that aims to avoid executing an innocent person should be costly. In cases where guilt isn't in question, the death penalty could actually prove less costly by eliminating appeals, he says, in the so-called "plea bargain effect" in which the accused individual admits guilt in order to avoid risking execution and, thus, avoids the appeals process entirely.
While Nebraska's Legislative Fiscal Office says there's no fiscal impact in the transition from the death penalty to life in prison without parole, another economic report commissioned by Retain a Just Nebraska, an organization that opposes the death penalty, estimated that eliminating the death penalty would save the state $14.6 million annually.
Nebraska's Fiscal Office Director Michael Calvert said that death-penalty debate in the state is a regular occurrence, dating back to 1999. Then, the legislature voted to place a two-year moratorium on executions while a study examined all homicides cases since 1973—the year the death penalty was reinstated in Nebraska—to determine whether the death penalty was being applied justly. "In odd numbered years, legislation gets introduced dealing with the death penalty since we have two-year sessions in legislation, so this is not an issue that's alien to us," Calvert said.
A survey, commissioned by Nebraskans for the Death Penalty in August 2016, found that 58 percent of Nebraskans still favor the death penalty compared to 30 percent who oppose it.
Costs force the acknowledgment that the capital punishment system needs fixing—and that's one thing death penalty opponents and proponents alike can agree upon. In Nebraska, the cost argument might not be enough to dissuade its voters and repeal capital punishment this election cycle. Polls in California, however, suggest the state may reverse its 38-year-old death penalty. Though Proposition 66 claims to mend the state's broken death penalty system, it carries only 35 percent of voters' support compared to the 48 percent in favor of Proposition 62's replacement of capital punishment with life sentences.
Voters may look to November 8 as a hopeful reprieve from the country's current divisiveness, but the capital punishment debate—particularly, what to do about its existence while figuring out how to fix a broken and costly system—is one that isn't fading. As California and Nebraska demonstrate, the majority of voters remain at odds with capital punishment and, if dissatisfied with the outcome, will readily bring it back to the ballot.