The Bridgegate Verdict's Preview of the Trump Administration
Four aides to Governor Chris Christie, who is in charge of staffing a prospective Republican White House, are guilty of federal crimes.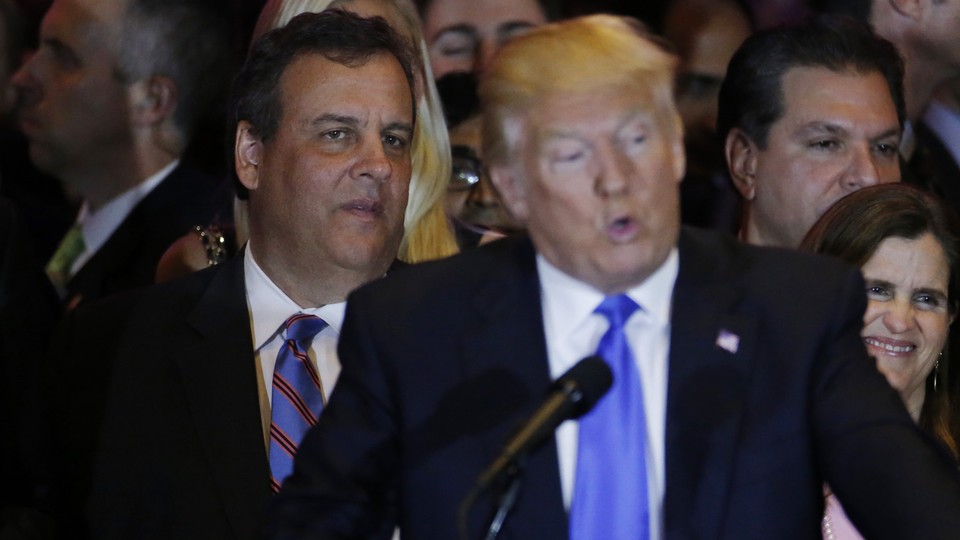 Time for spin problems on the Trump transition team.
Late Friday morning, a jury in New Jersey returned a verdict in the case against former Chris Christie aides Bill Baroni and Bridget Kelly in "Bridgegate," the closure of lanes on the George Washington Bridge. Jurors decided that Baroni and Kelly had conspired to create gridlock on the span between New Jersey and New York, finding them guilty on all nine counts. Two other aides to Christie, who is the Republican governor of New Jersey, had previously pleaded guilty.
That creates a sticky situation for Christie—and, in turn for Donald Trump. Christie was one of Trump's earliest backers within the GOP establishment, and although he was passed over for the role of vice-presidential nominee, he is leading the transition team that will create a presidential administration if Trump wins on Tuesday.
As if it's not bad enough for four of Christie's aides to be guilty of federal crimes, the trial actually looked worse for the governor than that verdict would suggest. Though Christie has not been indicted, the prosecutors' case heavily hinged on the assumption that the lane closure was designed to punish Fort Lee Mayor Mark Sokolich, a Democrat, for not endorsing Christie. The trial also suggested that Christie was, despite his protestations to the contrary, involved in the scheme. A text message revealed in filings showed another aide saying that the governor "flat out lied" in saying that his top staff were not involved. Kelly said much the same, as James Ford reported for Pix11 News:
She indicated that Christie not only knew ahead of time about a potential congestion, causing traffic study on the New Jersey side of the bridge that connects the Garden State with New York. She also said, numerous times, that she and Christie had discussed the traffic snafu in the weeks between it happening and the news conference, where Christie and the rest of the staff denied it all.

"I was petrified," Kelly said on the stand, with tears in her eyes, "because now nobody was acting like they knew anything about Fort Lee."
To the fury of defense attorneys, jurors were not asked to rule on whether Kelly and Baroni conspired specifically to punish Sokolich for his non-endorsement; they only had to decide whether there was a conspiracy. Without rendering a verdict on their motive, the jurors decided that Christie's aides had, in fact, conspired against Fort Lee.
This is particularly awkward because it comes as Trump is working to tar Clinton with her ties to disgraced former Representative Anthony Weiner, and with anonymous reports (disputed by other anonymous reports) of looming indictments in an FBI investigation into the Clinton Foundation. Now, there are actual convictions close to the Trump campaign.
In a statement Friday, Christie said he was "saddened" by the case, but he suggested the aides were lying and reiterated that he had no knowledge of the closures and did not authorize them. He's scheduled to campaign for Trump in New Hampshire on Saturday, which could prove less than helpful for the presidential candidate.
The question here isn't just Christie's proximity to Trump. Christie is in charge of hiring the people who would staff a Trump administration—and four close aides whom he hired have now been convicted, or plead guilty, to committing crimes. Even if you buy Christie's argument that he had no awareness of the plot, it raises questions about his judgment as an employer.
Despite some clear differences, one thing that seems to have brought Christie and Trump together is their pugilistic attitude toward the world and their enemies. Christie has always reveled in counterpunching and vengeance, which is one reason the Bridgegate story was so damaging to him: Even before the four guilty verdicts, the idea that he had acted for revenge fit with what the public already knew about him. Trump, too, has a love of revenge. "Get even with people," he told a crowd in Australia in 2011. "If they screw you, screw them back 10 times as hard. I really believe it." (Mother Jones' David Corn rounded up this and multiple other cases of the entertainer offering variations on the sentiment.)
That sort of behavior is often legal in the business world, and even when it's not, it can sometimes be papered over with court filings—push it into arcane legal fights, let the lawyers duke it out, hope for your opponents to give up, and then quietly settle as a last resort. (This is a favorite Trump pattern.)  But if you try to do the same things in the public sector, it's liable to produce convictions for federal crimes. It's not just screwing over business partners, but interfering with the general populace, as the bridge closure did. If you liked the way the Christie administration approached such problems, you're probably going to love a Trump administration. After all, the same guy's in charge of the hiring process.