What Bernie Sanders Wants From Donald Trump
The Vermont senator has outlined an agenda where Democrats might find common ground with the next president.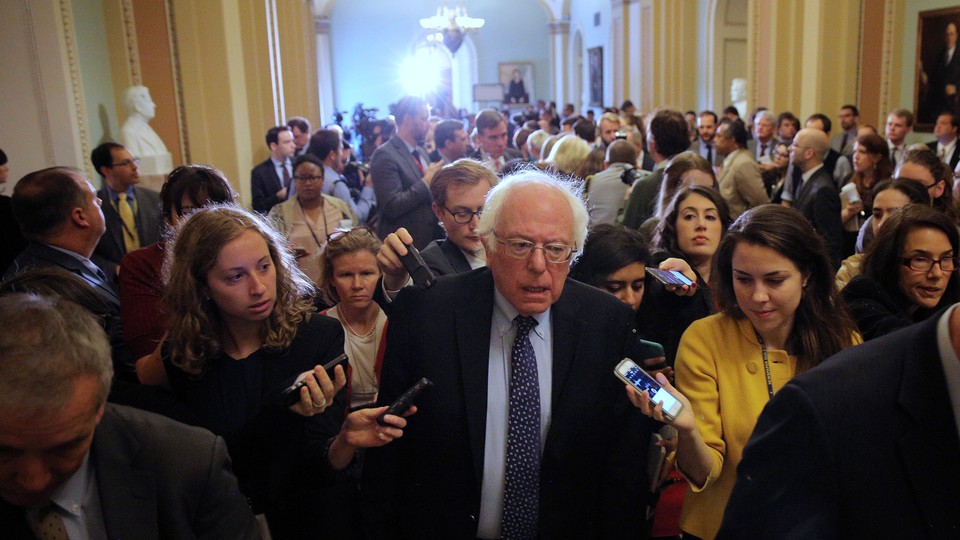 Can Democrats actually work with Donald Trump? If liberal lawmakers attempt that they risk angering their base by collaborating with a president millions of Americans voted against. But the party may have little choice following a devastating electoral defeat that left Republicans in control of the White House and Congress.
Democrats in Congress, including Vermont Senator Bernie Sanders, who while technically an Independent is considered to be a champion of the party's left wing, are signaling that they hope to find common ground with the next president. Here's a partial transcript from a speech Sanders delivered on Wednesday evening in Washington, D.C., outlining an agenda that Democrats and Trump might agree upon:
Mr. Trump said, unlike many Republicans, the vast majority of Republicans, he said that he will not cut Social Security, Medicare, and Medicaid. Now, I believe we should expand Social Security … but that is what he said, and pay attention to see what he now does. The question that will be resolved pretty quickly is whether or not everything that he was saying to the working families of this country was hypocrisy, was dishonest, or whether he was sincere. And we will find that out soon enough. But No. 1, no cuts, says Mr. Trump, to Social Security, Medicare, and Medicaid.

Mr. Trump says he wants to invest a trillion dollars in rebuilding our crumbling infrastructure. That is a good sum of money, that is exactly what we should be doing, and we can create millions of good-paying jobs if we do that. Mr. Trump, that's what you said on the campaign trail, that's what we look forward to seeing from you.

I happen to believe that the federal minimum wage … is a starvation wage, and that it should be raised to $15 dollars an hour, a living wage. Mr. Trump did not say that, but what he did say is we should raise the minimum wage to 10 bucks an hour. Not enough, but a start, and we will hold him to those words.

Mr. Trump said that Wall Street is dangerous, doing bad things, he wants to re-establish Glass-Steagall legislation. I look forward to working with him.

Mr. Trump has said he wants six weeks of paid maternity leave. Every other major country on Earth, I think, has at least 12 weeks of paid family and medical leave, but this is a start. We look forward to working with him if he is honest about that.

Mr. Trump said throughout his campaign—the cornerstone of his campaign was to change our disastrous trade policies. As someone who voted against every one of these trade policies, I look forward to working with him.
Sanders isn't promising not to oppose Trump. He has vowed to fight any action that promotes bigotry, racism, sexism, and xenophobia. He has indicated he'll continue to push for action on climate change, despite the fact that Trump has referred to climate change as a "hoax." Pointing out potential areas of agreement between Democrats and Trump now also lays the groundwork for the senator to criticize Trump later if he fails to follow through.
His overarching message to voters is that Democrats will work to hold Trump accountable and check his worst impulses. "Many Democrats will be prepared to work with Mr. Trump if he turns out to be sincere about the promises he made during the campaign," Sanders said during his speech, but he added: "If those promises turn out to be hollow, if they were nothing more than campaign rhetoric, we will not only oppose his economic policies, we will expose that hypocrisy."
Democrats on Capitol Hill seem to agree on a common-ground strategy. "On infrastructure spending, child tax credits, paid maternity leave and dismantling trade agreements, Democrats are looking for ways they can work with Mr. Trump and force Republican leaders to choose between their new president and their small-government, free-market principles," The New York Times reported on Wednesday.
Calls to work together raise the question of whether Democrats and Trump might actually be able to do that. It seems likely that Democrats will spend much of their time in the minority resisting Republican policies they strongly disagree with, including efforts to repeal the Affordable Care Act and roll back environmental regulations.
Another obstacle to finding common ground is that much of what Trump talked about that Democrats might support—such as investments in infrastructure and protecting entitlement programs from cuts—would likely put the future president at odds with Republicans in Congress like House Speaker Paul Ryan, who has already signaled a willingness to make changes to Medicare. That could open up a rift among Republicans, or convince Trump to steer clear of those policies in favor of an agenda that will unite his party.
Democrats need a leader right now. And it's possible that Sanders could be a uniquely credible political voice under a Trump presidency, given that his diagnosis of the problems facing America isn't entirely different from the president-elect's. Both Trump and Sanders campaigned on promises to fight corruption in Washington and criticized the influence of big money in politics.
But whether Sanders can help to advance a liberal agenda under a Trump presidency—and whether Democrats can manage to be effective after losing significant political power during the election—remains unclear. It's an aim that will be extremely difficult to achieve at best.