Obama Sweats Out the Last Days of the Election
In North Carolina, the president rallied college students for Hillary Clinton and expressed disbelief at Donald Trump's success.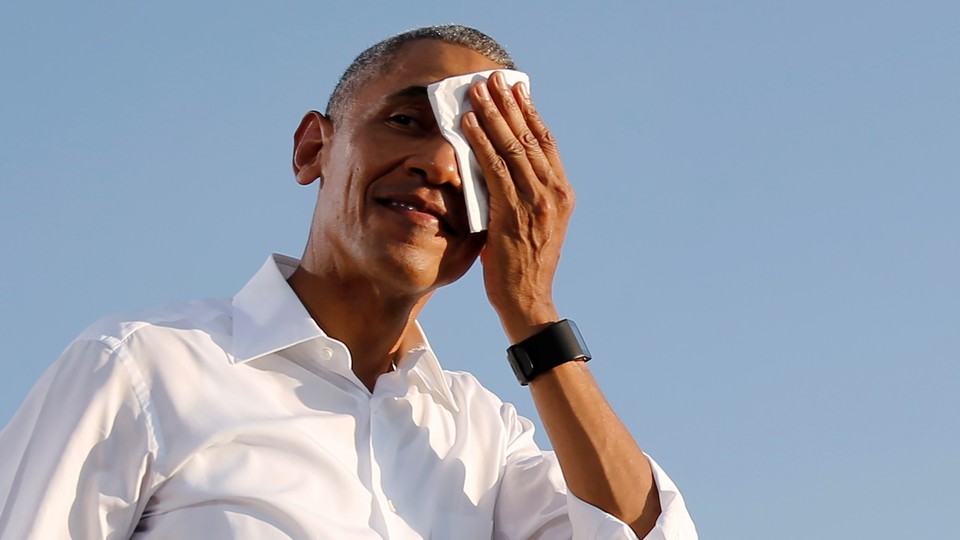 CHAPEL HILL, N.C.—Every time Barack Obama comes to campaign for Hillary Clinton in North Carolina, he starts off with the same spiel. It goes something like this: "I just like North Carolina. I love the people in North Carolina. When we used to campaign here, I used to say even the people who aren't voting for me are nice." Then there's usually a riff about basketball, or barbecue, or both.
The president has had ample opportunity to workshop this bit, because he's been a frequent visitor to the Old North State, campaigning for his would-be successor. His first appearance on the campaign trail this year came alongside Clinton in Charlotte. Just a few weeks ago, he was in Greensboro. On Wednesday, he was in Chapel Hill, and he'll be back on Friday for stops in Fayetteville and Charlotte.
Obama's affection may be genuine—he also vacations near Asheville—but it's not the reason he's been visiting so often. His sojourn was strictly what he repeatedly insisted was "bidness" (as opposed to "business.") With less than a week to go, the polls show a very tight race in North Carolina.
"We don't win this election, potentially, if we don't win North Carolina," he said. "So I hate to put a little pressure on you, but the fate of the republic rests on your shoulders. The fate of the world is teetering, and you, North Carolina, are going to have to make sure that we push it in the right direction."
The president was joking, only he sort of wasn't. There's been a discernible change in his tone over the course of his appearances. When he came to Charlotte, in July, he just seemed happy to be out on the trail, and focused on how great Clinton was. By the time he got to Greensboro on October 11, Clinton was at perhaps her acme. After two debates, one tape of Donald Trump boasting about sexually assaulting women, and several accusations out there, the Republican seemed cooked. Obama was in high spirits, ready to close the deal with a series of jokes at Trump's expense.
But a funny thing happened on the way to the landslide. With five days left, the race looks as close as ever, both nationally and in North Carolina. Hence Obama's effective message on Wednesday: Are you kidding me, America?
"This choice actually is pretty clear, because the guy that the Republicans nominated—even though a bunch of them knew they shouldn't nominate him—the guy they nominated who many of the Republicans he is running against said was a con-artist and a know-nothing and wasn't qualified to hold this office—this guy is temperamentally unfit to be commander in chief and he is not equipped to be president," Obama said.
He's said things like that before, but now he was just getting started. This was Obama as media theorist, a role he seem to enjoy, subscribing to the claim that Trump's long spree of bizarre comments has produced a sense of fatigue.
"And this should not be a controversial claim," Obama continued. "It really shouldn't. I mean, it's strange how, over time, what is crazy gets normalized and we just kind of assume, well, you know what, he said a hundred crazy things, so the hundred-and-first thing we just don't even notice."
Obama didn't mention the controversy that has precipitated a crisis of confidence for Democrats—the letter written by FBI Director James Comey last week, informing members of Congress of the discovery of new emails potentially related to the investigation into Clinton's use of a private email server. Obama is caught in a tricky triangle between Comey, the Republican who he selected to lead the FBI, and Clinton, his designated heir. In an interview published earlier Wednesday, Obama offered veiled criticism of the FBI.
"I do think that there is a norm that when there are investigations we don't operate on innuendo and we don't operate on incomplete information and we don't operate on leaks," Obama said. "We operate based on concrete decisions that are made."
In Chapel Hill, he stuck to criticizing Trump, methodically laying out an indictment of the Republican nominee's character, temperament, and preparedness.
"Look, we have to acknowledge, he's got support," Obama said. "He's got support here in North Carolina. He's got support in other states. And part of it is, is because he's been able to convince some people that he's going to be their voice." But he insisted: "We have to stop thinking that his behavior is normal, that it's within the bound of what has, up until this point, been our normal political discourse."
Now Obama was rolling, unspooling his disbelief, laughing in that way one does when something is funny, but more funny-strange than funny-haha, his voice cracking into a higher register.
"You've got some Republicans in Congress who are already suggesting they will impeach Hillary," he said. "She hasn't even been elected yet. It doesn't matter what evidence, they just—they'll find something. That's what they're saying already. How does our democracy function like that?"
The Democratic Party seems somewhat shellshocked by the state of the race—even if Clinton has an edge, Democrats still can't quite believe that they have to fight this hard against this opponent. One culprit is Clinton's acknowledged charisma gap. Obama remains a bigger draw, and fire marshals said that 16,200 people attended the rally, making it the second-biggest Clinton campaign event of the year. Several attendees told me that while they were With Her, they had cut class or cut work mostly for one last chance to see Obama as president. It was an unseasonably warm November day, topping 80, and volunteers handed out water or assisted attendees who overheated during a brief performance by James Taylor. The line to get in stretched as far as the eye could see, away from the Astroturf where a stage had been assembled and past the Frank Porter Graham Student Union, named for the godfather of North Carolina liberalism.
That political tradition faces a turning point on Tuesday. One can make a case for the state going either way. Obama won narrowly in 2008 and lost narrowly in 2012, and Clinton has led most polls in the last month, but a couple recent polls have shown Trump leads. The New York Times' Upshot finds evidence of a Clinton lead in early voting; elsewhere, the newspaper sees softer turnout among African American voters, the cornerstone of the Obama coalition.
Clinton's prospects in North Carolina will rise or fall based on turnout among black voters and in young, white, liberal bastions like Chapel Hill—home to the University of North Carolina, many of whose students came out Wednesday—and the rest of the Research Triangle. Those are also two groups with which Obama remains popular.
Geoffrey McGee, a junior at UNC, was playing hooky to attend the rally, though he did carry a well-worn paperback copy of Passage to India with him in line. Although he was to the left of Clinton on a range of issues, he was excited about her, which he said might be atypical in the broader student body. "There's excitement about stopping Trump," he said. "To say there's excitement about Clinton might be overstating it." He was nervous about the recent tightening of the polls, but not panicked. "I just like to believe it couldn't happen here," he said. "I think there's a sense of decency, just mutual cooperation, left in this country."
As for African American votes, the reasons behind the drop-off are disputed. Some decrease was expected once Obama was off the ballot—though he argued that although he is not on the ballot, his legacy is—but the decrease has been sharper than expected. Some of that is probably lesser enthusiasm for Clinton, but it may also have to do with voting rules. While a law limited early voting and requiring voter ID to vote, among other provisions, was struck down by a federal court in July, some counties still have fewer early-voting locations than in 2012. Guilford County, home to Greensboro and many African American voters, had a single early-voting location for the first of two weeks of voting, though more are now open.
One black voter Clinton needn't worry about is Cynthia Edwards Paschall, who had taken the day off work and come out with her sisters ("a bunch of nasty women!") to see one last appearance by an African American president—a sight she thought she'd never witness. She was a little more confident about voting.
"I think North Carolina is really a blue state at heart," she said. "We need to change out the formula of the Jesus juice they're drinking so they're not so righteous they're wrong."
As Paschall implied, the presidential race isn't the only contested spot on the ballot. Attorney General Roy Cooper, who is seeking to unseat Republican Governor Pat McCrory, also spoke at the rally. That's a little bit unusual—he has made himself scarce at many Clinton campaign events, even though many polls show him with a narrow lead. But Deborah Ross, who's running for U.S. Senate, has been a frequent presence at Clinton events. Once considered a long shot, Ross has narrowed her gap with Senator Richard Burr far enough that some Democrats think she could win, buoying hopes that a President Clinton would enter office with a Democratic Senate.
Obama went hard on Burr, returning again and again to take shots at him. "He and I came in together when we were in the Senate, and personally he's a decent guy," Obama said. "But when I hear him say there's not a separation between me and Donald Trump—that's troubling.  Either he actually means it, in which case he agrees with everything Donald Trump says; that what it says—that's what you mean when you say there's not a separation. Or he doesn't mean it and he's just saying it to get elected.  That's not good either way."
He spent some time going over a recording published by CNN this week in which Burr joked about Hillary Clinton being shot and pledged to work to block any Clinton appointee to the Supreme Court if she won. "Eleven years ago, Richard Burr said a Supreme Court without nine justices would not work," Obama said. "Well, what changed? What, only Republican presidents get to nominate judges? Is that in the Constitution? I used to teach constitutional law. I've never seen that provision."
While liberal commentators and national Democrats spent the day pondering whether to enter full-blown panic or stick with mere serious digestive distress, there was no sign of such extreme worry in Chapel Hill. Perhaps it was just too nice a day and people were too excited to see Obama. As he wrapped up his remarks, the president tried to strike a balance.
"You have a chance to shape history," he said. "What an amazing thing that is. If Hillary wins North Carolina, she wins. And that means that when I said the fate of the republic rests on you, I wasn't joking. But that shouldn't make you fearful, that should make you excited." Sometimes, however, it's hard to tell where one ends and the other begins.