The Next Fight to Expand Voting Has Already Begun
Before the 2016 race ends, advocates for automatic registration are already eyeing new efforts in Illinois, Nevada, and elsewhere.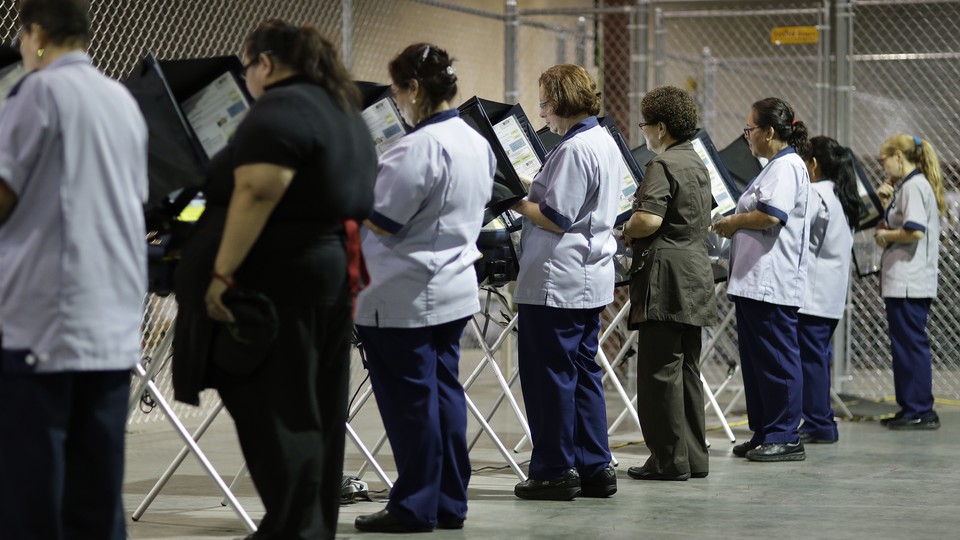 One of the many supposed truisms about politics is that you're never supposed to look past the next election.
Yet as this historic presidential race draws to a close, voting rights advocates are already ramping up efforts to expand the rolls in future elections through automatic voter registration.
In the District of Columbia, the city council this week unanimously approved legislation allowing eligible citizens to register when they sign up for a driver's license. In Nevada, organizers for a group led by Obama campaign veterans are gathering signatures to put a similar law on the ballot in 2018; they must submit the petition by Election Day this year. Voters in Alaska will decide a ballot measure next week that would automatically register nonvoters when they sign up to receive dividend payments from the state's oil revenue fund. And in Illinois, Democrats in the state legislature are hoping to hold a vote in the weeks after November 8 to override Republican Governor Bruce Rauner's veto of legislation enshrining automatic voter registration.
The year-end push comes after a flurry of activity around the issue earlier this year that saw both progress and setbacks. In addition to D.C., Vermont, West Virginia, and Connecticut all followed the lead of Oregon and California in changing the voter registration process from a system in which people must "opt in" to one in which they have to affirmatively "opt out." But in three Democratic-leaning states with Republican governors—Illinois, New Jersey, and Maryland—bills enacting automatic voter registration fell short or were vetoed.
By and large, Republicans have opposed the efforts and argued that the push is a thinly-disguised bid to boost Democratic votes and that the onus should remain on citizens themselves, rather than the government, to register to vote. In vetoing the Illinois bill in August, Rauner cited concerns that the legislation did not adequately ensure that state officials would verify a person's eligibility before adding them to the rolls.
"I strongly support efforts to encourage greater voter participation in our democracy and share the goals of this legislation," Rauner said in a statement at the time. "Unfortunately, as currently drafted, the bill would inadvertently open the door to voter fraud and run afoul of federal election law." In New Jersey, Governor Chris Christie vetoed a similar bill, expressing the same worries.
Despite those setbacks, advocates for so-called "motor voter" laws say they are making inroads with Republicans. "There has been an increased number of instances where automatic voter registration is being supported in a bipartisan way," said Hari Sevugan, spokesman for iVote, the advocacy group that is pushing the issue aggressively in Illinois, Nevada, and elsewhere. The organization's mission is to go "on offense" on expanding access and participation in elections instead of simply fighting a rearguard battle against voter ID laws and other restrictions that make voting more difficult.
Sevugan cited as examples a "grand bargain" that was struck in West Virginia, a state that has shifted red in the last two decades, and the push in Alaska, another red state where both Republican senators support the ballot measure. And while Democrats in the Illinois legislature carried the bill, it drew votes from some Republicans in both chambers. iVote has bought ads in recent days thanking the Republican lawmakers for their support, largely in the hope that those same members will vote to override Rauner's veto later this year. "We think the votes would be there," Sevugan said. Whether the measure comes up for another vote is still unclear, as the first priority for the Illinois legislature after the election will be passing a budget. The campaign in Nevada is seen as particularly important because of how fast the state's population has grown in recent years. In D.C., on the other hand, the impact of the new law would be limited because the city has no voting representation in Congress.
In 2017, Governor Andrew Cuomo is expected to push for passage of an automatic voter registration proposal he unveiled earlier this year, especially if Democrats win back the state Senate and gain full control of the legislature. Advocates might also renew their efforts in Maryland, New Jersey, and in Washington State, where a bill passed in one legislative chamber but stalled in the other.
Oregon remains the only state that has actually implemented a motor voter law. It did so in January, and in the first nine months, state officials reported adding about 230,000 people to the voter rolls, an increase of about 10 percent.
Most Oregonians chose the default option of registering as unaffiliated, meaning neither party gained a significant advantage. About nine percent of citizens chose to opt out of the system and forego registration. "There's a nice proof-of-concept there," Sevugan said.