After the Election: 'What a Pathetic Thing Is Decadence'
Editor's Note:
This article previously appeared in a different format as part of The Atlantic's Notes section, retired in 2021.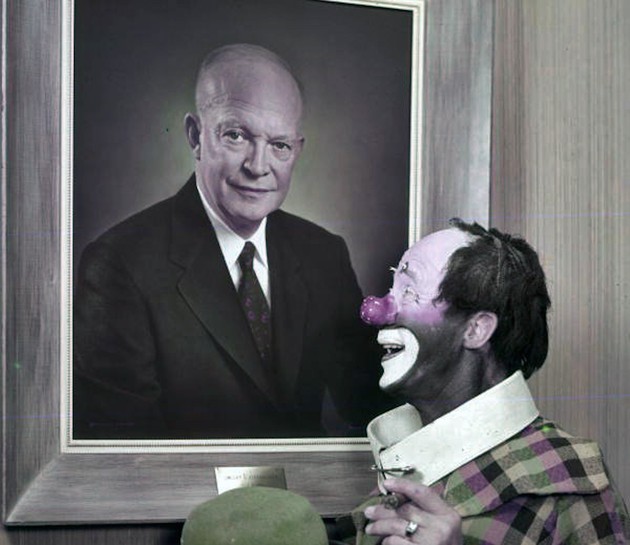 Thank you to readers for the hundreds of messages that have been pouring in daily. In most of the time since the election, I have been in transit for a long-scheduled set of American-innovation events in the mountain west, Cheyenne and Laramie in specific; and trying to write a completely unscheduled article for the magazine; and absorbing the psychological and intellectual effects of what our country has just done to itself. I had not expected that I would ever again feel as paralyzed, withdrawn, and downcast as I did after my father died eight years ago. But that expectation was a failure of tragic imagination on my part. I was wrong.
The main thoughts I've made public since the election were immediately afterwards, early Wednesday morning on not much sleep, in a Fresh Air interview with Terry Gross. You can listen to it here. I've also just done a talk with Kai Ryssdal for Marketplace, probably for tomorrow's show.
For now I will try to share some of the messages that have come in, and also do updates about the ongoing civic activity we have encountered across the country, like the one my wife Deb provided yesterday about the historically significant library in Birmingham, Alabama. I'll share reader mail in this ongoing Trump Nation thread, since that is what the nation has become; we'll do rest-of-America updates in the American Futures threads; and meanwhile please check out a new reader-interaction thread, Will Trump Voters and Clinton Voters Ever Relate?
***
I hope you will read carefully this note from Joseph Britt. I sent Mr. Britt an email saying that I would like to quote from his message, and that I assumed he would prefer—as is our default practice—that I not use his real name. His reply wins my great respect:
It's kind of you to make that suggestion. Not an easy call in these times.

But where is it written life should be easy? Use my name. Say, "Joseph Britt in Wisconsin, who has worked on campaigns and in government for Republican politicians..."
So here is Joseph Britt in Wisconsin, who has worked on campaigns and in government for Republican politicians. I leave in one of his setup points about me, because it provides context.
You mentioned on Twitter not wanting to continue the "Time Capsule" series, which is fine. The Atlantic, however, should pick it up, using a team of writers of which you could be one if you chose. America is heading into uncharted territory as I write this, both as a nation and in our relations with the wider world. The path we walk should be documented in a systematic way.

I wanted to say something about the election results that may be obvious, perhaps too obvious to be much remarked upon.

In The Atlantic and other publications, I have read in recent days long essays about people who supported Donald Trump, who had previously voted for Barack Obama or hadn't voted at all, who were nostalgic for the imagined world of their parents' generation, or who for whatever reason had so little hope for the future they were willing to trust in the remarkably general promises of a man who made his fortune putting up hotels and golf courses.

Journalists struggling to understand Trump's support have been keen to describe—or have these people describe themselves—their feelings, in considerable detail.

All well and good. Rural white voters and voters at a loss in the face of economic and social change are certainly an important story, because of their critical marginal influence in electorally significant states.  They may have pushed Trump over the top, but they are not the most important reason he seems about to become President.
Alone among systems of government, democracy imposes duties on the ruled as well as the rulers. It doesn't work if those duties are shirked by too many people. People of means—coincidentally the traditional core of the Republican Party—have a special interest in maintaining standards of ethics and probity in candidates for national office, for without lawful and universally accepted authority no property is safe.

The Republican Party supported a war hero and veteran legislator for President in 2008. It backed a legitimate businessman and successful governor in 2012. This year, it fell in behind Trump. About as many Republicans voted for Trump as for Romney four years earlier. The great majority of these were not distressed working-class voters. They weren't threatened by minorities or by globalization. They were—are— people who have lived easy lives, never wanting for anything save the most garish accoutrements of great wealth.

They knew Donald Trump was ignorant and dishonest, and it didn't matter to them. They knew he was a sex predator who fathered children by various women, and it didn't matter. Cheating on his taxes, cheating on his wives, consumer fraud, the bogus charity, the sponsorship of the Russian intelligence services, the anti-Semitic associates, cheating contractors who had done work for him, the picking on individuals before massive rallies, the insufferable racism, the continual running down of America—none of that mattered.

No, the only thing that mattered to Republicans of means once Trump was nominated by the Republican Party was that he had been nominated by the Republican Party. Loyalty to party took precedence over loyalty to American democracy, its mission, and traditions. What counted—all that counted—was that Trump had been chosen to lead Our Team.

What a pathetic thing is decadence. Millions of Republicans as comfortable and secure as any people who have ever lived, who owe everything to the historic miracle that is the United States, chose to go along with a presidential candidacy shot through with moral degeneracy and contempt for the public good. They had other choices in the primaries; they were warned by their own former leaders what Trump represented. They voted for him anyway, hoping to give their team a win in the game, the shallow entertainment that is all they think of politics.

They have put this Republic that has been the light of the world for 240 years in danger. They have put freedom in danger. Years of easy prosperity and soft living have taught them that America could be taken for granted. Lincoln, Roosevelt, Stimson, Eisenhower, Reagan might just as well be random groups of letters to these people, stifled by material wealth and physical sensation.

They will have second thoughts, these comfortable Republicans of means. They will flake off from Trump long before the sad nostalgists and struggling rural voters who actually believe his promises of magic. They will lower his approval ratings. But they made him President, and gave him a Congress full of cyphers, slackwits, and doddering old men to work with. What a price our country and the world will pay, and for how long they will pay it, because those Americans most richly blessed failed so completely in their duty as citizens.
***
"Democracy doesn't work if its duties are shirked by too many people."