Declaring Addiction a Health Crisis Could Change Criminal Justice
The surgeon general's new approach on substance abuse has policy implications for law enforcement.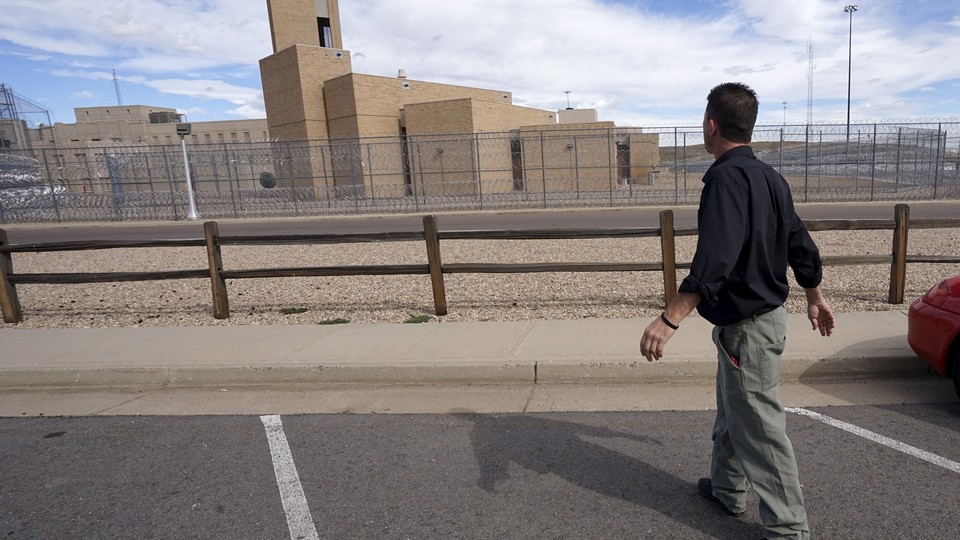 For the first time ever, a sitting U.S. surgeon general has declared substance abuse a public-health crisis. "It's time to change how we view addiction," Vivek Murthy said in a statement last week, which was accompanied by a lengthy report on the issue. "Not as a moral failing, but as a chronic illness that must be treated with skill, urgency and compassion. The way we address this crisis is a test for America."
Murthy's statement is a major victory for those advocates who have long hoped addiction would be viewed through a physical- and mental-health lens. But this new approach—if it were to become widespread—could also profoundly impact the criminal-justice system, where addicts often end up.
Murthy's report provides an update on drug and alcohol users in the country. According to its figures, in the last year alone, about 48 million Americans used or abused illegal or prescription drugs and 28 million drove under the influence. It also details how 21 million Americans currently suffer from addiction—or as the medical community refers to it, substance-use disorder. Currently, over 300,000 inmates sit in state and federal prisons for convictions related to drugs, according to the Prison Policy Initiative.* A recent study estimates that of the nation's more than 2 million inmates, 65 percent "meet the criteria for substance-abuse addiction."
These numbers have severe ramifications in the criminal-justice system. Scores of those Americans were among the 11 million admissions to local and county jails last year. Tens of thousands lost their driving privileges due to strict state guidelines against driving drunk. Millions served time, were put on probation, entered rehabilitation programs in exchange for reduced sentences, or became further entrenched in the justice system due to repeated violations.
Health professionals and recovery experts, including social psychologist and University of California, Irvine, criminologist Mona Lynch, agree that the criminal-justice system is not the place to treat addiction. According to Lynch, the existing system cannot deliver adequate services and that attempting to integrate health care into the criminal-justice system can lead to negative consequences. "We need to have the investment in public health and treatment programs," said Lynch, who wrote a book on how federal drug laws are used, among other things, to coerce guilty pleas and secure long sentences. "The criminal-justice system is, of course, a really expensive way to deliver health care. The punitive side of it can be counterproductive, particularly for addicts."
According to the surgeon general's report, substance-use disorder costs the country $442 billion annually in health-care and criminal-justice spending, as well as in lost productivity. Lynch told me that relying on criminal law to be "the stick" that keeps addicts in line is not "responsive to the public-health problem or to the person's health problems." And when the criminal-justice system does offer treatment alternatives, they're usually organized so that failures are harshly penalized. If, for example, a treatment participant fails a drug test or misses a court check-in, he or she could face jail time, suspension from the program, or the revocation of other privileges. Lynch said such consequences are antithetical to treatment because they imply a straight line toward recovery. Addressing addiction individually "is not one strike and you're out," she said. "There are going to be failures, there are going to be setbacks. It's a relatively long and arduous process to try and address addiction."
Reformers view unnecessarily punitive federal sentencing guidelines as harmful legal responses to problems that often require medical or therapeutic interventions. Unless those guidelines are altered, a new approach focusing on health would have little practical application. Lynch said that separating the dealer, or "the criminal," from "the user" during sentencing is essentially a distinction without a difference that has resulted in "a system that recycles addicts through jails' revolving doors." That's because designations do nothing to address the underlying issue of addiction: Labels don't get people sober. Lynch said that parsing between dealers and users has been detrimental to getting adequate medical, psychological, and social services to those in need.
Most troubling, the criminal-justice system is often the first institution to "catch" those suffering from substance-use disorders. As a result, many people only receive treatment once the situation is critical—like after getting arrested and involved with the criminal-justice system, or after a medical crisis, such as an overdose. Lynch takes a hard line on the system's capacity to provide care: "I would like to see addiction not go through the criminal-justice system," she said.
"You see that in higher economic strata of our society," she said. "People whose children become addicts and they have resources to mobilize all kinds of private interventions that don't involve the criminal-justice system." People with means can intervene much earlier than others, including by paying for expensive private-treatment facilities or by keeping a loved one safe at home and off the street to limit their potential interactions with law enforcement. It "gets so raced and classed," Lynch said, describing how users in certain ethnic and economic groups have fewer treatment options and far more legal consequences.
Yet even if state and federal governments take cues from the surgeon general—and begin addressing addiction as a health crisis first—any reforms to the existing criminal-justice system would have immediate, unintended economic effects via institutional competition. "There's now huge, monstrous criminal-justice institutions that have been built over 30 or 40 years in our country at the state and federal level that are going to be resistant to shrinking," Lynch said. If treating addiction as a public-health problem gains more traction—and federal dollars are redirected to health-care programs—then penal "institutions are going to compete to deal with it. They're going to seek money to deal with addiction through the criminal-justice system," she said.
The "starved" mental-health and public-health institutions that would, in advocates' view, be better suited to treat people "are not going to have the same power to say, 'We need resources to be able to do this; we're fit to be able to do this,'" without major federal buy-in, Lynch said. Setting up any statewide or national approach for diverting addicts into treatment and away from jails is a massive undertaking that will probably not happen in the near future. But there are steps that towns and cities can take in that direction.
One of them is to offer crisis-intervention training for officers so they can identify mental-health crises during emergency calls. Several cities, like San Antonio, Texas, have found this approach successful in reducing arrests, identifying repeat users, and reducing housing costs in their facilities. But with over 18,000 police departments in the country, the cumulative effect of local efforts will be limited if the message that addiction is a health issue—and not a criminal one—does not become part of the modus operandi for criminal-justice practitioners. And it will be especially limited if the federal government, more than any other body, does not get fully on board.
---
* This article originally misstated the name of the Prison Policy Initiative as the Drug Policy Institute. We regret the error.