The Women Who've Had Enough
Gender-equality advocates fed up with the Republican Party are protesting outside of Trump businesses around the country.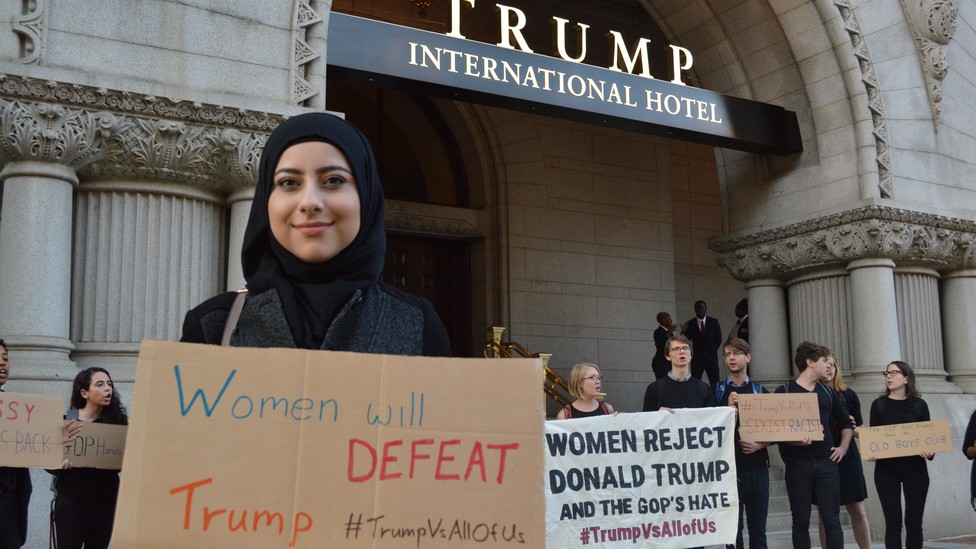 When 24-year-old Natalie Green heard Donald Trump's lewd comments about women on the 2005 Access Hollywood tape leaked earlier this month, she felt a rush of anger and fear. Green said she was sexually assaulted as a young teen and had never shared her story publicly.
"But to listen to someone who is a presidential candidate brag about sexually assaulting women is absolutely disgusting and despicable," she said. "I felt like I had to do something."
And she did. Last Tuesday, Green shared her personal story to a crowd for just the second time in a week outside the new Trump International Hotel in Washington, D.C. She and hundreds of young women and allies assembled last week to protest in more than a dozen U.S. cities. Their objective: to condemn Trump's rhetoric and demand that Republican leaders unendorse him.
But their concern runs deeper than Donald Trump, Green said. They also seek to call attention to what they characterize as the Republican Party's history of "sexist, racist politics," both nationally and locally, which they believe have allowed Trump to thrive today. Democratic leaders and the Clinton campaign have hesitated to tie the GOP with its presidential candidate. But many women voters and women's advocacy groups, such as those protesting last week, have already made that determination. To them, traditional Republicans and Donald Trump hold very few differences.
"There's no distinction," said Eleanor Smeal, president of the Feminist Majority. "[Trump] has laid bare Republican positions ... they might use more careful, calculated language, but that's where they are."
Proponents of that idea do have a point. For one, there's the most recent and obvious way Republican leaders have tacitly accepted Trump's past and present behavior. The leak of the 2005 video footage was followed by a New York Times article in which two women alleged sexual assault against the candidate. This led to a number of other allegations against him, and since this time he has insulted the physicality of some of these accusers and threatened legal action. In light of the scandal, Republicans have widely criticized Trump, but a troubling amount of hesitation remains among the party's leading officials. House Speaker Paul Ryan and Senate Majority Leader Mitch McConnell, for example, have repudiated his comments, but have not formally withdrawn their endorsements.
The concerns over Trump and the GOP are policy-driven too: The activists draw a line between Trump's political interests and those of other conservatives. During Wednesday's final presidential debate, Trump did not explicitly state his desire to have the landmark Roe v. Wade decision overturned—much to the dismay of many pro-life conservatives. He did, however, express plans to appoint a Supreme Court justice who would overturn the decision "automatically." If the court does make that determination, Trump said, then abortion regulations would be left to the discretion of individual states.
But state abortion regulations have not been helpful for women seeking to have the procedure, said Terry O'Neill, president of the National Organization for Women. The track record of Republican vice-presidential nominee Mike Pence is just one example, she added. The state of Indiana had strict abortion policies—that resulted in the arrests of women for feticide—before Pence became governor in 2013. But in March of this year, he signed a bill that sought to enact further abortion restrictions statewide until a federal judge blocked the measure in June. According to a New York Times report about the law's stipulations:
In addition to holding doctors liable if a woman has an abortion solely because of objections to the fetus's race, sex or a disability, like Down syndrome, the law restricts fetal tissue donation and requires doctors performing abortions to have admitting privileges at a hospital or to have an agreement with a doctor who does.
Beyond abortion, Trump has aligned with other conservative positions. Before his demands for a U.S.-Mexico wall, other Republican officials campaigned for a more concrete boundary. Senator John McCain released an ad in 2010 where he asked law enforcement to "complete the danged fence" along the Mexico border. And Trump's calls for a system of "law and order" in the wake of protests against police brutality mirror President Nixon's successful 1968 campaign with a "law and order" platform—which helped to drive criminal justice efforts that disproportionately criminalized communities of color.
Even with these striking similarities between Trump and the Republicans who have denounced him, women's rights advocates could run into a problem with linking the two. If they succeed in convincing the public that the line dividing traditional conservatism and Trumpism is actually imaginary, won't that simply encourage Republicans who now oppose Trump to back him? A few of the women at Tuesday's protest in Washington, D.C. hinted at a possible answer—pointing to ways in which Trump does, after all, represent a departure from the past.
Alaa Chaker, 22, said Trump is "creating a dangerous America." She has noticed a genuine fear during this election, not just among Muslims like herself, but among other minority groups in the United States. Twenty-two-year-old Ambar Pinto, who also attended the D.C. protest, agrees. As an undocumented immigrant born in Bolivia, who came to the United States when she was 12, she said her family constantly lives in fear of deportation. In this year's election, she said, that threat feels more intense for her. So she's not simply working to defeat Trump; she sees herself as battling to prevent his ideas from spreading further and shaping the country's future.