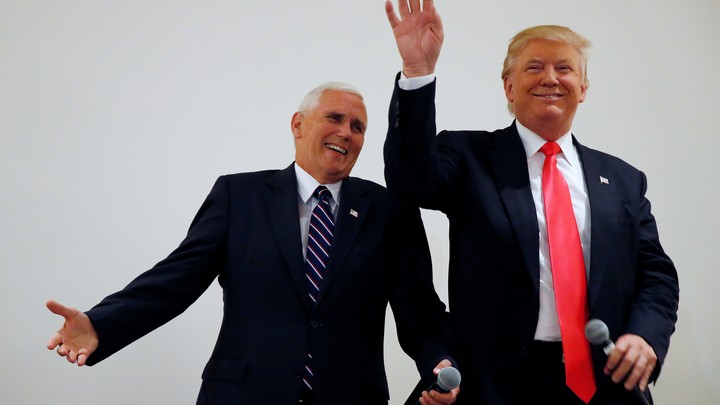 Donald Trump vs. Hillary Clinton, Donald Trump vs. the media, Donald Trump vs. Republican Party grandees—we've seen it all before. But this week marks the emergence of a new split: Donald Trump vs. his own closest supporters.
For about a week now, Trump has been insisting that the election is being rigged.
"The whole thing is one big fix. It's one big fix. It's one big ugly lie. It's one big fix," he said last week. "The process is rigged. This whole election is being rigged. These lies spread by the media, without witnesses, without backup or anything else, are poisoning the minds of the electorate."
For nearly as long, Republicans have been criticizing him for saying so. Some of those are the usual suspects, like Senator Jeff Flake, one of the GOP's most outspoken Trump critics. Ohio Governor John Kasich likened Trump's comments to moon-landing truthers—though it turns out Trump confidant Roger Stone is apparently one of those, too. But the chorus of critics has also included some members of Trump's inner circle.
On Wednesday, Trump campaign manager Kellyanne Conway flatly contradicted her boss, the candidate. "No, I do not believe that," she said on MSNBC, asked whether she thought there was widespread voter fraud. "So absent overwhelming evidence that there is, it would not be for me to say that there is."
On Sunday, vice-presidential candidate Mike Pence partly dismissed Trump's statement—the latest of several cases where the two men have been at odds on policy issues. "We will absolutely accept the result of the election," Pence said on Meet the Press—though by the next day he was warning about massive fraud. (So far, the Trump campaign has offered no evidence for the widespread fraud it alleges; nor has it provided promised evidence debunking the sexual-assault allegations against Trump, which he says proves the conspiracy.)
Ohio Secretary of State Jon Husted, a Republican who backs Trump—and who has supported laws that harm minority participation based on illusory claims of fraud—also criticized the GOP nominee.  "I can assure him, as a fellow Republican, that it is not rigged," Husted said. "I hope Donald Trump will focus on issues people really care about and not on issues that are not based on fact and undermine confidence in our democracy."
Governor Rick Scott of Florida, an early Trump backer, also insisted the Sunshine State would have clean elections. Speaker Paul Ryan, who remains a Trump endorser but has feuded with him recently and has criticized him in the past, also issued a statement affirming his faith in the legitimacy of the voting process. Even Newt Gingrich complained that Trump has a tendency to react "almost uncontrollably" on the trail.
What is it about Trump's "rigged" claim that is driving even his own supporters—his own staffers—to disagree with him? Here's one notable difference: Although Trump has campaigned as a candidate who will shake up the system and clean out a corrupt status quo, his most controversial remarks have not been broadsides at the system itself, but rather have been attacks on people: Megyn Kelly, Judge Gonzalo Curiel, Khizr and Ghazala Khan. These personal attacks have earned Trump widespread condemnation, but his inner circle has kept quiet and maintained a stiff upper lip. Even Trump's attacks on the appearance of the women who have accused him of sexual assault—or on Hillary Clinton's appearance—have not earned this sort of backlash within the inner ranks.
Maybe that's not surprising; Trump can, and has, vowed to topple nearly every pillar of American bipartisan foreign-policy consensus, but how many people are really engaged enough to notice and care? But then what makes the attack on elections different?
One possibility is that people like Conway, Pence, Scott, and Husted may support Trump and approve of his assaults on certain elements of the status quo, but they are also at heart political professionals who have spent their life in the arena. It's one thing to break policy taboos, but it's a different sort of threat to tear down the entire edifice. Another, related, idea is that these assaults, and the calls for "revolt" that come with them, have awakened latent conservatism in these people. They want a right-ward shift in government policy, sure. But they'd prefer there be a system. After all, regardless of what happens on November 8, there will be new elections to run and offices to run for in the future—unless the entire system is torn down.
Or perhaps it's simply a matter of timing. Trump flirted with claims of rigging back in August with nowhere near this level of backlash. The latest flare-up is coming with just three weeks before the election, and a series of polls showing the race moving out of reach for Trump. Few forecasters view a path to victory for Trump, so there's less benefit in stoically keeping quiet and being a team player. If Trump does lose, just as with any losing campaign, there will be a great deal of recrimination and finger-pointing. Maybe the Trump team is just getting a jump on things.
We want to hear what you think about this article. Submit a letter to the editor or write to letters@theatlantic.com.