White Nationalists on Twitter
Editor's Note:
This article previously appeared in a different format as part of The Atlantic's Notes section, retired in 2021.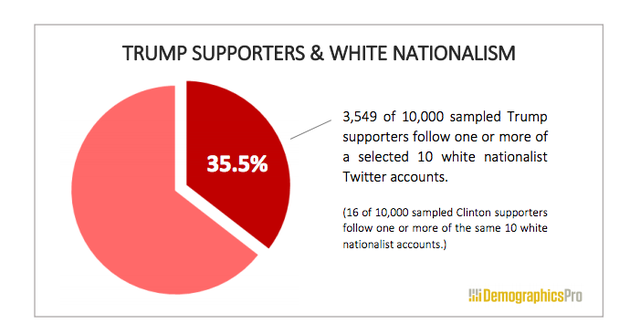 Vehement Trump supporters abound on Twitter. That much is obvious to anyone who has used the service. Who exactly they are, and how broad a swath of society they represent, has been harder to pin down.
Are they largely Russian bots, as some reports have suggested? Are the angriest ones really just a handful of activists, racists, and anti-Semites, who through nonstop posting in multiple accounts exaggerate their true numbers? (Though even a very few would be enough.) Are they in any kind of coordinated activity, or mainly working as loners?
A social-media analytics firm called Demographics Pro has released an analysis of 10,000 Trump supporters who are active on Twitter, and 10,000 Hillary Clinton supporters. It then matched those accounts with a list of 10 active, major white-nationalist Twitter accounts. (The company describes the way in which it chose and classified such sites here.)
What were the results? They're shown on the chart above. Of the 10,000 Clinton followers, a total of 16 followed one or more of the major white-nationalist accounts, the likes of @DrDavidDuke and so on. Of the 10,000 Trump supporters, a total of 3,549—well over one-third—followed the white nationalists.
Following an account doesn't necessarily make you an adherent. I follow @DrDavidDuke myself, along with several others on the list. But the disproportion here, while it doesn't answer all questions about Trump Twitter world, suggests something about its nature.
A similar Demographics Pro analysis, of the overlap between conspiracy-theory sites and Trump supporters, is here.