The Tide of Hate Directed Against Jewish Journalists
A new report finds that anti-Semitic death threats have increased significantly during this election cycle.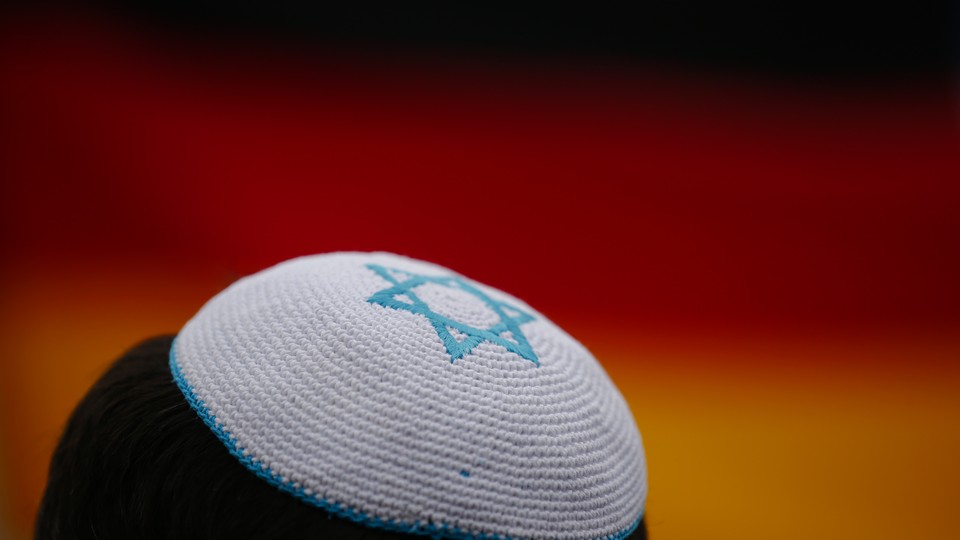 The numbers are simultaneously horrifying and clinical: Between August 2015 and July 2016, at least 800 journalists received some 19,000 anti-Semitic tweets, sent by 1,600 users. The overwhelming majority of these messages were sent to just 10 writers.
That's according to a new report by the Anti-Defamation League, an organization which tracks hate speech and groups, with a particular focus on anti-Semitism. The organization reviewed 2.6 million tweets sent to 50,000 journalists that contained keywords often used in anti-Semitic slurs. Staffers manually reviewed and narrowed down that set to focus on explicitly hateful messages. The most frequently used terms included "kike," "Israel," and "Zionist." Tweets often draw on common stereotypes about Jews—that "Jews control the media, Jews control global finance, Jews perpetrated 9/11, etc.," the authors wrote. Given how difficult it is to track or identify all hateful tweets—especially those that use coded language rather than overtly anti-Semitic terms—"there is reason to conclude that the numbers in this report … are conservative," the authors wrote.
The report is important because it provides concrete evidence of something that's been happening for a long time. And it's gotten worse throughout the 2016 presidential campaign: The study found that the volume of anti-Semitic tweets significantly increased starting in January 2016, as election season got into full swing.
It's hard for a number to show just how awful these tweets can be, though. Beyond hateful language, users often photoshop journalists' faces into images from the Holocaust, like Jews lined up to get food in concentration camps or lying in bunks in barracks. Users might share cartoons that depict ugly stereotypes about Jews, showing them with big noses and surrounded by piles of money. The Atlantic's editor in chief, Jeffrey Goldberg, was one of the handful of most frequently targeted journalists. In June, he wrote about some of the tweets he's recently received, including a cartoon of the U.S. "Jewpreme Court," a picture of money coming out of an oven, and a tweet that asked, "Why do Jews get so triggered when we mention ovens?"
"Don't mess with our boy Trump or you will be first in line for the camp."
The list of tropes goes on and on, as do the tweets. They often arrive as replies to journalists' posts about stories, the ADL reports. Just last week, a Twitter user sent anti-Semitic death threats to the Politico journalist Hadas Gold, showing a bullet in her forehead and a Jewish star on her chest. "Don't mess with our boy Trump or you will be first in line for the camp," the message read.
Like the Twitter user who attacked Gold, many people who send anti-Semitic messages seem to identify as Trump supporters. The ADL stressed that its findings do not imply that the Republican presidential candidate endorses these messages, nor that he has encouraged people to send them. But Trump's campaign is the looming context behind these tweets. As I wrote in September, "Trump has passively cheered on anti-Semitic trolls, appointed a man accused of denying the Holocaust as one of his advisers, and tweeted graphics that incorporate anti-Semitic imagery." His campaign has attracted the support of neo-Nazis and anti-Semites; the rhetoric he has used to talk about ethnic and religious groups, from Mexicans to Muslims, has created space for all kinds of bigots to express themselves online. The free-wheeling norms of the internet haven't helped; what was once considered plain old racism and bigotry has come to pass for trolling.
ADL's findings have strong implications for Jewish journalists, who face anti-Semitic messages as the cost of doing their job and engaging on forums like Twitter. The social network only shut down 21 percent of the 1,600 accounts that sent anti-Semitic messages, which accounted for 16 percent of the tweets, according to the ADL, although not all of the abuse was reported. In a statement to The New York Times, a Twitter representative "noted that the company's policy prohibits anti-Semitic content and that it planned to introduce new policies and tools to ensure that its users felt safe in the coming weeks."
But the report isn't just about what it's like to be a Jewish journalist in 2016—it's a chilling look at what the future of journalism could be like, whether or not Trump becomes president. The Republican nominee has attacked nearly every national media outlet, and he openly declared that he hates journalists. He vowed in December that he "would never kill them," which would be a relief if it weren't so terrifying that he felt he needed to clarify his position. A number of politicians, and not just Trump, have tried to make the media into the enemy during this election. This tactic is nothing new. But this year, it seems, their constituents are listening. It only takes a short visit to Twitter to see exactly what they're hearing.