Donald Trump's Threats Risk Silencing Women
Advocates for sexual assault survivors fear devastating consequences from the Republican nominee's retaliation against his accusers.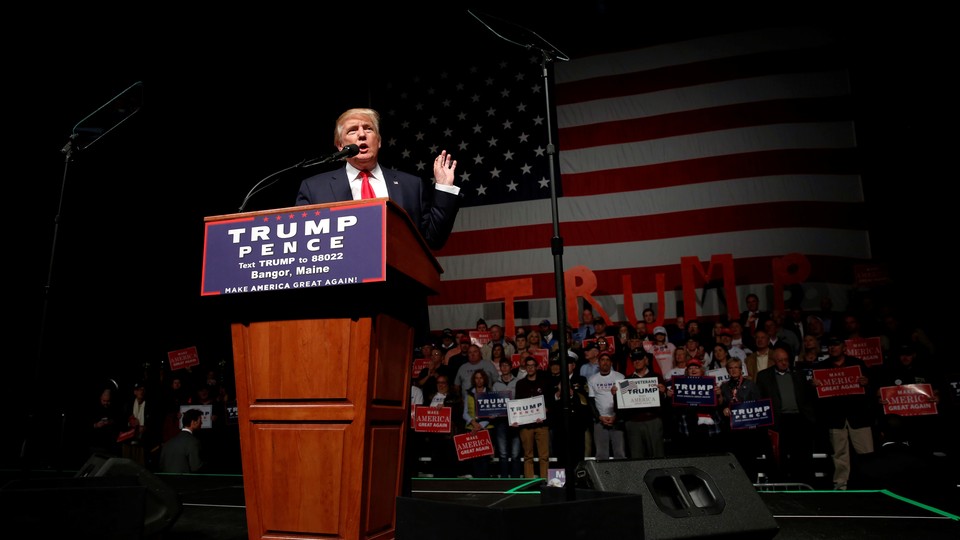 Donald Trump's retaliation against the women who have publicly accused him of sexual assault could have far-reaching consequences. It may even convince survivors of sexual abuse that telling anyone what happened to them isn't worth the risk.
The Republican nominee's campaign has threatened legal action against his accusers and media outlets that publish their claims, after a number of women went public following the release of a 2005 Access Hollywood recording wherein Trump brags about using his celebrity status to grope women. Trump himself has suggested that the women accusing him are "horrible people" and "horrible liars," and that some are too unattractive to be assaulted.
Advocates for assault survivors fear the message that sends. "To attack women in the horrifically cruel way that Trump has verbally attacked women is incredibly damaging," Mike Domitrz, the executive director of anti-sexual assault organization The Date Safe Project, said in an interview. "Survivors are watching this unfold, and many might now say 'I don't want to come forward because I fear that kind of degradation,' or 'That's confirmation of why I didn't come forward because this is how badly survivors are treated.'"
Trump's intimidation tactics risk confirming the worst fears of many survivors, who often don't report their attacks for fear of retaliation. The Republican nominee rejects the allegations of sexual assault he faces, but has gone far past denial as he pursues retribution. He has made clear that women who accuse him of assault can expect a public counterattack as he and his campaign attempt to discredit their stories. As my colleague Adrienne LaFrance put it, Trump's message is clear: "Speak out and you will regret it."
The sexual assault allegations surrounding Trump are just that—allegations. But Trump's efforts to retaliate against his accusers, and the unserious way he and his allies have discussed sexual assault, threaten to leave a harmful impression that alleged victims are worthy of dismissal if they cannot immediately prove their claims.
The fact that Trump is a major U.S. political party's presidential nominee could complicate survivors' experiences further. "If you have experienced sexual assault and have family members who support Trump, you might be fearful that you wouldn't be believed, especially if you see them disbelieving these other women," Anna Voremberg, the managing director of End Rape on Campus, said in an interview. "This isn't about who you support for president, but now there are women wearing shirts that say things like 'Trump can grab my pussy,'" she said, referring to Trump's comments on the recently surfaced 2005 recording. "That's a huge setback for anti-sexual violence efforts, and survivors in general. If you want to give consent, go ahead—but what that's actually saying is it's okay for a powerful white man to violate the bodies of women he perceives to be weaker than him."
The entire controversy threatens the efforts of anti-sexual assault advocates to combat rape culture—a term coined in the 1970s to describe the myriad ways society tolerates sexual violence as normal and to be expected, blaming victims while failing to hold abusers accountable. Trump and his supporters have worked to downplay the 2005 tape, in which he claimed he didn't "wait" for women's consent before grabbing or kissing them. His wife, Melania, dismissed the comments as "boy talk" during an interview with CNN's Anderson Cooper on Monday, noting: "I know how some men talk and that's how I saw it." The casual way Trump bragged about forcing himself on women without their consent, and the way his defenders have brushed it aside as simply the way men talk, perpetuates rape culture and trivializes sexual assault.
Yet if critics rush to condemn Trump without acknowledging that rape culture operates on a continuum—and that casual jokes and flippant comments can contribute to an environment that rationalizes sexual assault—that could also send a damaging message. For example, that only a certain kind of person is capable of committing sexual assault: "It's harmful to believe that only evil people commit sexual assault," Domitrz said. "The problem is if people believe that—and they believe that the people around them aren't evil—then if it happens to them, they may end up blaming themselves, and the assailants may not be held accountable. … It could also lead people to disassociate what we've seen in the allegations against Trump, and his remarks, from their own behaviors that can led sexual violence."
So far, backlash against Trump's accusers appears to have taken a toll on at least one of the women. Mindy McGillivray, a woman who alleges Trump once groped her at his Mar-a-Lago Club in Florida, told The Palm Beach Post that concern for her family's safety is enough to make her want to leave the country. According to the Post, since she came forward with her story, McGillivray has seen cars driving around her house, and "looking, slowing down right at the house."
Other individuals seem to be searching for assistance in the days since Trump's 2005 recording and subsequent allegations of sexual misconduct surfaced. The Rape Abuse and Incest National Network reported a 45 percent increase in web traffic since October 7, the day The Washington Post published the 2005 recording. There was also an increase in people turning to the National Sexual Assault Hotline during the weekend of the second presidential debate, where Trump dismissed his recorded comments as nothing more than "locker-room talk."
Of course, there has also been backlash against Trump. Despite his rush to dismiss his accusers, there is evidence that many Americans do believe the women who've come forward with claims of assault. A recent Washington Post-ABC News poll found that 68 percent of respondents "say they believe Trump has made unwanted sexual advances toward women, while just 14 percent say he has not." On social media, women reacted to Trump's 2005 recording by sharing stories of assault. After Trump attacked the credibility of his accusers, women publicly revealed their reasons for not reporting theirs.
"I don't think it's possible to make a blanket statement about the effect these allegations, and Trump's response, is having," Voremberg said. "I think that in some instances it will have a chilling effect. For some women, though, to see all these women publicly accusing Trump, even in light of what he is willing to do in retaliation, I think there will be a feeling of validation as well."
If nothing else, the country is currently having a conversation over sexual assault, what constitutes it, and how women who accuse powerful men of committing it should be treated. The impact of that may not become clear for a while, and the ultimate consequences may depend, in part, on what fate awaits Trump in the November election.