Trump Time Capsule #151: Director Comey's Uneven Sensitivities
Editor's Note:
This article previously appeared in a different format as part of The Atlantic's Notes section, retired in 2021.
Presented with minimal elaboration, today's installment of the "what is Director Comey thinking?" saga: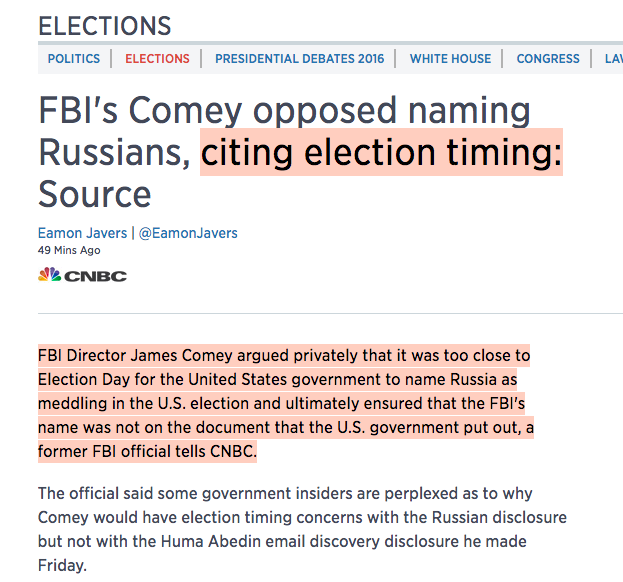 This story is still in the "unnamed sources say..." category, though it's by an experienced and reputable reporter, Eamon Javers. Like everything else in these chaotic final days of this unendurable campaign, its full implications are impossible to know while the news is still unfolding.
But at face value the report underscores the depth of the bad judgment that James Comey displayed last week. It suggests that the director of the FBI knew, reflected upon, and was deterred by the possible election-distorting effects of releasing information early this month about Russian attempts to tamper with the upcoming election. Better to err on the side of not putting the FBI's stamp on politically sensitive allegations—even though, as Javers's source contends, Comey believed the allegations of Russian interference to be true:
According to the [unnamed former FBI] official, Comey agreed with the conclusion the intelligence community came to: "A foreign power was trying to undermine the election. He believed it to be true, but was against putting it out before the election." Comey's position, this official said, was "if it is said, it shouldn't come from the FBI, which as you'll recall it did not."
That was at the beginning of October. But at the end of the month, three weeks closer to the election, he manifestly was not deterred by the implications of his announcement about the Abedin/Weiner emails. And this was even though, by all accounts, he did not know what they contained or even whether the emails  were new. (As opposed to duplicates of what the FBI had already seen.)
The news of this is still in flux. I'm noting here just to mark its appearance more or less in real-time.
***
We all have another week to get through. In theory, James Comey has seven more years in charge of the FBI.