Trump Time Capsule #143: Rigged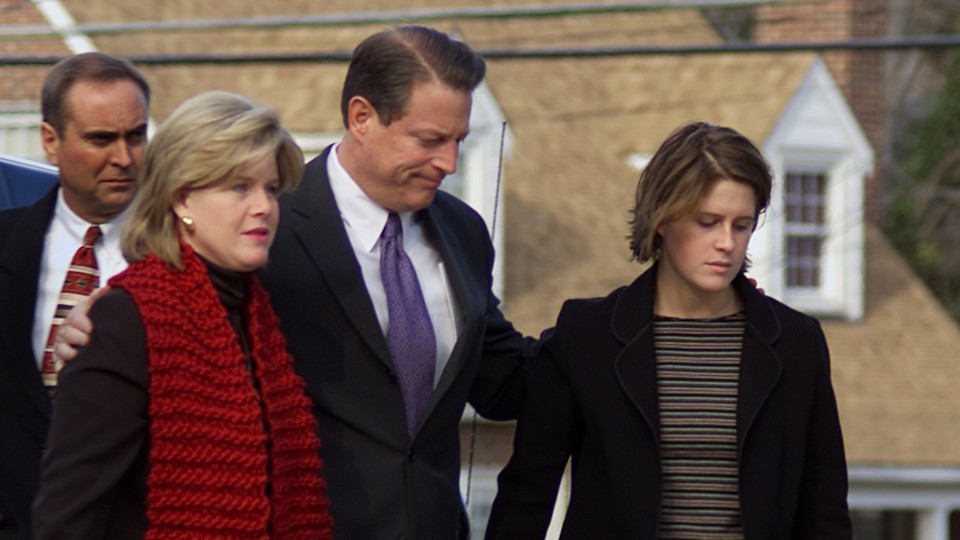 Editor's Note:
This article previously appeared in a different format as part of The Atlantic's Notes section, retired in 2021.
The greatest threat Donald Trump poses to the republic is that he might become president. With each passing hour and excess, and each new on-the-record witness to his mistreatment of women, the likelihood of that disaster goes down.
But in the past 16 months he has already done profound damage to the democratic process and the civic fiber. This installment is about one still-unfolding form of the damage. The next, #144, will be about another that could be even worse—unless something none of us has foreseen happens in the meantime to crowd it out.
***
The American fabric of peaceful-transfer-of-power is taken for granted in the U.S. and elsewhere but is more fragile than it seems. As I noted back in installment #139, nearly every presidential inaugural address through U.S. history has emphasized how unusual and crucial this civic ritual is. For an example you might not have been expecting, I give you Richard Nixon, in the opening of his first inaugural address in 1969:
My fellow Americans, and my fellow citizens of the world community:

I ask you to share with me today the majesty of this moment. In the orderly transfer of power, we celebrate the unity that keeps us free.
Five-and-a-half years later, in a televised address explaining why he would become the first president ever to resign the office, Nixon again paid homage to rules-above-men, country-above-party. To put that differently: Even Richard Nixon, for all that he did to undercut rule of law, observed the need to support regular civic order, and the primacy of established institutions, in his public remarks. The night before he resigned he said (emphasis added):
In all the decisions I have made in my public life, I have always tried to do what was best for the Nation. [JF note: Well, maybe. But in context you can give him this.] Throughout the long and difficult period of Watergate, I have felt it was my duty to persevere, to make every possible effort to complete the term of office to which you elected me.

In the past few days, however, it has become evident to me that I no longer have a strong enough political base in the Congress to justify continuing that effort. As long as there was such a base, I felt strongly that it was necessary to see the constitutional process through to its conclusion, that to do otherwise would be unfaithful to the spirit of that deliberately difficult process and a dangerously destabilizing precedent for the future.

But with the disappearance of that base, I now believe that the constitutional purpose has been served, and there is no longer a need for the process to be prolonged.
That statement by Nixon was one of two crucial acknowledgments in modern times of process over person, country over party, by people who (in their very different circumstances) would have preferred to stay and fight. The other, of course, was Al Gore's decision to accept the Supreme Court's politically driven decision to stop the Florida recount and effectively declare George W. Bush president in 2000.
Gore had every reason imaginable to challenge Bush v. Gore and the whole circumstances of the election. He was half a million votes ahead in the nationwide popular vote, and for more than a century the popular-vote winner had become president. The Florida secretary of state, who was in charge of the recount, was co-chairman of the Bush campaign in Florida. The governor of the state, Jeb Bush, was his opponent's brother! The reasoning of the Supreme Court's ruling was so nakedly results-oriented that the Court itself said that it should not be taken as a precedent in any future rulings.
And yet, Gore said: The Court has spoken; I accept the results. His statement on December 14, 2000, is all the more remarkable with the passing years:
Over the library of one of our great law schools is inscribed the motto: "Not under man, but under God and law." That's the ruling principle of American freedom, the source of our democratic liberties. I've tried to make it my guide throughout this contest, as it has guided America's deliberations of all the complex issues of the past five weeks.

Now the U.S. Supreme Court has spoken. Let there be no doubt, while I strongly disagree with the court's decision, I accept it. I accept the finality of this outcome, which will be ratified next Monday in the Electoral College. And tonight, for the sake of our unity as a people and the strength of our democracy, I offer my concession.

I also accept my responsibility, which I will discharge unconditionally, to honor the new president-elect and do everything possible to help him bring Americans together in fulfillment of the great vision that our Declaration of Independence defines and that our Constitution affirms and defends.
***
This is the context in which to view Donald Trump's willfully destructive "Election is rigged!" complaints, as he descends to an irretrievable position in the polls. The rhetoric of illegitimacy of course has a history in our politics. In recent times, Rush Limbaugh and others made much of Bill Clinton's failure to win an absolute majority of votes. (Although Clinton won easily in 1992 and 1996, Ross Perot kept him from going over 50 percent of the popular vote either time.) The logic of "birtherism," with Trump as its most prominent exponent, was that Barack Obama had an illegitimate claim on office.
But Trump's increasing drumbeat of assertions that the only way he could lose the election is if it is "rigged"—too many of "those people" voting in the big cities, the heavy hand of Carlos Slim changing the results, God knows what else—is different, and dangerous. You can read wrapups of what he is doing here and here and here and here, and in a tweetstorm here.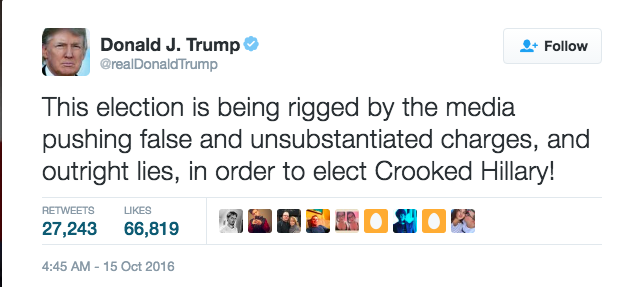 You can read a dissection of why it is so dangerous, by political scientist Shaun Bowler, here. The essence of Bowler's argument is that democracies depend on the losing party accepting, if grudgingly and painfully, the results at the polls. If not, everything else comes into question:
In the aftermath of a loss, there is plenty of kindling for irresponsible politicians to set fire to. They could stoke the feelings that remain temporary in ordinary times, transforming them into civic unrest and even civil disobedience. Most politicians who lose elections recognize this potential for mischief, and so they ordinarily make a creditable run at helping to keep matters calm.

A textbook example is provided by President George Bush Sr., whose concession speech included the following statement: "Here's the way we see it and the country should see it—that the people have spoken and we respect the majesty of the democratic system. I just called Gov. Clinton over in Little Rock and offered my congratulations. He did run a strong campaign."

In making this statement, President Bush signaled that the election was over and he lost fair and square.
What Trump is doing is new. And it's bad. Other people have not done this.
And while Paul Ryan said today that he was "fully confident" in the election process and rejected the "rigged" suspicions, he still supports Trump for president.
Twenty-three days to go.