Trump Time Capsule #139: Unshackled
Editor's Note:
This article previously appeared in a different format as part of The Atlantic's Notes section, retired in 2021.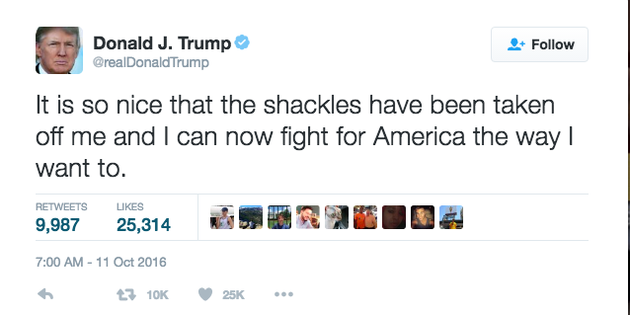 The standard throughout this Time Capsule series has been: what is happening in this Age of Trump that has not happened before in our politics.
Without further elaboration, the outbreak of full-on war between the Republican nominee and the Republican establishment is unlike anything anyone has previously seen. The only possible comparisons illustrate the extremity of what is underway. Those would be the onset of the Civil War, which of course exceeds all other strains in America's long history, and the idiosyncratic politics that led to a temporary Republican/Bull Moose split in 1912.
Donald Trump's war on the party that nominated him is a reminder of the institutional nihilism that is at the heart of everything he stands for and does. He believes in himself: "I alone can save you." He believes in his immediate family. He appears to believe in the greater Trump organization. As for the rest—courts, treaties, tax codes, norms, any idea of the civic or the public—it's tabula rasa.
Every inaugural speech, by every one of the first 44 U.S. presidents, has struck the theme of peaceful transfer of power, and a regard for institutions whose health and integrity transcend even the deepest political disagreements. The gravest challenge to U.S. institutions obviously occurred as the 16th president, greatest of them all, was being sworn in. Donald Trump now seems very unlikely to become the 45th occupant of the office. He is making it clearer by the moment why he would be so dangerous in command.
***
More to come on the institutional theme as time permits. The main challenge is keeping up with the flow of material. And I leave you to reflect on the implications of Trump's word "shackles" in the tweet at the top of this post—rather than "limits," "constraints," "gloves," or even "hobbles."