Trump Time Capsule #134: 'Trump Is a Monster! Vote for Trump!'
Editor's Note:
This article previously appeared in a different format as part of The Atlantic's Notes section, retired in 2021.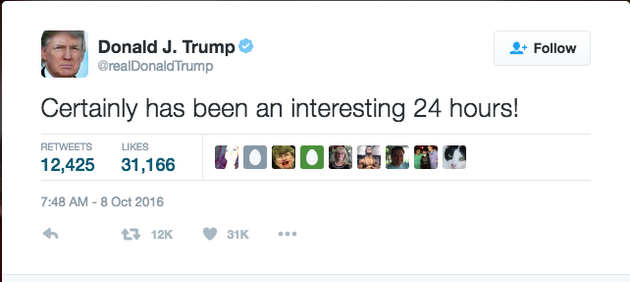 This is a day unlike any other I recall in many decades of watching and being involved in politics. The only possible comparison would be the tumult of the 1968 presidential campaign, and of the year 1968 in general. But the driving events back then were historically tragic (RFK, MLK, Tet and My Lai, and much more) rather than just squalid. Or perhaps the final stage of Richard Nixon's Watergate downfall, though even in his failings Nixon was a vastly more serious figure than the showman Trump.
So this stands on its own.
In fast-moving circumstances, it's challenging to keep track of which prominent Republicans are in which groups:
(a) Those who have been against Trump for a while, a very small group notably including Gov. Kasich and Sen. Flake;


(b) Those who were fine with Trump through "Mexican judge" and "I'd like to hear her say something" and "Build the wall!" and the tax returns and the foundation fraud and all the rest, but now are against him, for instance Sen. Ayotte; and


(c) Those who say they're sickened and offended and distraught and generally regusted by Trump's latest comments, but still think he should become president. This position is known as "the full Ryan," in honor of the senior Republican elected official, House Speaker Paul Ryan. It includes most GOP members of the Senate and House plus governors.
As a very useful guide, Daniel Nichanian, of the University of Chicago, has prepared an online spreadsheet showing currently serving GOP officials in each of these groups and some others. You can see the list, which he's quickly updating, at this link, which I'm sharing with his permission.
Below is a sample screenshot as of 2 p.m. EDT today, October 8. The real thing is larger and more legible.

We now have 30 days and a few hours to go.