The Trump Team's 'Genius' Spin on Unpaid Taxes
The idea that the Republican candidate showed his business acumen by avoiding tax obligations may resonate with many of his supporters.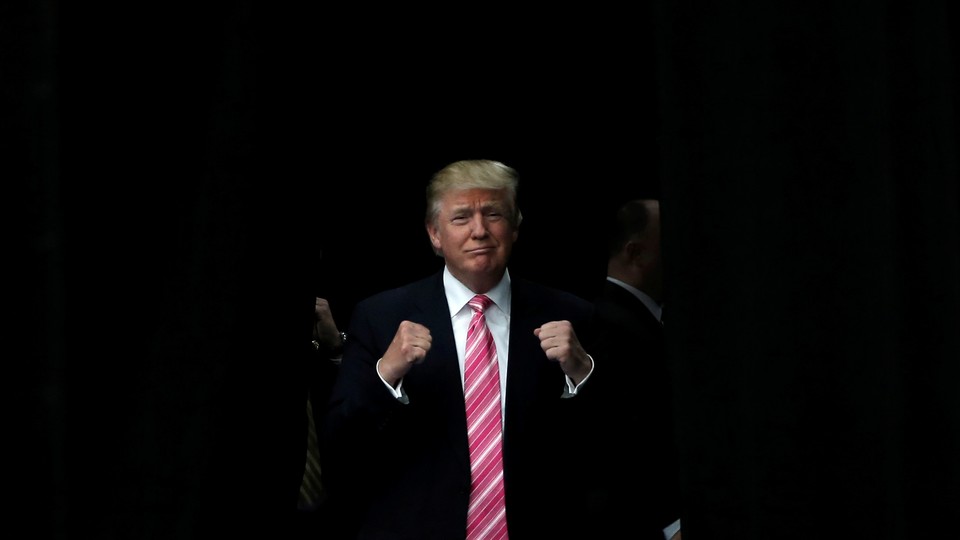 What's a presidential candidate to do when he's caught red-handed—or, as the case might be, nearly $1 billion in the red?
Trump Tower had to reckon with that question this weekend, after The New York Times on Saturday night published a story suggesting that Donald Trump likely paid no taxes for nearly two decades, thanks to a $916 million loss in 1995. By Sunday morning, the campaign line was clear: This was purely evidence that Trump was a genius.
"The reality is, this is part of our tax code. The man's a genius. He knows how to operate the tax code to the benefit of the people he's serving," former New York Mayor Rudy Giuliani said on CNN's State of the Union.
"What it shows is what an absolute mess the federal tax code is and that's why Donald Trump is the person best positioned to fix it," New Jersey Governor Chris Christie said on Fox News Sunday.
Viewed from some angles, this spin is absurd. Nothing about Trump successfully negotiating the tax code to his advantage makes him more qualified to overhaul the code; in fact, he'd seem to have an incentive to keep it the way it is, and anyway, if the trick was so neat, isn't his accountant the real genius who ought to be running for president?
But spinning Trump's billion-dollar loss and potentially years-long tax break as genius is perhaps the only avenue open to the Trump campaign to preserve the perception that Trump is a brilliant businessman.
It seems likely that the story is true. The campaign decried the Times scoop as a violation of the law and threatened legal action, but did not deny the substance. Besides, Trump had already said much the same thing during the first presidential debate, when he responded to Hillary Clinton's accusation that he had paid no income taxes by saying, "That makes me smart." Trump can't pretend the story didn't happen or that he never said that, another favorite tactic, so he might as well own it.
A second, related attack is on the Times itself. Trump surrogates like Newt Gingrich were eager to pass along a story in Breitbart, whose CEO has taken a sabbatical to run Trump's campaign, pointing out that the paper also paid no taxes in 2014.
It's much too early to know what effect the tax story will have on polling. But one plausible answer is this: It will whip up Democratic fervor, and might put some undecided voters off Trump, but won't have that great an effect on Trump's standing among his own supporters. From that angle, the "genius" line is a way to help rally and consolidate the base.
The belief that Trump is a brilliant businessman constitutes a great deal of his appeal. That idea is questionable. Trump was born into money, had to declare corporate bankruptcy four times, and today is largely in the marketing business, franchising his name to developers and and tie-makers rather than actually building things. But his supposed business expertise is an important selling point in his candidacy. Business success was the second-most cited reason for supporting Trump in a Gallup survey, trailing only the fact that he's not a career politician.
Stories suggesting otherwise seem to have largely glanced off Trump's carapace. A recent survey, for example, found that most voters did not believe that Trump was born into wealth, even though his father, Fred Trump, was a successful businessman who later helped Trump with millions of dollars in loans and gifts. In March, Trump displayed what he called "Trump Steaks" at a campaign event in Florida. Although he once marketed such meat through the Sharper Images, these steaks were a sham—as reporters noticed, they were stamped with a local butcher's logo, and Trump was widely mocked. The next day, at a rally in Fayetteville, North Carolina, a supporter earnestly told me that the fact that Trump was big enough to have his own steaks was one reason he backed Trump. If debunkings didn't get through them, it is likely even more true now, as many voters say their minds are made up and unlikely to change.
The "genius" angle is also a sly bit of misdirection, since it distracts from perhaps the more outrageous angle of the story: That Trump got a tax break only because he lost $916 million. (Trump was at the time heavily involved in the casino business, a famously operator-friendly sector.) That is potentially damaging to his brand as a businessman.
The other big danger for Trump is hypocrisy. For years, he has bashed others for avoiding paying taxes, particularly in his copious Twitter archive, which he has for some reason declined to purge. Here's a sampling:
It may be true that Americans, hedge funders or not, are negligently skipping out on taxes at a time of government debt; or it may be true that Donald Trump is a "genius" not to pay his own federal income taxes, but it's hard to square those. Not impossible, though. Moralizing aside, Trump's defenders say this is not dissonance but proof that Trump's knowledge of how to game the system makes him the only man qualified to fix it. (Left unanswered here, again, is what would make someone who had benefited so much from the status quo eager to change it.)
Getting the most out of the "genius" message also requires a disciplined approach, which is something that the Trump campaign has been lacking, both throughout the campaign and in particular over the last week. On Saturday, before the Times story published, Trump delivered a particularly daffy rally, in which he did an impression of Hillary Clinton collapsing and accused her of infidelity to her husband, without offering any proof.
Giuliani, who had previously said Clinton wasn't smart enough to be president because she did not leave her adulterous husband, then compounded the problem on Meet the Press. When Chuck Todd pointed out Giuliani's own history—he announced he was divorcing his second wife via press conference, while already in a relationship with his third wife—he said that "everybody" has their own infidelities and argued Trump was a better candidate for president because unlike Clinton, he is male.
Trump has followed up a September that was his best month of the campaign with what may be the worst week of the campaign.
The tax story promises to extend that into something closer to a bad fortnight. One week ago was the first presidential debate, in which he was roundly judged by both pundits and polls to have been defeated by Clinton. It was also there that he made the apparent admission of paying no taxes, and where Clinton brought up Alicia Machado, the  Latina former Miss Universe who says Trump called her "Miss Piggy" and "Miss Housekeeping."
Rather than downplay that, Trump decided to aggressively relitigate it, climaxing with bizarre series of 5 a.m. tweets Friday in which he encouraged people to "check out [Machado's] sex tape." It's unclear what he was referring to, but by the end of the day, BuzzFeed had uncovered a Trump cameo in a Playboy video.
Along with this mountain of difficulties, Trump has seen an erosion in his standing in polls, as Clinton bounces back from a tough stretch. The accumulation of bad stories presents a daunting challenge for any candidate—no matter how much of a genius he might be.