The Political Power of Muslim Women in the Time of Trump
Ghazala Khan is slated to stand with the recently-formed American Muslim Women political action committee when it endorses Hillary Clinton.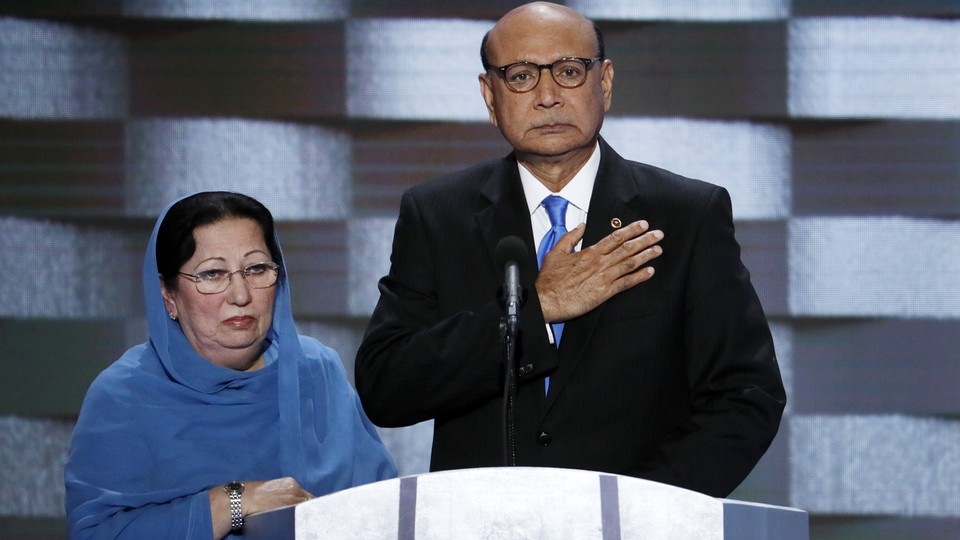 When Ghazala Khan, the mother of slain U.S. Army Captain Humayun Khan, spoke out against Donald Trump, her words set off a chain reaction.
After the Republican nominee wrongly suggested she had not been permitted to speak when she stood beside her husband at the Democratic convention, Khan explained she had been struck silent by grief at the memory of her son. Muslim women rushed to show support for Khan on social media, but her decision to stand up to Trump did more than just that.
Mirriam Seddiq, a lawyer and a Muslim woman, was moved to action. "She took a hit for all of us, and that was part of what led me to decide I wanted to help other women speak out," Seddiq said in an interview.  "I hadn't realized that people thought those things about Muslim women before this election," she added, recalling how disturbing it has been to see Trump demonize Muslims during his presidential campaign.
Seddiq recently started the American Muslim Women political-action committee to strengthen the political power of American Muslim women and help make their voices heard. The group is working to register as many Muslim women to vote as possible ahead of the election. On Tuesday, it will announce its first-ever endorsement of Hillary Clinton for president at a press conference in Washington, D.C. Ghazala Khan is slated to appear at the event as a special guest.
For her part, Khan won't take credit for inspiring American Muslim women to become more deeply involved in politics. "In my eyes, I haven't done anything that any Muslim woman would not have done. I mean, I haven't done anything special," Khan told me in an interview on Friday.
But the Gold Star mother sounded hopeful that if more Muslim women start speaking out it will help dispel negative stereotypes and myths. "We have all type of activities that we participate in, why not in politics now?," Khan said. "Our power has been challenged, that Muslim women are behind, or Muslim women don't talk, or they don't do anything. Really we are a very strong pillar of the community," she added. "The women are stronger than men sometimes."
Trump's presidential campaign has been rife with islamophobia and misogyny. He famously called for "a total and complete shutdown" of Muslims entering the U.S. during the GOP primary. He rates women based on their appearance, has no problem with hearing other people refer to his own daughter as a "piece of ass," and a 2005 recording recently surfaced where he brags about using his celebrity status to force himself on them. Those ugly strains of prejudice intertwined when Trump singled out Khan to suggest she had been silenced by her religion.
"We all feel that we are not safe," Khan said, reflecting on the 2016 election. "Why they say 'we will throw you out'? Why they say this type of stupid things." She added: "We have equal rights. It doesn't matter if you became a citizen today or a hundred years ago, we are all equal … We are all equal in the eyes of God, in the eyes of law."
Trump's anti-Muslim rhetoric may already be causing serious damage. A report released by California State University-San Bernardino's non-partisan Center for the Study of Hate and Extremism recently found that Trump's call for a Muslim ban may have contributed to a spike in anti-Muslim hate crimes after the 2015 San Bernardino terror attack. The report showed that anti-Muslim hate crimes have reached an all-time high since the aftermath of the September 11, 2001 terror attacks.
An inadvertent consequence of Trump's decision to scapegoat Muslims is that his actions may ultimately strengthen the political power of American Muslims by motivating them to get more involved in politics. Backlash against his candidacy could lead to record American-Muslim voter turnout in the election.
Heightened political visibility for Muslim women could have far-reaching consequences of its own. Research suggests that women have higher expectations about what they can achieve when they see other women succeeding in leadership positions. If more American Muslim women speak out in politics, it may encourage others to do the same.
"It's difficult growing up in a world where nobody in power looks like you or dresses like you or has a name like yours," Seddiq said. "We have to change that. There is no way you think you can do something unless you think that somebody has done it before." Currently, there are only two Muslim members of Congress: Keith Ellison and Andre Carson, who are both men.
For now, political rhetoric often threatens to intensify anti-Muslim sentiment. At the second presidential debate on Sunday, Trump wrongly implied that Muslims are not reporting terrorist plots, repeating a false story suggesting that Muslims failed to tip off authorities to the San Bernadino attack. Clinton, in contrast, stated unequivocally that "we are not at war with Islam," insisting that she wants to live in a country where Muslim Americans "are just as welcome as anyone else."
But Clinton also noted that "we need American Muslims to be part of our eyes and ears on our front lines," a comment that critics on social media felt unfairly reduced American Muslims to tools in the fight against terrorism.
Seddiq​ hopes that her political-action committee will help Muslim women have more of a voice in conversations like the one that unfolded at the debate. "If we aren't part of the solution and aren't at the table, they will continue to discuss us as if we are the 'other'," she said, ​though she added that she believes Clinton "truly does want to include Muslims in the conversation."
Islamophobia won't go away if Trump loses the election. But in time, Muslim Americans may be able to re-write the harmful narratives that some political leaders currently give voice to.
---
Related Videos