The City of Brotherly Love Has Little for Trump
To black voters in Philadelphia, the Republican nominee seems detached from reality, and voting for him is an idea they won't even entertain.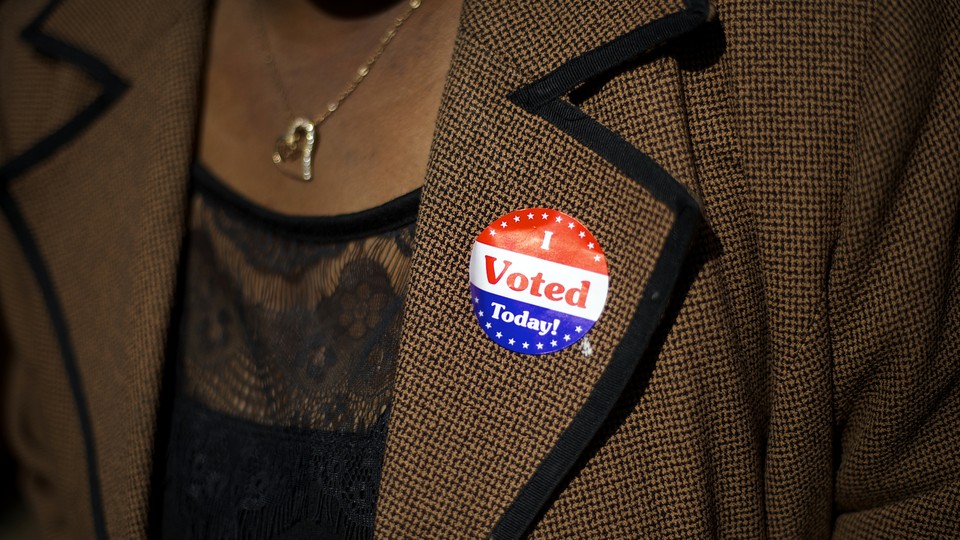 PHILADELPHIA, Pa.—"Are you kidding me?" a middle-aged black man wearing a T-shirt and denim carpenter pants asked incredulously from behind his screen door. "Who do you think I'm voting for?"
He didn't need to say her name to make it clear he was voting for Hillary Clinton. After all, his reaction seemed to suggest, why would a man like him vote for Donald Trump?
The Republican nominee's performance among black voters during the 2016 presidential race has been astonishingly poor. An ABC News poll conducted over the weekend showed Trump trailing Clinton among nonwhites by 54 points, 68-14 percent, with only 3 percent of black voters favoring Trump over any other candidate for president.
But the Republican nominee continues to make the case that black Americans' lives would be better if they were to choose him over his rival. He seems to believe, entirely inaccurately, that all black Americans live in inner-city communities, which he's called  "war zones," and promised that he alone can make their neighborhoods safer and their schools better—that only he truly empathizes with their plight. In fact, the majority of African Americans live in the suburbs, and only 8 percent live in an area of concentrated poverty in large cities.
"It is a disaster, the way African Americans are living," Trump said during a rally in Akron, Ohio, to a mostly white crowd. "I will straighten it out. … We'll get rid of the crime. You'll be able to walk down the street without getting shot." But to black Americans, including those in one neighborhood here,Trump could not seem more detached from reality: Voting for him is an idea most won't even entertain.
On a chilly evening in mid-October, I joined Kareema Lewis, a Philly native and paid canvasser for the League of Conservation Voters Victory Fund, the super PAC affiliated with the League of Conservation Voters working to elect Clinton, for a three-hour door-knocking session. Lewis was targeting a working-class section of Overbrook, a West Philadelphia neighborhood roughly 30 minutes from the city's center. Of the dozens of people I encountered, there on the edge of the City of Brotherly Love, not a single person had any affection for Trump.
"He's a fucking bigot, man," 22-year-old Cajuan Norris told me, sitting on the stone steps of her house wearing sweatpants and slippers. "It's not a hard decision at all." Norris, who works as a hair stylist, was on the phone when Lewis knocked on her door, but when she realized Lewis was canvassing for Clinton, Norris hung up and came outside.
"[Clinton] is trying to make sure people are treated equally, she cares about what's going on with African Americans and the police," Norris said. "I feel like Trump cares about money. If he is in office, the rich is gonna get rich, and the poor is gonna stay poor." Norris studied the smiling picture of Hillary Clinton on the LCV flier Lewis handed her. "She been doin' this. He don't have experience with this shit."
Overbrook is predominantly black—the kind of neighborhood Trump has painted with a broad dystopian brush. But on Yeadon Avenue, the disconnect between Trump's words and reality was visible, as all was mostly quiet along the rows of semi-detached homes, the porches dotted with well-worn chairs and potted plants. Only dogs yapping behind closed doors and a group of kids laughing and running between yards punctuated the quiet.
Not only is this the kind of neighborhood Trump has vilified in an attempt to convince its residents to vote for him, but it's also the kind of neighborhood Trump has suggested must be monitored as its people head to the polls in November. Trump has warned of potential voting fraud "shenanigans" during his rallies, pointing specifically to Philadelphia and calling on his supporters to "go around and watch other polling places."
"I hear these horror shows, and we have to make sure that this election is not stolen from us and is not taken away from us," Trump said at a rally in northeast Pennsylvania. "And everybody knows what I'm talking about." But despite his best efforts, Philly is likely, as it has in past elections, to go for the Democratic candidate: More than 83 percent of Philadelphia County went for Obama in 2008, and in dozens of districts in 2012, Mitt Romney reportedly didn't receive a single vote.
Sixty-year-old Timothy Downs was disappointed that Bernie Sanders didn't get the Democratic nomination. But, looking up from a well-highlighted passage in Philippians, his Bible spread open next to him on his deck table, he explained that he won't hesitate to vote for Clinton, whom he calls "the lesser of two evils."
"Trump seems to be off the handle. I don't trust him at all," Downs said. A scruffy yellow cat rubbed against his legs, but he ignored it. At least Clinton has "people around her that can keep her in check."
It's true that African Americans don't seem as inspired by Clinton as they were by Barack Obama: Clinton is drawing 82 percent of likely black voters, compared with Obama's 93 percent in October 2012. Lewis, who also canvassed for Obama during his re-election campaign, has certainly noticed an attitude shift. "People were more likely to embrace my presence when I went up with an Obama pin on," she said. Obama, along with the first lady, has worked to drum up support for Clinton among African Americans, campaigning for her on the trail in battleground states across the country. The president even went so far as to tell the black community he would take it as a "personal insult" if they didn't vote for Clinton.
But while African Americans may not be as enthusiastic about Clinton as they were about Obama, they have a singularly unfriendly candidate to vote against. As my colleague Molly Ball wrote recently, Trump has cemented his status "not just as a racist, but [as someone] running on a platform of racism." Trump's last-second Hail Mary pitch to black voters—which is literally "What the hell do you have to lose?"—is  not going to work.
"Talk about making America great? America's already great," 68-year-old Carol Edge told me, standing in the doorway of a tidy stone house, wearing a flowery pink shirt and drawstring pants. Edge has been a Democrat for as long as she can remember, and she was bursting to talk about Clinton.
"She's very calm and collected. She gets to the point," Edge said, her hands on her hips. "The other one, he just goes, 'You're going to jail!'" she said, imitating Trump's voice. "Who needs it? Nobody. We're all in this together."
A few houses down, a middle-aged black woman with carefully penciled-in eyebrows and curly, graying hair answered the door. She looked at the Clinton flier and frowned. "I'm sorry, I'm voting for Trump," she said, handing the flier back to Lewis.
Then she doubled over with laughter. "I lied! Gotcha!" She wiped her eyes, and leaned against the door frame. "No way in hell."
---
Related Videos