In Ferguson, the Seeds of Trump's Defeat
Trump may have risen on the wings of white backlash. But black Americans' fierce resistance to a candidate they see as racist could spell his defeat.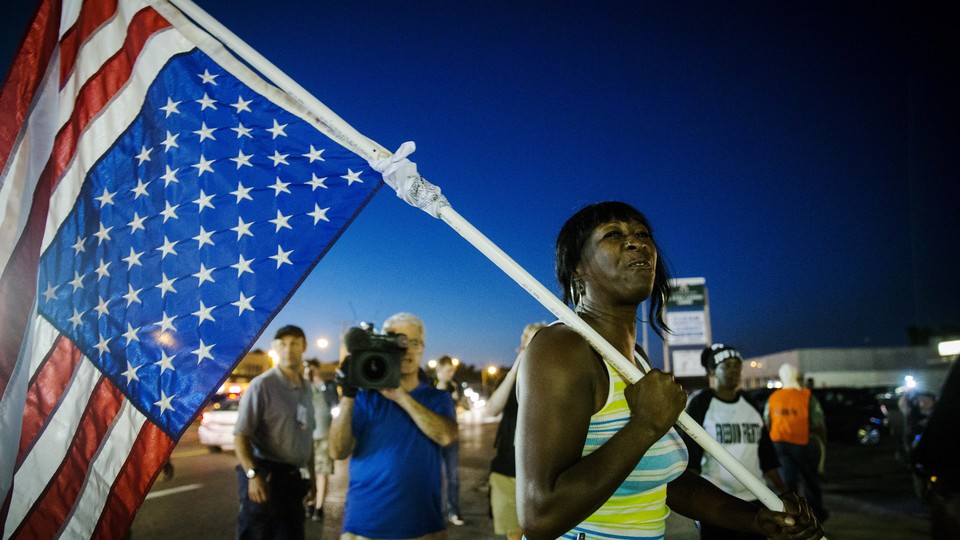 FERGUSON, Missouri—For a lot of people this year, but maybe especially for black people, the election seemed like a joke until it stopped being funny.
"I mean, is it even real? What's going on?" said Corey Moore, 27, otherwise known as Memphis the Barber. At Freestyle Barber & Beauty, less than a mile from where Michael Brown was fatally shot by police in August 2014, Moore was laughing as he applied clippers to a young boy's head. Then he sighed. "I don't know, I just hope Trump don't get in there, or we doomed," he said. "I mean, Donald Trump? Are you serious? It's funny, but it's a lot more scary."
Two years ago, the protests in Ferguson that followed Brown's death galvanized African Americans—and many others—around what some see as a new civil-rights movement. Now, as a presidential election of historically divisive proportions nears conclusion, the black community has experienced it as a fresh trauma: As America's first black president prepares to leave office, one of the major-party nominees appears to them to be not just a racist, but running on a platform of racism.
Some have argued that Trump's nomination may have come as a white backlash to events like the Ferguson protests, which Trump has called "race riots." But if Trump loses the presidential election, an outcome that looks increasingly likely, it will be due to the backlash to the backlash: the increasingly diverse American electorate, starting with an African American community that proved stubbornly resistant to Trump's belated attempts to woo them.
In several polls, Trump has received zero or 1 percent of the black vote; in a poll taken last month, 83 percent of blacks said they believed Trump is a racist. As a result, while Trump wins white voters in most polls, he performs dismally with nonwhites, whose share of the electorate increases every four years. In a Washington Post poll published on Sunday, for example, Trump drew 52 percent of white voters but just 17 percent of nonwhites.
The people who felt scapegoated by Trump's racially charged campaign turned their backs on him early and never looked back. That simple fact is likely to seal his electoral fate.
With Barack Obama no longer on the ballot, a different Republican campaign might have had an opportunity to make inroads with minority voters. In communities like Ferguson, there is little sign of the excitement Obama inspired. In dozens of interviews here—at the barbershop, at grocery stores, at sports fields, on the street—most people told me they felt no particular connection to Hillary Clinton, though they planned to vote for her, if they voted. Many said the Ferguson protests and the continuing movement against police violence had changed their perspective, making them more cynical about the possibility of change and more alert to the problems plaguing their communities.
At Freestyle Barber & Beauty, the sweet smells of hair products and incense wafted through the air; a Law & Order rerun played on a television up front, alongside an ancient-looking soda machine and posters of Tupac Shakur and Bob Marley.
"She's what we got; she ain't nothing we hoped for," said Mike Knox, 35, who owns the barbershop. "I just think she better than Trump."
"All the stuff he says about Muslims, about black people, it's disturbing," said Dolly Woods, 28, the receptionist. "I guess he do say stuff other Republicans would like to say but don't say." She distrusts Clinton, but said there's no question she will vote.
Next door, at M&E African Hair Braiding and Beauty Supply, seven women were having their hair braided by African immigrants, a process that can take all day. Chanta Scott, a 41-year-old who works at a senior center, was one of them. "I think we're in trouble either way, but I most definitely won't be voting for Trump," she said.
Safi Bah, a naturalized citizen from Sierra Leone, looked up from the braids she was making to express a more positive view. "I am a Democrat and I will vote for Hillary," she said in a lilting accent. "I love her, 100 percent."  Of Trump, she said, "He's a disgrace to America."
Trump's campaign contends that he is actually doing well with black voters, citing a couple of polls in which he has drawn as much as 20 percent of the African American vote. (Because of the small number of African Americans surveyed in any given poll, this number can vary widely.)
Bruce LeVell, director of the campaign's national diversity coalition, told me the coalition's members now number more than a million, which he termed "the largest diversity outreach in the history of the GOP." The Trump campaign has officials in charge of outreach to Muslims, African American pastors, Korean Americans, and many other groups, he said, describing it as a sustained effort far beyond anything previous Republican nominees undertook.
The Trump campaign will make substantial headway with black voters "once we peel through all the malicious lies about Trump being a racist—there is not one incident or anything Mr. Trump has ever said that is racially derogatory toward African Americans, not one," LeVell told me. He added, "The lie can only last so long, until African American folks wake up and realize they've been duped."
The Clinton campaign sees it differently. "The role African Americans will play in this election will be to provide a significant number of votes for Hillary Clinton and the Democratic ticket," said Lacy Clay, the Democratic congressman whose district includes Ferguson and part of St. Louis. I asked him if he believes Trump is a racist, and he answered in the affirmative, citing a litany of offenses beginning with Trump's alleged refusal to rent apartments to blacks in the 1970s.
"He has made it comfortable to hate again in this country," Clay said. Trump's candidacy, he added, represents "the last-ditch effort of certain people in this country—the older generation of white people who don't want to accept the coloration of America, which is brown and black and trending yellow."
Back in Ferguson, I found a 44-year-old forklift driver named Patrick Lyons hanging out in front of the public library, smoking a cigarette. "If we get Donald Trump," he told me with a grin, "even the white people are in trouble."
M
ichael Brown's body had already been lying in the street for more than an hour when Bruce Franks Jr. arrived at the scene, compelled by an urgency he couldn't quite name. The incident awakened something in Franks, who lives in downtown St. Louis and owns an Allstate insurance franchise with his wife.
Franks became a fixture at the protests, wearing a white undershirt and carrying a sign that said, "I am a college educated black man!!! Business owner - father - husband! I apologize that I look like a thug!" This year, Franks, who is also a battle rapper and youth mentor, ran for state representative, beating an incumbent in a hotly contested Democratic primary.
"It feels like the Civil War with Trump running for president," Franks told me, sitting in his insurance office, the silver logo of outstretched hands above him on the wall. The dark outlines of tattoos were visible on his face and neck; he wore a T-shirt decorated with superheroes. His 3-year-old son King, who turned 1 on the day Brown was shot, scampered around the room.
"North versus South, freedom versus slavery—it's combative, it's war," Franks said. "That's what Trump is stirring up. People feel it."
I asked Franks if it was surprising to see so many people respond positively to Trump's naked appeals to racial resentment. He shook his head sadly. "Being black in America, where you can't say black lives matter without an argument, without somebody protesting that—you know there's racism," Franks said.
African Americans, Franks told me, saw what Trump represented from the start. On the first day of his candidacy, after all, Trump identified Mexicans as criminals and rapists. He has (falsely) called Ferguson one of the most dangerous cities in the world. Just recently, Trump reiterated his decades-long insistence that the Central Park Five, the group of black youths exonerated by DNA evidence from the racially charged claim they raped a white jogger in 1989, were guilty.
Franks is among the liberals unimpressed by many Republicans' sudden disavowal of Trump after the recent barrage of sexual-assault allegations. "They should have already known what he was," he said. "This is a person who wants to build a wall to keep people out. We knew."
Franks, who is now 32, represents the rising generation of activists determined to translate protestors' passion into something constructive—and to take on entrenched interests in the Democratic Party to do so. In the activist community, Franks has been criticized for his willingness to work with police to achieve change. He told me he had hope of finding common ground once he gets to the Republican-controlled legislature, and that he believed working within the system was the way to change it.
"We're done asking," he said. "The people are done asking for proper representation. We're the ones with the power once we start organizing."
These days, Franks is working to mobilize the voters of his district to vote for Democratic candidates, from Clinton, who has little shot at winning the state, to the party's gubernatorial and Senate candidates, who are running neck-and-neck with their Republican opponents.
It's not easy to get black voters excited about this election, he acknowledges. "It's like trying to figure out what to eat, and you have a dish that's not to your taste, and then a dish that might be poisonous," he said. "For me, it's easy. But a lot of people aren't thrilled about Hillary." If they come out for her, it will be, he says, because "She's not Trump."
To Franks, the premise of Trump's campaign is flawed at its core. "This whole Make America Great Again thing," he said. "When? When was America great? When was it better than today? Was it the 50s, 60s, 70s, 80s? Those times weren't great for everybody. I can only remember America being great for European descendants."
O
n Sunday, a few hours before the second presidential debate was set to begin, the choir was getting ready for the worship service at Christ the King United Church of Christ in Ferguson. Madeline Jackson, a 61-year-old retired substitute teacher, was putting a long yellow robe on over her dress.
"I'm just so concerned about this election—it's so troubling on so many levels," she told me. "There is not a candidate that I feel speaks clearly for me and my family." Thanks to events like the Brown killing, her concerns have shifted, she said.
"You wouldn't believe how much stress the black community is under," Jackson said. "Every mother worries about her son. Every wife worries about her husband. Even little children we worry about. If you sit with a group of women for any length of time, that's where the conversation will go. We are out in the streets shouting and yelling, and nobody is hearing us."
In the sparsely populated chapel, about 40 congregants swayed along to the hymns. "I have decided to follow Jesus; no turning back, no turning back," they sang. The church's regular pastor, Traci Blackmon, has been a prominent voice in the activist community, serving on the Ferguson Commission, meeting with Obama at the White House, and being named to the president's Advisory Council on Faith-Based and Neighborhood Partnerships.
On this Sunday, Blackmon was absent, attending an out-of-town conference; an assistant pastor named Kimberly McKenzie was filling in, a colorful scarf draped atop her black robe. Her sermon began with a meditation on the new movie Birth of a Nation and the Nat Turner story. "Why does the setting of this film sound so familiar to what's going on today?" she asked. "Even in the midst of being beaten, starved, humiliated—men, women and children being raped and murdered—black and brown folk, they still trusted and believed in God," she cried.
McKenzie moved on to politics. "I am so disgusted with this presidential election, more so than any other in my time," she says. Without naming Trump, she launched into a tirade against a certain candidate who gropes and attacks women. "We cannot allow the next president to be someone with no regard, no respect, for anyone who doesn't look like him or who doesn't share the same socioeconomic status!" she said, to cheers.
In urgent tones, she exhorted the congregation to register and vote. "Don't let any excuse stop you from voting!" she said. Like many black churches, this one will conduct a "Souls to the Polls" drive to get out the vote, a church official told me.
One of the congregants cheering McKenzie's words was Alicia Street, a 31-year-old Ferguson resident wearing intentionally ripped jeans and a Black Lives Matter T-shirt. After the service, she told me the Michael Brown protests, which she participated in, gave her a new awareness of race issues. "Ferguson gave many people voices that have not had a voice," she said. "It awakened a lot of people in this country to what is going on with African Americans. It woke a lot of people up."
Street was conflicted about the presidential election. "I'm not with her, I'm not with him," she said. "I will vote, probably for neither one of them. I don't like Donald Trump, period. I don't like what he stands for. Hillary Clinton has the experience, but she's just trying to get elected." She didn't think Clinton would do anything to help her community.
Since the protests, Street said, she hadn't seen anything change. "I have yet to see the police really do anything to solve the issue," she said. "They just want to push it under the rug and move on." I asked her if she was still hopeful.
"I have hope," she said, "because we're going to keep fighting."