The Atlantic Politics & Policy Daily: What's the Plural Form of FLOTUS?
Michelle Obama joined Hillary Clinton on the campaign trail in North Carolina.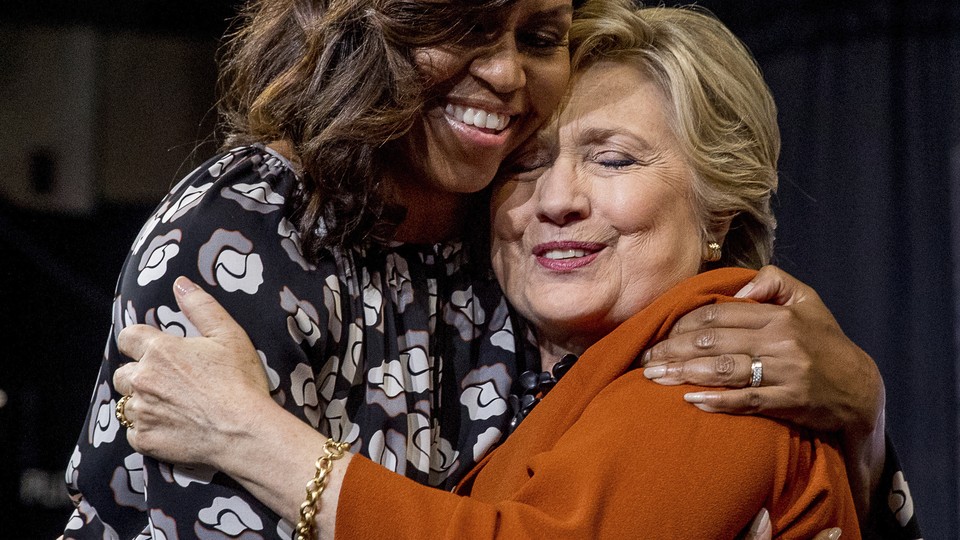 Today in 5 Lines
In her first joint campaign appearance with Hillary Clinton, Michelle Obama urged voters in North Carolina to cast their ballots early. Moira Smith, who is now the general counsel for Enstar Natural Gas Company, accused Supreme Court Justice Clarence Thomas of groping her at a dinner party in 1999. A federal judge approved a $265 million settlement over the 2015 Amtrak train crash outside of Philadelphia that killed eight people. The U.S. Department of Justice announced charges against 61 people and entities for conspiracy and fraud over a call-center scam that affected some 15,000 people. President Obama commuted the sentences of 98 federal inmates, bringing the total number of commutations granted during his presidency to 872.
---
Today on The Atlantic
Blast from the Past: North Carolina has seen decades of voting-rights disputes that are rooted in the state's Jim Crow past. But a recent Republican-led push to tighten voting restrictions has reignited resistance from black voters. (Vann R. Newkirk II)

The Partisan Divide on Trade: Most Democrats believe that globalization and international trade is beneficial to the U.S. economy. But Hillary Clinton has failed to defend NAFTA and the TPP against Donald Trump's attacks. Why? (Ronald Brownstein)

Depressing the Vote: On Wednesday, Trump announced plans to reach out to black voters, but a day later a report revealed his team's desire to suppress black voter turnout—a move that could hinder "Republican efforts for years to come." (David A. Graham)
Follow stories throughout the day with our Politics & Policy portal.
---
Snapshot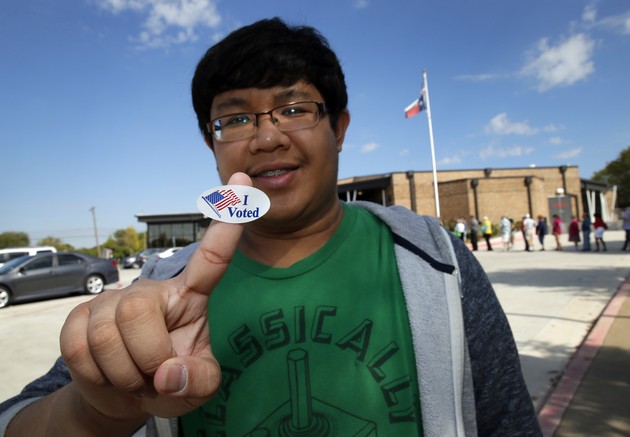 ---
What We're Reading
The Trump Machine: A win in November isn't looking likely for the Republican nominee, but he won't leave the campaign trail empty-handed. According to a new report from Bloomberg, Trump has built up a massive audience and gathered contact information for 2.5 million small donors. (Joshua Green and Sasha Issenberg)
A House Divided: Will the House Freedom Caucus oust Speaker Paul Ryan after the November 8 election, or will the group use its leverage to make new rule changes? Well, they aren't exactly sure. (Rachael Bade, Politico)
You Say You Want a Revolution: Some Trump supporters bracing for a Hillary Clinton victory in November are warning that they might "take matters into their own hands" to remove Clinton from office. (Ashley Parker and Nick Corasaniti, The New York Times)
The Future of Obamacare: Dr. Daniel Dersen, a Republican, drafted part of the Affordable Care Act, and has witnessed the plan's strengths and weaknesses from both sides. Here are the ways he believes the country can move forward with universal health care. (Francine Kiefer, The Christian Science Monitor)
What Can Players Really Do?: San Francisco 49ers quarterback Colin Kaepernick's protest of the national anthem motivated other players to take action. It also sparked a conversation about the ways athletes can bring about long-term change. (Charles Grantham, The Undefeated)
---
Visualized
Predict the President: Will Arizona go blue in this election? Will Iowa go red? Play this game to call the winners of each state, and see which candidate ends up with 270 electoral votes first. (BBC)
---
Question of the Week
Halloween is just around the corner, and we're anticipating seeing a number of 2016-inspired costumes. What do you think each presidential candidate should dress up as for Halloween?
Send your answers to hello@theatlantic.com, and our favorites will be featured in Friday's Politics & Policy Daily.
-Written by Elaine Godfrey (@elainejgodfrey) and Candice Norwood (@cjnorwoodwrites)