The Atlantic Politics & Policy Daily: Miss Warren If You're Nasty
The Massachusetts senator blasted Donald Trump's "nasty woman" remark at a Clinton rally in New Hampshire.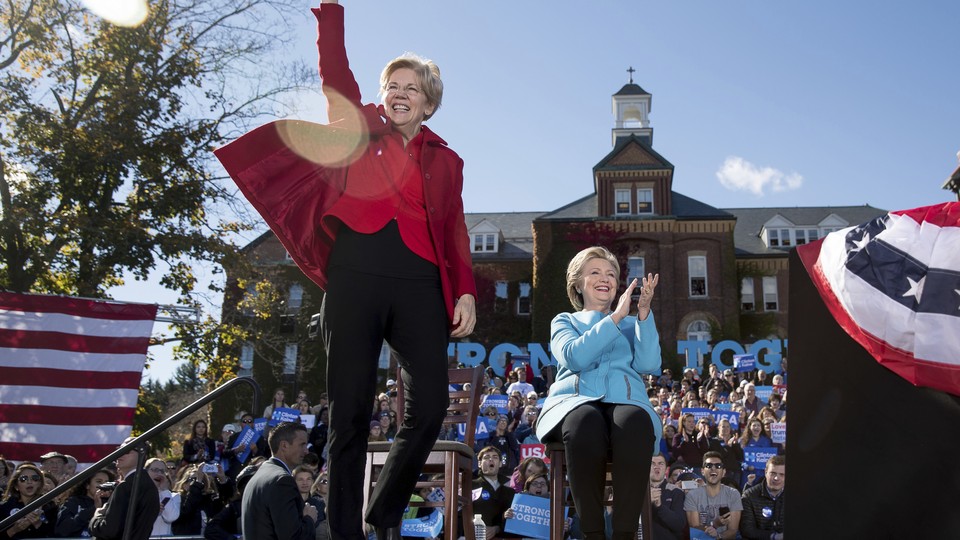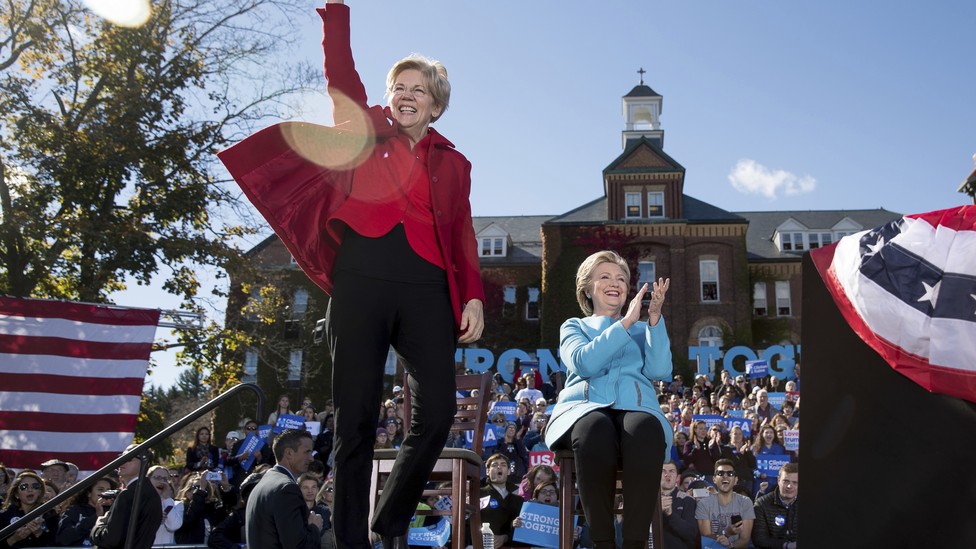 Today in 5 Lines
Donald Trump, who is trailing behind Hillary Clinton in the RealClearPolitics polling average, accused Democrats of "making up phony polls." The Republican nominee also responded to Jessica Drake, a porn actress who accused him of sexual misconduct, in a radio interview, saying "Oh, I'm sure she's never been grabbed before." Massachusetts Senator Elizabeth Warren blasted Trump's "nasty woman" remark at a joint rally with Hillary Clinton and Maggie Hassan, saying "Nasty women have really had it with guys like you." Republican Senator Mike Crapo said he will vote for Trump, after previously pulling his endorsement over the candidate's comments about women. French authorities bussed some 2,300 migrants out of "the Jungle," a major refugee camp in Calais, before they begin dismantling the camp on Tuesday.
---
Today on The Atlantic
The End of the Populist Soul: In the 1970s, a wave of young liberals tasked with cleaning up the government arrived in Washington, D.C. Here's how the newcomers "helped to create today's shockingly disillusioned and sullen public" by failing to hold corporate monopolies accountable. (Matt Stoller)

A Political Courtship: Muslims make up a small portion of the U.S. population, but the group is expected to grow over the next few years. The Clinton campaign has taken notice and strengthened outreach efforts nationwide. But Muslim voters "remain skeptical of the Democratic nominee." (David A. Graham)

Can America Afford to Invest in Trump?: Trump's candidacy has been bad news for his business, but now, "investors around the world think that a President Trump would be disastrous for global markets." And there's data to prove it. (Derek Thompson)
Follow stories throughout the day with our Politics & Policy portal.
---
Snapshot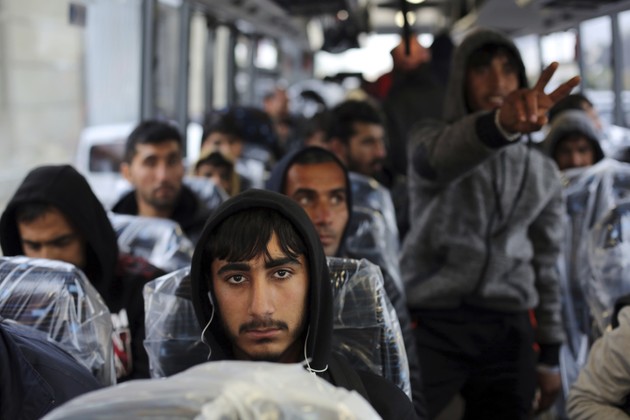 ---
What We're Reading
Trump's Internet Minions: Meet Mike Cernovich, the Donald Trump supporter responsible for instigating several alt-right, anti-Clinton internet memes and hashtags. (Andrew Marantz, The New Yorker)
Taking Measurements: The lack of substantive policy discussions during the 2016 presidential election, Joseph E. Stiglitz argues, raises questions about the quality of the metrics used by the U.S. government to assess its failures and successes on pressing issues, such as the economy. (Vanity Fair)
The 'Paranoid World of Julian Assange': WikiLeaks was once a force to be reckoned with in "a new journalistic era," James Ball writes, but it has become a "back-bedroom operation" embraced by members of the alt-right. What's next for Assange and his once-powerful organization? (BuzzFeed)
Hacking the Government: The U.S. Office of Personnel Management "repels 10 million attempted digital intrusions per month," but in April 2015, it noticed one attempt that broke through. The result was a massive data breach that became both perplexing and frightening. (Brendan I. Koerner, Wired)
All the Way Down: President Obama is making his biggest investment in down-ballot elections this year by endorsing roughly 150 candidates across the country. What gives? (Edward-Isaac Dovere, Politico)
---
Visualized
Behind the Numbers: Use this interactive poll decoder to see the race, gender, age, and education of people surveyed in several major national polls—and where they stand on Clinton and Trump. (Ken Goldstein, Bloomberg)
---
Question of the Week
Halloween is just around the corner, and we're anticipating seeing a number of 2016-inspired costumes. What do you think each presidential candidate should dress up as for Halloween?
Send your answers to hello@theatlantic.com, and our favorites will be featured in Friday's Politics & Policy Daily.
-Written by Elaine Godfrey (@elainejgodfrey) and Candice Norwood (@cjnorwoodwrites)