The Atlantic Politics & Policy Daily: This Subject Line Keeps You in Suspense
Donald Trump refused to say whether he will accept the election results in November if he loses, saying, "I'll keep you in suspense, OK?"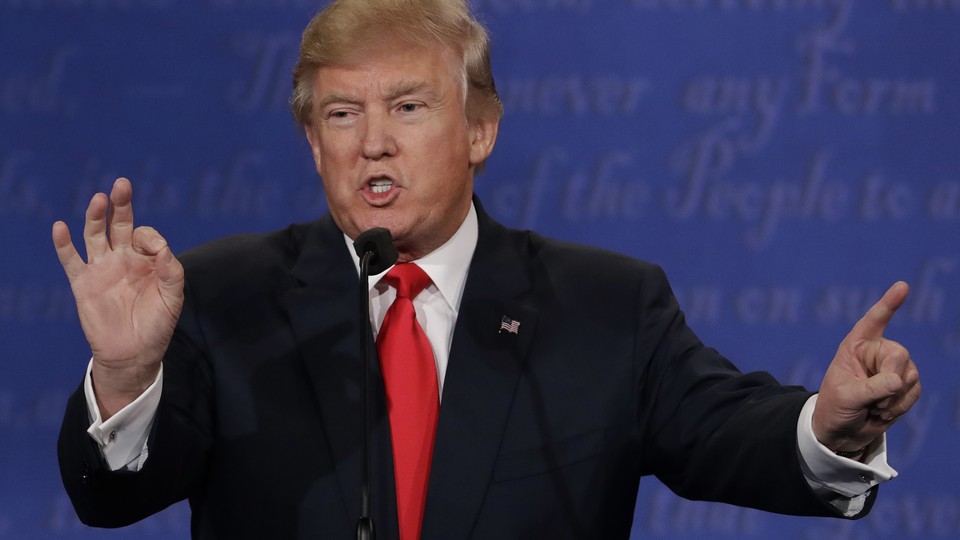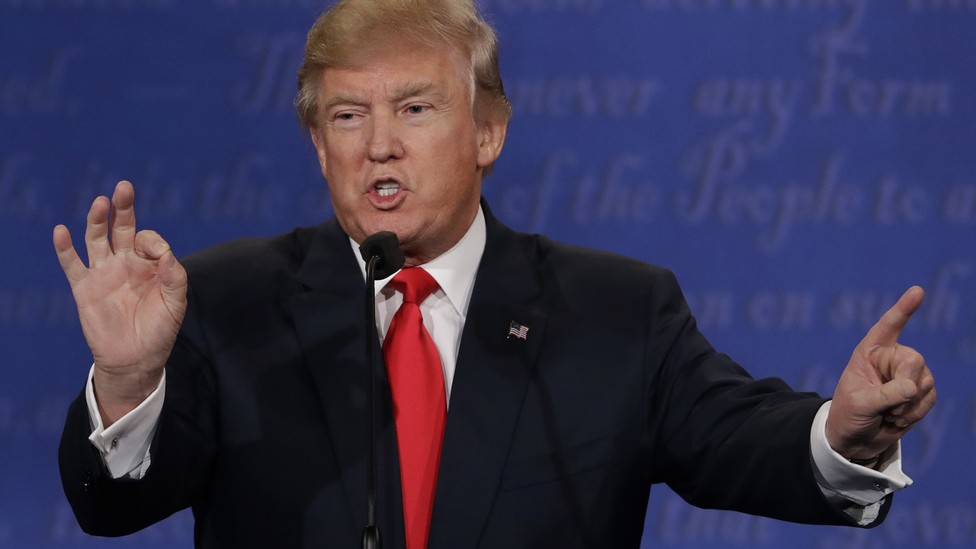 Today in 5 Lines
Donald Trump said he will "totally accept" the election results in November—if he wins. Karena Virginia accused Trump of sexual misconduct, saying he grabbed her arm and touched her breast in 1998. The U.S. military said an American soldier died from injuries sustained in a bombing in northern Iraq. A federal judge ruled to extend voter registration in Virginia until midnight Friday, after the state's election website crashed on Monday. President Obama defended the Affordable Care Act during a speech in Miami, but conceded that it has faced some problems.
---
Today on The Atlantic
History Repeats Itself: If elected president, Hillary Clinton should revisit the budget deal organized between Bill Clinton and a Republican Congress in 1997 for a lesson on avoiding partisan gridlock. (Ronald Brownstein)

Hillary Ducks and Covers: When moderator Chris Wallace asked Clinton about the "special access" given to Clinton Foundation donors, Clinton dodged the question. And without further pressure from Trump, "it was a happy escape for Clinton." But it won't always be that easy. (David A. Graham)

Missing William F. Buckley: The National Review founder "may have been eminently smug and often wrong," writes Emma Green, but he encouraged open and constructive political discourse, something that is sorely lacking in today's cable-news era.
Follow stories throughout the day with our Politics & Policy portal.
---
Snapshot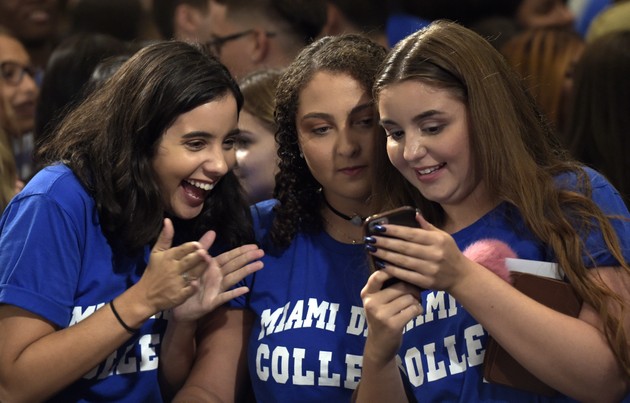 ---
What We're Reading
'A Tale of Two Debates': Donald Trump started strong on Wednesday night, but, Tim Alberta and Eliana Johnson explain, in the last 45 minutes of the debate he "demonstrated his glaring and fundamental weaknesses" as a candidate. (National Review)
The Contradiction of Ivanka Trump: Throughout the election, Ivanka Trump has remained her father's graceful, levelheaded surrogate, despite his heated rhetoric and erratic behavior. "But her adherence to message is almost too perfect." (Margaret Talbot, The New Yorker)
Brushing Up on History: Donald Trump insists the presidential election is rigged. But that argument fails to recognize the racial history of both private citizens and government institutions manipulating elections to benefit whites in the United States. (Dara Lind, Vox)
Rethinking the Ballot: Poor ballot design can have huge implications on elections. In fact, between 2008 and 2010, voter misinterpretation resulted in almost half a million uncounted votes. (Lena Groeger, ProPublica)
Behind the Russia Hack: The U.S. government said it was confident that government-authorized Russian hackers had managed to breach the servers of the Democratic National Committee. Here's how they pulled it off. (Thomas Rid, Esquire)
---
Visualized
'Immigration By the Numbers': Immigration has been a contentious issue in the 2016 election. In this short video, see a graphic representation of what undocumented immigration in the United States actually looks like. (Wired)
---
Question of the Week
On Sunday morning, Donald Trump tweeted his distaste for Alec Baldwin's portrayal of him on Saturday Night Live, calling the show "boring and unfunny." But the show, which has been poking fun at presidential elections since 1976, is experiencing its highest ratings in eight years. Back then, Tina Fey famously guest-starred to play then vice-presidential nominee Sarah Palin.
What are your favorite SNL election skits—and why?
Send your answers to hello@theatlantic.com, and our favorites will be featured in Friday's Politics & Policy Daily.
-Written by Elaine Godfrey (@elainejgodfrey) and Candice Norwood (@cjnorwoodwrites)