The Atlantic Politics & Policy Daily: Guess Who's Back, Back Again
Former Vice President Al Gore campaigned alongside Hillary Clinton at an event in Florida.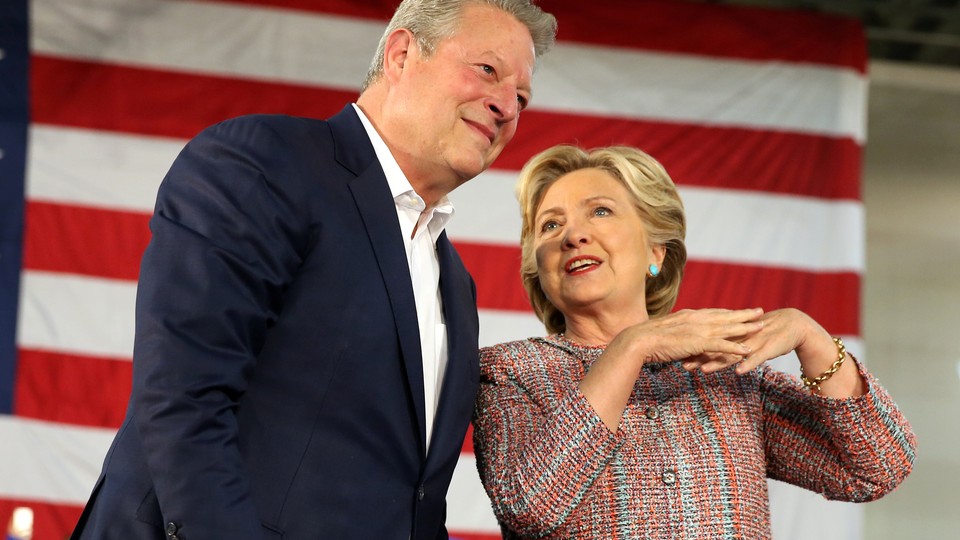 Today in 5 Lines
Former Vice President Al Gore said "Hillary Clinton will make solving the climate crisis a top national priority" while campaigning alongside the Democratic nominee in Miami. Donald Trump took to Twitter to air his frustrations with the GOP—including House Speaker Paul Ryan—after several Republican elected officials defected from his campaign over the weekend. A federal appeals court ruled that the structure of the Consumer Financial Protection Bureau is unconstitutional. In an op-ed for CNN, President Obama said sending humans to Mars is "a clear goal vital to the next chapter of America's story in space." The U.S. Department of Justice announced it will charge Maricopa County Sheriff Joe Arpaio with criminal contempt after Arpaio allegedly violated court orders in a racial-profiling case.
---
Today on The Atlantic
'Scare the Vote': Donald Trump has incited fear of a rigged election system among Americans. These accusations have the power to negatively impact public trust in democracy, which, Alex Wagner argues, could be the "most devastating effect of Trump's candidacy."

Point of No Return: Five states appear likely to vote in favor of ballot measures that would legalize and regulate the sale of recreational marijuana in November. If approved, the win could significantly shape the fight over marijuana legalization. (Russell Berman)

Waging a War: In the aftermath of Sunday's debate and the release of a 2005 audio clip in which Trump brags about groping women, GOP leaders have attempted to distance themselves from the candidate. His campaign has responded by openly threatening "those who dare to cross him with mutually assured destruction." (Conor Friedersdorf)
Follow stories throughout the day with our Politics & Policy portal.
---
Snapshot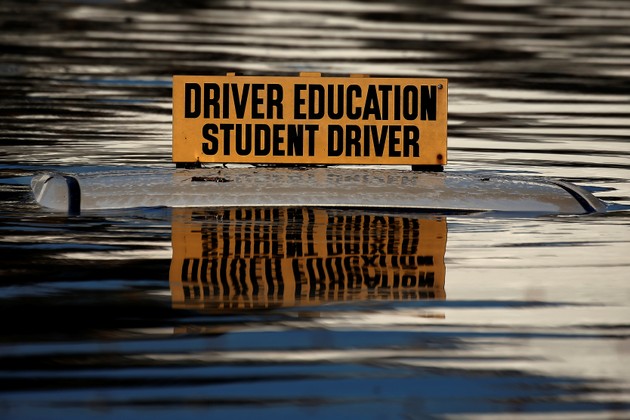 ---
What We're Reading
Between a Rock and a Hard Place: Some of House Speaker Paul Ryan's closest allies say he'd like to fully rescind his endorsement of Trump but hasn't because he fears the move would damage down-ballot GOP candidates. But Ryan still has time to change his mind. (Jake Sherman and John Bresnahan, Politico)
The Home Stretch: Hillary Clinton believes the election is hers to lose, as Donald Trump's presidential campaign sinks deeper and deeper into turmoil. But Clinton's approach is a cautious one: She's focusing intently on the issues, even at the risk of seeming boring. (Mark Leibovich, The New York Times Magazine)
In Her Own Words: In an interview with Katie Couric, Supreme Court Justice Ruth Bader Ginsburg discussed her relationship with the late Justice Antonin Scalia, and explained why she found NFL quarterback Colin Kaepernick's national-anthem protest "dumb and disrespectful." (Sarah B. Boxer, Yahoo)
A Way to Preserve Democracy: The Obama Administration promised it would work to fight against the formation of corporate monopolies, but four companies dominate the airline market, despite legal and congressional battles. Here's why. (Justin Elliott, ProPublica)
Clinton's 'Cleanup Hitter': Much of the 2016 election has been a battle between Barack Obama, who has stepped up efforts to support Clinton, and Donald Trump. In fact, "never in modern times has a retiring incumbent been so central to a presidential campaign." (Mike Dorning, Bloomberg)
---
Visualized
Reaction Shot: The second presidential debate was chock-full of attacks and questionable statements. See how Hillary Clinton and Donald Trump reacted to each other's rhetoric—in real time. (The Washington Post)
---
Question of the Week
On Tuesday, President Obama reiterated his enthusiasm for sending humans to Mars by the 2030s, "with the ultimate ambition to one day remain there for an extended time." If Obama's goal is accomplished, which U.S. politician do you think would be best poised to represent the planet in Congress? And why?
Send your answers to hello@theatlantic.com, and our favorites will be featured in Friday's Politics & Policy Daily.
-Written by Elaine Godfrey (@elainejgodfrey) and Candice Norwood (@cjnorwoodwrites)